Both Cortana and the Search box is available from the Taskbar. Both of these have changed quite a bit compared to the previous versions, especially Cortana which is now a standalone app. That said, there is no way now to disable Cortana and Searchbox in Windows 10 v2004 and later, but you can always hide them so they take less space on the taskbar.
While Group Policy settings are available to disable Cortana, it doesn't work. I tried it followed by a restart, but Cortana can still be activated using the keyboard shortcut. It seems like one of its previous version, Microsoft has made sure that Cortana isn't disabled. So the only choice is not to use it.
Disable Cortana & Search Box in Windows 10
Even though Cortana is not as deeply tied to the Windows as it eas earlier, There is no way to uninstall Cortana. At most, it can be restricted, but the keyboard shortcut cannot be changed.
Disable Search Box from Taskbar in Windows 10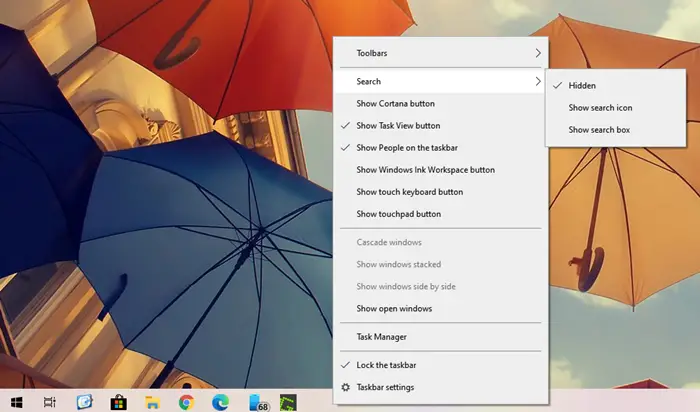 The default mode of the search box takes a lot of space on the taskbar, and while you can change it a simple icon, it is better to use the keyboard shortcut to invoke it.  When you use press Win + S, it invokes the search box, and you can instantly start typing.
Since it is useful, and search is integrated into the core of Windows 10, it is better to just hide it from the taskbar.
Right-click on the taskbar
Click on Search in the menu
To hide the search completely, select Hidden
The search box will disappear from the taskbar, and you will have more space.
Disable Cortana in Windows 10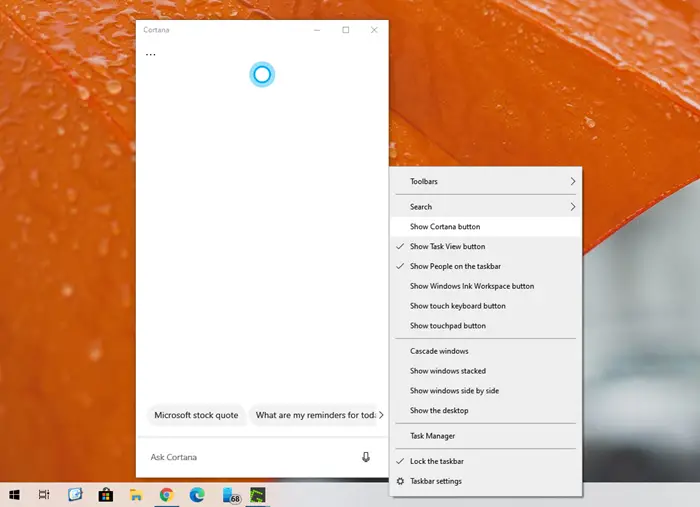 Unlike earlier versions of Windows, there is no way to disable Cortana in Windows. In fact, the group policy and registry hacks also do not work. So if you do not want to use it, there are two things you can do
Open Cortana app, click on the three-dot menu, and sign-out
Next, right-click on the taskbar and choose to uncheck "Show Cortana button"
You can still access Cortana by using WIN + C, and if you are signed in, you can start Cortana in listening mode. If you do not want anybody to invoke Cortana using the keyboard shortcut, you can override using scripts.
I hope the post was easy, and you were able to hide, if not disable Windows Search box and Cortana from the taskbar in Windows 10.
Want to remove the Task View button too?