You can disable or turn off Cortana in Windows 11 or Windows 10 by tweaking the Windows Registry or configuring Group Policy settings. We have seen how to disable Cortana or Hide the Search bar, now let us see how to do it using the Registry Editor or Local Group Policy Editor.
Turn Off Cortana using Group Policy
Type gpedit.msc in the taskbar search bar and press the Enter key to open the Local Group Policy Editor.
Navigate to the following settings:
Computer Configuration > Administrative Templates > Windows Components > Search.
Double-click on Allow Cortana to open its settings box.
This policy setting specifies whether Cortana is allowed on the device. If you enable or don't configure this setting, Cortana will be allowed on the device. If you disable this setting, Cortana will be turned off. When Cortana is off, users will still be able to use search to find things on the device and on the Internet.
Set the settings to Disabled, click Apply and Exit.
Disable Cortana using Registry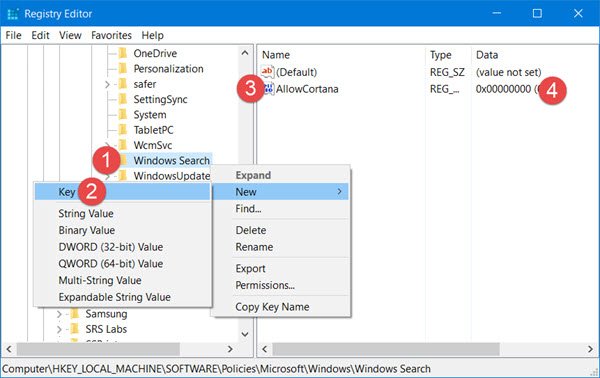 If your Windows does not ship with Group Policy, type regedit in the taskbar search and hit Enter to open the Registry Editor.
Navigate to the following key:
HKEY_LOCAL_MACHINE\SOFTWARE\Policies\Microsoft\Windows\Windows Search
In the left pane, right-click on the Windows Search key and select New > DWORD (32-it) Value. You will find it formed in the left pane. Give this newly created DWORD value the name AllowCortana and set its value to 0 to disable the feature.
To enable Cortana again, you may delete this AllowCortana value or change it from 0 to 1.
I hope this helps!
What happens if I disable Cortana?
While it was tightly integrated with Windows 10, it is not the same case anymore. As Windows 10 was updated the integration got lighter, and it disappeared in Windows 11. While the service is still there, you can invoke it using voice, but if you choose to turn it off, it will not break any service.