If you receive a We're getting search ready or These results may be incomplete error message when you search in Windows 10 using the Cortana taskbar search, and your search results are stuck, then see this post for potential fixes.
We're getting search ready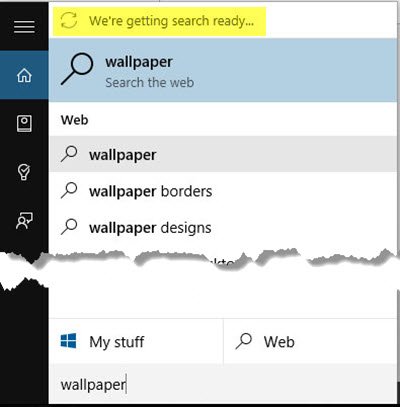 Here are a few ideas that may help you. Go through the entire list, create a system restore point first and see which one may apply to and help your system.
1] Restart your computer and see if the problems resolves itself.
2] Open File Explorer and right-click on your C Drive. Select Properties and under the General tab, uncheck the Allow files on this drive to have  contents indexed in addition to file properties box. Click Apply. Now check the box again and click Apply.
3] Check if the Search Index is running – especially if you see a Your searches might be slow because the index is not working message. If you do, click on it to turn on the Index. Run services.msc to open the Services Manager. Ensure that the Windows Search Service is set to Automatic and is running. You might want to read Windows Search Indexer is not working.
4] Rebuild Search Index and Restore Search Defaults and see if it helps.
5] If the above did not help, try to do it manually. Run services.msc to open the Services Manager. Here stop Windows Search service.
Now, using File Explorer, navigate to C:\ProgramData\Microsoft\Search folder and delete all its contents. This is where the Windows Search Index is situated.
Restart your computer. On reboot, open Control Panel > Indexing Options from the Control Panel and ensure that indexing has started afresh.
6] Make sure that your User folder ie. C:\Users<username> is included in the indexing. This post will show you how to add or remove folders to be indexed.
7] Turn off Search online and include web results and see if that works.
8] Run the Windows Search Troubleshooter.
9] Check and see if your Start Menu has more than 512 items. If so, remove some.
Let us know if anything helped.
Related troubleshooting post: Cortana and Taskbar Search not working in Windows 10.