It's no secret that Windows 11/10, just like any other new version of the operating system has been riddled with issues, some of them come with a workaround and some need you to fix it manually. The problem of Office app shortcuts missing from Start Menu All app list is one such issue. While it is very difficult to zero in on a single cause for this problem, it might have happened if you have more than 512 apps in All apps list.
Office apps missing from All apps
It is a known issue in Windows 10 that if you go for more than 512 apps, their shortcuts will disappear from the Start menu All apps list. Microsoft has information on this, and they are working to remove the cap.
Microsoft Office missing from Start Menu
If shortcuts refuse to get pinned to Start Menu All app, then you want to count the list of apps you have installed on your Windows 11/10 computer.
To count the number of apps you have in the All app menu, open a PowerShell window, type the following command, and hit Enter:
Get-StartApps | measure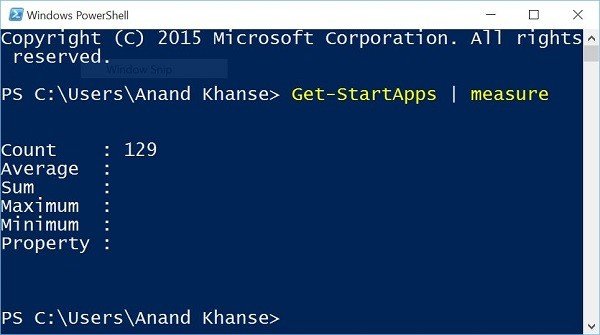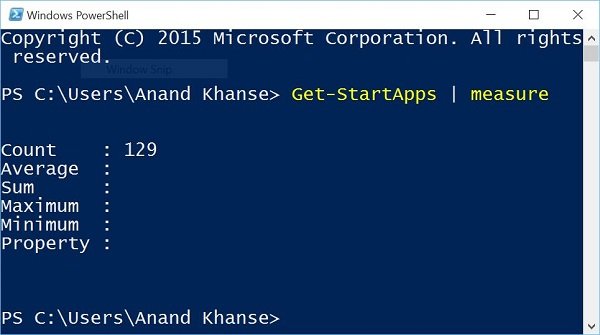 This command gets the count of apps on the Start screen. Against Count, you will be able to see the number of apps. In my case, you can see 129.
If your count exceeds 512, Windows 11/10 will not pin shortcuts of more apps. You will have to remove some or uninstall some apps.
To get all the names and IDs of apps in the Start Screen, you can also open an elevated PowerShell prompt, type the following and hit Enter:
Get-StartApps
If you can uninstall some apps, or remove some shortcuts from the Start Menu and you may be able to manually pin the apps shortcuts.
You could go to your Office 16 folder:
For 32-bit Office – C:\Program Files (x86)\Microsoft Office\root\Office16.
For 64-bit Office – C:\Program Files\Microsoft Office\root\Office16.
Find the Office program that you want to create a shortcut for: WINWORD, EXCEL, POWERPNT, ONENOTE, OUTLOOK, MSPUB, or MSACCESS.
If this does not work for you, then there is a workaround.
Pin the Program to the taskbar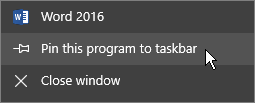 Simple yet effective. Manually pinning the program to the taskbar might be the best solution since it will remain pinned and can be accessed easily. Moreover, this option will make things easier as you don't need to search for the program in the All Apps list or the search bar.
Search for an existing document, spreadsheet or presentation and open it, once opened right click on the taskbar and select "Pin this program to taskbar."
In case of new documents, all you need to do is right-click anywhere on the desktop and select Microsoft Word Document or any other Office app with which you intend to create the document.
Once the file appears on your desktop, right-click on the taskbar and select "Pin this program to taskbar" just like how we did it in the earlier step.
How do I add Microsoft Office to my Start menu?
To add Microsoft Office to your Start menu in Windows 11, you need to search for the app first. Once you get it in the search result, right-click on it and select the Pin to Start option. The Office app will be pinned immediately to the Start menu. The process of adding this app to the Start menu is the same in Windows 11 and Windows 10.
How do I get Microsoft Office back on Windows 11/10?
If you have uninstalled Microsoft Office on Windows 11 or Windows 10 earlier and want to get it back now, you can open the Microsoft Store and install it from there. For that, open the Microsoft Store on your computer, and search for the office. Once you get the search result, click on it and select the Get option.
Trust this helps.