The Search function is one of the most useful and frequently used feature in Windows 10/8/7. And if it does get broken for some reason and does not display results at all or display results incorrectly, it can be quite frustrating. This article will tell you how you can repair your Windows Search and the Search Indexer function.
This ATS from Microsoft will automatically repair Windows Search problems and specifically fixes the following search problems:
Windows Search does not start

Windows Search does not work as expected, even if it does start

Windows Search starts but shows no results

Windows Search is crashing

Other general problems with Windows Search.
Windows Search Troubleshooter
If you face these issues, download this Windows Search Troubleshooter from Microsoft and simply run the wizard. Microsoft has now built these tools inside the Windows 10 / 8.1 operating system. To access it open Control Panel > All Control Panel Items and click on Find and fix problems with Windows Search to open the Windows Search Troubleshooter.
The wizard will ask you if you would like to detect and fix all the issues automatically or if you would like it to only detect the issues, and let you decide what you want fixed. Choose the option you want and click on Next to complete its run.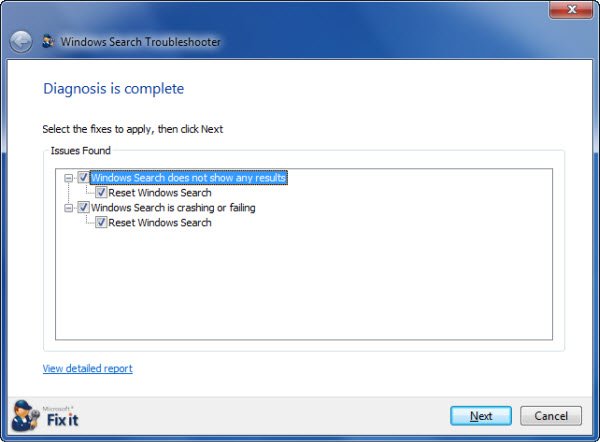 If you receive an error message: Search Failed to Initialize, Waiting to receive indexing status or Microsoft Windows Search Indexer Stopped Working And Was Closed or Windows could not start the Windows Search on Local Computer, you may want to see this post on Windows Search not working.
These links may also interest you: