Cortana, comes deeply integrated into Windows 10, making the search experience a more personalized one. Microsoft has overhauled some of the gestures and introduced a few new ones in Windows 10. For instance, you can now enable or disable a 3-finger tap to launch Cortana in Windows 11/10.
Users who are continuously on the go might not be interested or may find it a bit inconvenient to always use their touchscreen or a mouse for work purposes. Under such circumstances, the natural choice is the touchpad, so it's quite important that you set the touchpad to work as desired. With Windows 10, you can find some of the new configuration options for the touchpad. Most popular touchpad manufacturers support launching Cortana by three-finger tap or click. That is, on some laptops, it's possible to launch Cortana by making a three-finger click or tap on the touchpad.
Launch Cortana with 3 finger Tap
It is important to mention here that the feature can be enabled only if you have the latest version of the touchpad driver installed. Windows 11/10 users who have the option of driver updates automatically enabled will likely have the latest version of the driver. If you have the feature disabled, I recommend you download and install the latest version of the touchpad driver from Synaptics.
Press Win+X in combination and select 'Control Panel'. In the right-corner section look for 'View By' option.
Change it to 'Small icons', and then click Mouse to open Mouse Properties.
Switch to the touchpad tab, in this case, ClickPad, and select Settings from the options displayed.
Once, the control panel of the touchpad is opened, switch to Click tab by clicking on the same.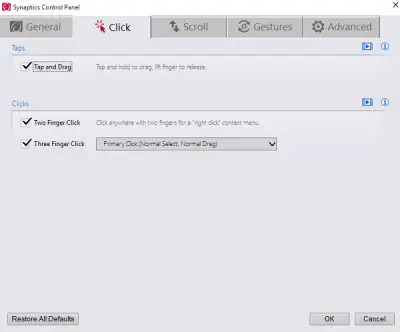 Now, look for the option titled Three-finger tap and Three Finger Click, and then select Cortana from the drop-down box adjacent to it.
Click OK and restart your computer.
On a Dell laptop, you will have to click on Dell Touchpad in the Mouse Properties box then on the Click to change Dell Touchad settings to open the following box. Here Gestures > Multi-finger gestures, you will see the settings.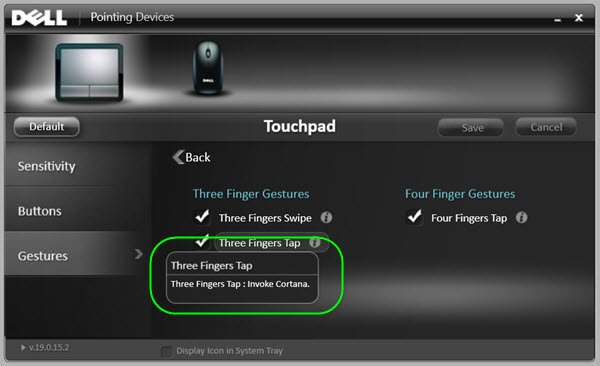 The settings may thus vary a bit and depend on which laptop or touchpad you are using.