If you are facing OneDrive problems on your Windows 11/10 PC, carrying out a full reset of the OneDrive client may help you fix most of the issues. Let us see how to reset OneDrive settings to default values.
Reset OneDrive in Windows 11/10
Type Run in Start search and hit Enter to open the Run box.
Next, copy-paste the following and hit Enter to reset OneDrive:
%localappdata%\Microsoft\OneDrive\onedrive.exe /reset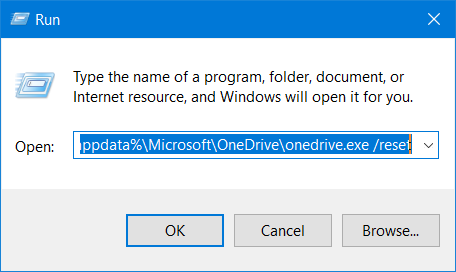 You will see the OneDrive icon in the notification disappear and then reappear again.
This may take a while to run, but once the process is complete, your OneDrive app and settings will now have been reset to default values.
If the OneDrive cloud icon doesn't re-appear after a minute or two, open the Run box again, enter the following and hit Enter:
%localappdata%\Microsoft\OneDrive\onedrive.exe
I hope it resolves your OneDrive issues. If it does not, then Uninstall OneDrive from Windows 10 completely and then download it from onedrive.live.com and install it.
TIP: Windows 8/7 users may want to run the OneDrive Troubleshooter.
UPDATE: Says Sts stz in the comments below:
If this does not help, use the Registry Editor and go to:
HKEY_LOCAL_MACHINE\SOFTWARE\Policies\Microsoft\Windows\OneDrive
If keys "DisableFileSyncNGSC" and "DisableFileSync" are set to "1", change these values to "0" and OneDrive will show up again.
How to Reset OneDrive Microsoft Store app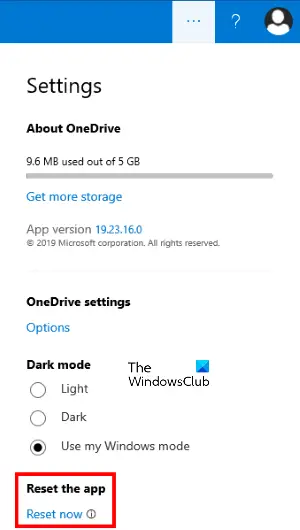 Follow the steps below to reset the OneDrive app:
Launch the OneDrive Store app.
Click on the three horizontal dots on the top right side and select Settings.
Click Reset now.
How do I fix OneDrive Sync Issues Windows?
To fix OneDrive Sync Issues Windows 10, try restarting the OneDrive sync client app on your PC. You may want to check if your OneDrive account is connected to Windows 10. Also, check your PC's available storage space.
What happens if I reset OneDrive?
When you reset OneDrive, your OneDrive will be restored to the state it was in before the first activity you selected. All its settings will be reset to default.
Need specific help? Check these: