If you are facing OneDrive problems on your Windows PC, Mac or Android phone, carrying out a full reset of the OneDrive client may help you fix most of the issues. Let us see how to reset OneDrive settings to default values.
How to reset OneDrive on Windows 11/10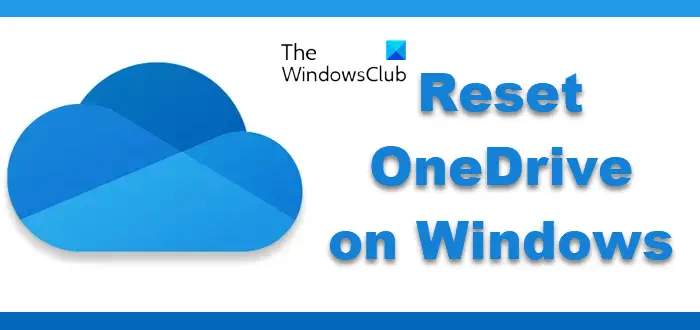 Take the following steps to restart OneDrive on Windows 11/10:
Type Run in Start search and hit Enter to open the Run box.
Next, copy-paste the following and hit Enter to reset OneDrive:
%localappdata%\Microsoft\OneDrive\onedrive.exe /reset
You will see the OneDrive icon in the notification disappear and then reappear again.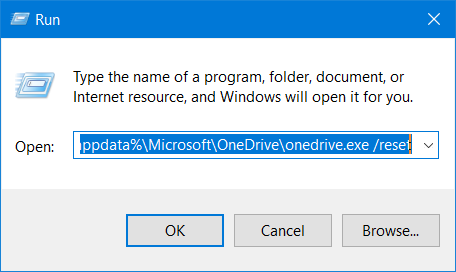 This may take a while to run, but once the process is complete, your OneDrive app and settings will now have been reset to default values.
If you see a "Windows cannot find onedrive.exe" message, copy and paste one of these instead, then press OK.
C:\Program Files\Microsoft OneDrive\onedrive.exe /reset
C:\Program Files (x86)\Microsoft OneDrive\onedrive.exe /reset
If the OneDrive cloud icon doesn't re-appear after a minute or two, open the Run box again, enter the following, and hit Enter:
%localappdata%\Microsoft\OneDrive\onedrive.exe
I hope it resolves your OneDrive issues.
If it does not, then Uninstall OneDrive from Windows completely and then download it from onedrive.live.com and install it.
UPDATE: Says Sts stz in the comments below:
If this does not help, use the Registry Editor and go to:
HKEY_LOCAL_MACHINE\SOFTWARE\Policies\Microsoft\Windows\OneDrive
If keys DisableFileSyncNGSC and DisableFileSync are set to "1", change these values to "0" and OneDrive will show up again.
TIP: Windows 8/7 users may want to run the OneDrive Troubleshooter.
How to reset OneDrive Microsoft Store app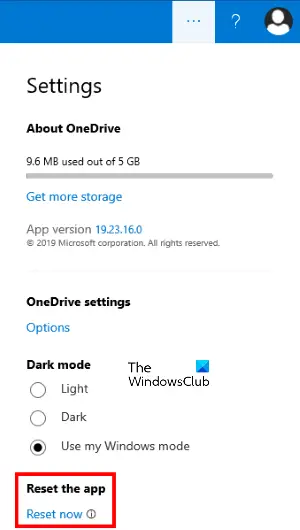 Follow the steps below to reset the OneDrive on earlier versions on the app:
Launch the OneDrive Store app.
Click on the three horizontal dots on the top right side
Select Settings.
Click Reset now.
How do I fix OneDrive Sync Issues on Windows?
To fix OneDrive Sync Issues in Windows 11/10, try restarting the OneDrive Sync client app on your PC. You may want to check if your OneDrive account is connected to Windows. Also, check your PC's available storage space.
What happens if I reset OneDrive?
When you reset OneDrive, your OneDrive will be restored to the state it was in before the first activity you selected. All its settings will be reset to default. OneDrive will delete the DAT file, store the application logs in the registry & store the settings on the disk. When OneDrive restarts, it checks with the registry to confirm the reset has taken place and then loads the settings and rebuilds the DAT file.
Need specific help? Check these:
How to reset OneDrive on Mac
If you are using an Apple computer, be it a desktop or laptop, you need to follow the steps given below to reset OneDrive.
Close OneDrive and kill all of its running instances.
Now, open Finder and then go to the Application tab.
From there, look for OneDrive, right-click on it, and from the context menu select Show Package Contents.
Now, navigate to the following path.

Contents > Resources > ResetOneDriveApp.command or ResetOneDriveAppStandalone.command.

Now, double-click on the button.
Finally, you need to start OneDrive and set it up.
How to reset OneDrive on Android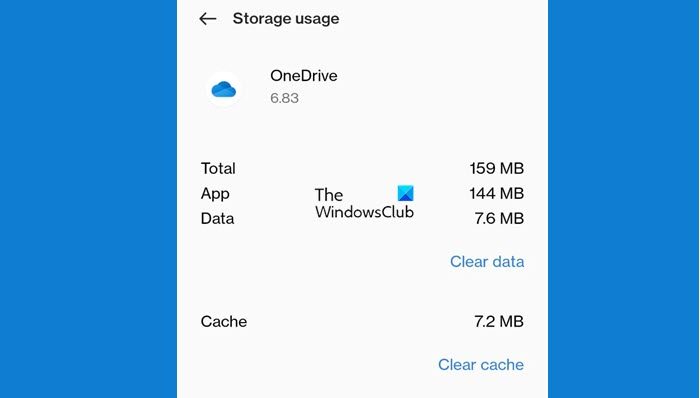 Sometimes, even Android users get issues related to OneDrive and to resolve the issue, they want to reset OneDrive. If you are one such user, follow the steps given below.
Launch Settings and then navigate to Apps or Applications.
Now, go to Manage Applications.
Look for OneDrive.
Select it and then click on Force Stop.
You will get a prompt asking you to confirm your actions, so do that.
Now, go to Storage (your phone may have a different name for this button, but you will get the idea).
Click on the Clear Storage and Clear Cache buttons.
Maybe, they will ask you to confirm your actions and tap Ok when prompted. This will clear OneDrive data. You then have to open the app and set it up for your needs.
How to reset OneDrive for iOS
iPhones or iPads do not have the option to remove data from a particular app. I know it's weird, but we know how stubborn Apple as a company is. However, we can uninstall OneDrive from your phone and then install it. To do the same, long press on OneDrive and then select Remove App. Now, open the App Store and then install it.
Hopefully, this will do the job for you.