If you want to reset Taskbar Corner Overflow Icons in Windows 11 to default, this guide will help you do it. On earlier versions of Windows up to Windows 10, the icons at the bottom-right of the taskbar are called Notification Area or System tray icons. But with Windows 11, this area has been named Taskbar Corner Overflow.
The System Tray in Windows 10 has now become Taskbar Corner Overflow in Windows 11. Taskbar Corner Overflow comes with few functionalities to customize icons or add icons as we please. The choice of icons we can add to taskbar corner overflow is large and we can get icons of almost every essential program in the list. If you don't like the number of icons you are seeing and you want to reset the Taskbar Corner Overflow to basic icons, we have a solution for you. Let's see how we can reset Taskbar Corner Overflow Icons in Windows 11.
How to reset Taskbar Corner Overflow Icons in Windows 11
To reset Taskbar Corner Overflow Icons in Windows 11, we have to do it in the Registry Editor. So, before diving into the process, backup your registry settings and get into it. Also, close all the opened programs including Explorer windows. To get started:
Open Run box
Type Regedit and press Enter
Copy/Paste this path in the Registry Editor
Terminate Explorer.exe using Task Manager
Delete IconStreams and PastIconsStreams in the Registry Editor
Restart Explorer using Task Manager
Restart your PC
Let's get into the details of the process – it is similar to the way we remove old notification icons in Windows 10.
Open Run box using Win+R keyboard shortcut and type Regedit and press Enter to open Registry Editor.
In the Registry Editor window, copy and paste the below path address in the address bar and press Enter.
HKEY_CURRENT_USER\Software\Classes\Local Settings\Software\Microsoft\Windows\CurrentVersion\TrayNotify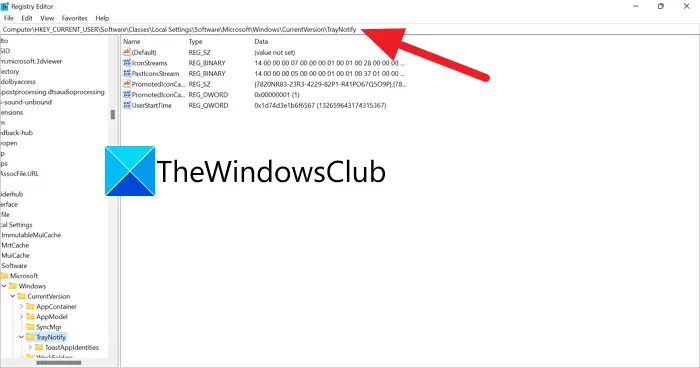 Now, after going to the path in Registry editor, you have to kill all Explorer processes that are running in the background.
Next, open Task Manager and terminate the explorer.exe process.
Now, in the Registry Editor, select IconStreams and PastIconsStream and right-click on them. Select Delete to delete them from the path.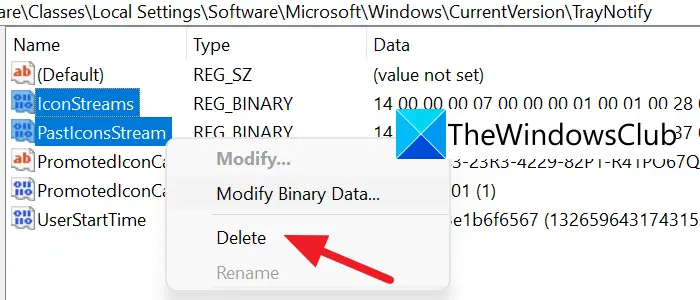 After deleting the two files, you have to restart Explorer using Task Manager.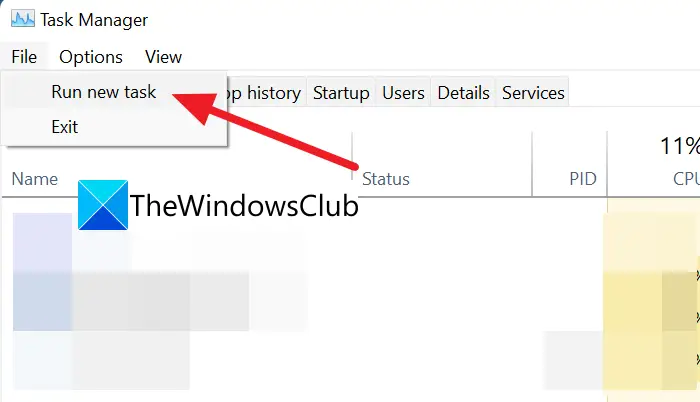 Press Ctrl+Shift+Esc on your keyboard and click on File and then select Run new task. It will open a small dialog box to Create new task. Type explorer in it and press Enter. It will restart Explorer.
The missing taskbar and desktop will reappear now. To make the changes you have done to take effect, restart your PC.
This way you can reset Taskbar Corner Overflow Icons in Windows 11.
How do I add icons to the taskbar in Windows 11?
You can add or pin icons to the taskbar in Windows 11 through the Start menu or the context menu you see after right-clicking on the icon of the opened app.
Related Read: How to remove or disable Widgets on the Taskbar on Windows 11.