Microsoft Edge and Google Chrome are both Chromium-based browsers and so is there nothing to choose between the two? In this article, we will give you a detailed comparison between Google Chrome and Microsoft Edge so that you can decide which is the better and more suitable browser for you on your Windows 11/10 PC.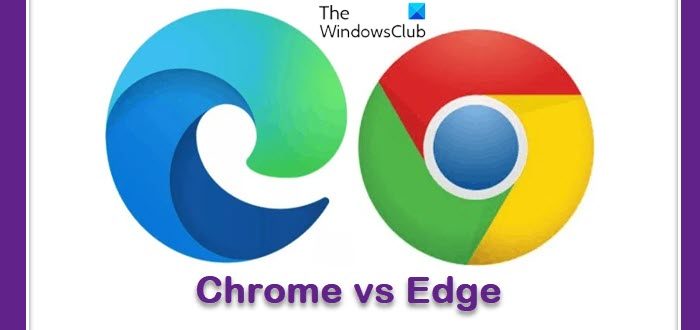 Google Chrome vs Microsoft Edge comparison
Microsoft Edge comes preinstalled on all Windows computers. However, a lot of users download Chrome and make it their default browser. One is a flagship product of Google, whereas the other is an aspirational product from Microsoft. We will compare both browsers on the following parameters and see which one is better for you.
User Interface
Performance
RAM Management
Privacy and Security
Features
Let us talk about them in detail.
Do note that plugins and themes made for Google Chrome run equally well on Microsoft Ede as well, since both are Chromium based. So this advantage that Chrome had earlier gets neutralized now.
This post is based on my experience as an end-user.
1] User Interface
The moment a browser is launched, you are greeted with the UI of both browsers. Therefore, it is fitting to compare how good both browsers look.
One of the best things about the Edge is that everything that you want to customize is on the front page itself. In its Settings, you get some useful widgets, news, and bookmarks on the front page itself. You can, however, set off these options to give Edge a minimal look.
What I like about Chrome is that it doesn't feed you everything on the front page. It takes a minimalistic approach contrary to that of Edge. Do keep in mind that you can change Edge's home screen by changing the Layour to Focused from the dropdown menu that appears after clicking on the cog button.
Read: Edge vs Firefox: Which is better for Windows 11
2] Performance
Both browsers are pretty good when it comes to performance. to compare the performance of both browsers, you can run  WebXPRT 3 or any other browser benchmarking tool to test the performance of your browser.
To keep it fair and square, we tested both browsers in Incognito or Private mode and we found that the lead is not very significant and both browsers can be kept in the same tier.
Chrome is considered to be a resource hog however it has improved in recent times. Microsoft Edge by virtue of its being integrated with the Windows operating system performs rather well.
Read: Chrome vs Firefox: Which is better on Windows PC?
3] RAM Management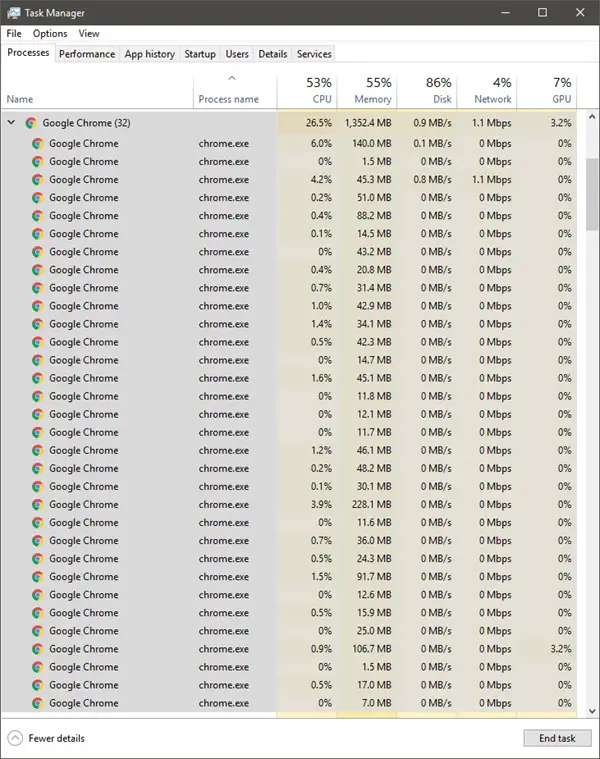 Google Chrome is notorious for eating a large chunk of memory. Well, there are no ifs and buts in this case, Google Chrome consumes your RAM more than Edge. As a matter of fact, Chrome consumes more memory than any mainstream browser. The developers at Google have released patches addressing this issue, but we still wish for a more optimized browser.
In our testing, Edge comes out on top as it consumes 200-300 MB less than Chrome. If you are using Chrome, and are fed up with high memory, check our post to reduce RAM usage in Chrome. And if Microsoft Edge is consuming a lot of resources, first of all, close all the redundant and unnecessary tabs, and then if that doesn't work, check our guide to know what to do when Edge shows high CPU usage.
4] Privacy and Security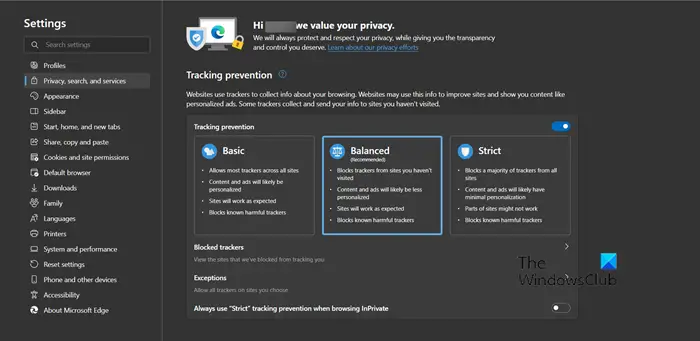 Neither Google nor Microsoft has a great track record when it comes to privacy and security.
When talking about their respective browsers, Edge has way more tuned and better security & privacy features.
If you go to Settings > Privacy, search, and services on Edge, you will see everything is organized there. You can select the tracking policies, tweak other policy settings, and clear browsing data and history.
If you go to Settings > Privacy and Security in Chrome, you must know what you are doing. You can check our guide to learn more about privacy settings in Chrome.
If you are ready to make changes to both browsers, they are similarly secure. But if you are an amateur or don't want to make a lot of changes, Edge is the way to go.
Read: Microsoft Edge Browser Tips and Tricks for Windows
5] Features
Last but not least, let us compare features that these browsers give to the user improving the user experience. As mentioned earlier, Chrome is a flagship browser and Edge is an ambitious browser. Therefore, Google doesn't try to offer various features to the user. They just have the basic features because that's all a lot of users need. Most of their features come from the fact that they have been in this business for a very long time, as a lot of developers agree to append the vast arsenal of extensions that this browser has.
On the contrary, Microsoft takes the initiative of adding more features to Edge. They keep their browser on their toes and likes to add more features to their browser. One of the features that I like in Edge is that it automatically scans for coupons and adds them when using an e-commerce website. And how can one forget Edge's integration with Bing AI Chat Box? It can be accessed with just a click on the Bing icon.
What do you feel? Which is your browser of choice?
Is Edge better than Chrome Windows 11?
After looking at all the points and parameters mentioned here, Edge looks to be slightly better than Chrome, even though the latter rules the market. Edge beats Chrome fair and square, and it seems like Microsoft's efforts have paid off.
Chrome and Edge are not the only Chromium browsers. There are various Chromium-based browsers that we have jotted down in our post.
Which browser is better for Windows 11?
There are various browsers built-in for the Windows platform. A lot of them are top-notch and should be on your list. Since Edge is integrated with the Windows operating system, it performs rather well, and we feel it is the best! However, you can pick any other from our list of best browsers. Gamers should go for the best gaming browsers, and people concerned about the security of their data should go for the best privacy browser.