Mozilla Firefox and Microsoft Edge have come a long way since Edge was introduced with Windows. Windows 11/10 gives you Edge as the default browser. Microsoft Edge and Mozilla Firefox are two ambitious browsers. Both are trying to dethrone Google Chrome and capture the largest chunk of the browser market. In this article, we will compare and see which one is better for a Windows 11/10 user – Microsoft Edge or Mozilla Firefox.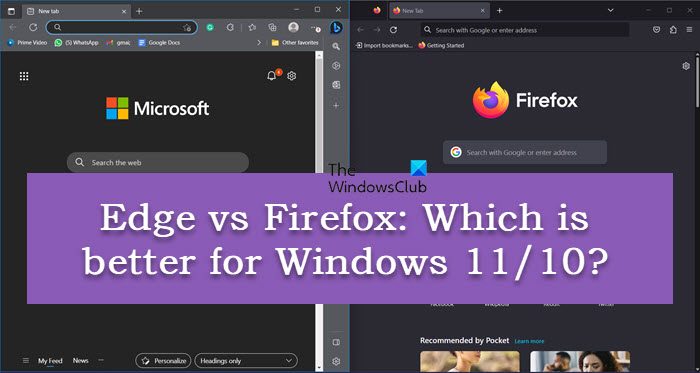 Edge vs Firefox: Detailed Comparison
Mozilla Firefox is a veteran. It was in the market when Internet Explorer was alive and breathing. On the other hand, Edge is based on Chromium, the same engine that powers the popular Google Chrome. However, this by no means makes Firefox an outdated browser. In fact, in some cases, it's better than many other popular browsers. That being said, there are some pros and cons on both sides. That's why we will compare Edge and Firefox based on the following parameters.
User Interface
Performance and optimization
Features and extensions
Privacy and security
Let us talk about them in detail.
1] User Interface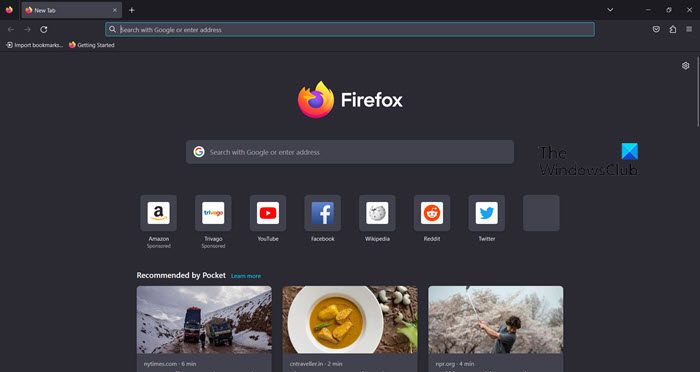 Let us first compare the two browsers on how they look. Let us judge the cover first and then move to the book.
Both browsers are pretty similar; they have an address bar, menu button, favorites bar, and everything else that a good browser should have. Edge and Firefox go for a very minimal approach and don't necessarily have any clumsy elements. Edge allows you to choose from different layouts based on your liking, we recommend going for Focused as that ensures that no extra load is put on your CPU, GPU, and RAM.
One thing to keep in mind, though, is that none of the two browsers gives you a lot of options to customize your home screen, there are a few limited options and you have to make use of them.
Read: Chrome vs Firefox: Which is better on Windows PC?
2] Performance and optimization
In order to compare the performance of both browsers, we ran the HTML5Test browser benchmarking tool that you can access from html5test.com. Firefox scored 466 which is great, but Edge beats it with a score of 476. This trend continues across various benchmark tools. However, there is not much to choose between the two browsers as they go toe-to-toe on various parameters, but if you still want to compare their performance, Edge takes a lead.
Now let us talk about optimization. Both browsers are far better optimized than Chrome, but one is better. Because of the fact that Edge was made for and is well integrated with Windows, it consumes a lot less RAM and resources.
3] Features and extensions
Firefox and Edge share a lot of useful features, but there are some differences.
One of the best features of Microsoft Edge is that it allows users to combine two tabs or website, name them and then use it for future reference. On the other hand, Firefox has Pocket integration features that allow users to add/save web pages to their Pocket account.
When it comes to Extensions, Edge will always have an upper hand because of the fact that it is based on Chromium and supports all of the extensions made for Chrome. Firefox is not too far behind, the browser is popular, and hence, a lot of major developers have created their own extensions.
Microsoft Edge has been introducing a lot of new useful features of late. They keep their browser on their toes and likes to add more features to their browser. One of the features that I like in Edge is that it automatically scans for coupons and adds them when using an e-commerce website. And how can one forget Edge's integration with Bing AI Chat Box? It can be accessed with just a click on the Bing icon.
Read: How to install Chrome extensions on Firefox browser
4] Privacy and security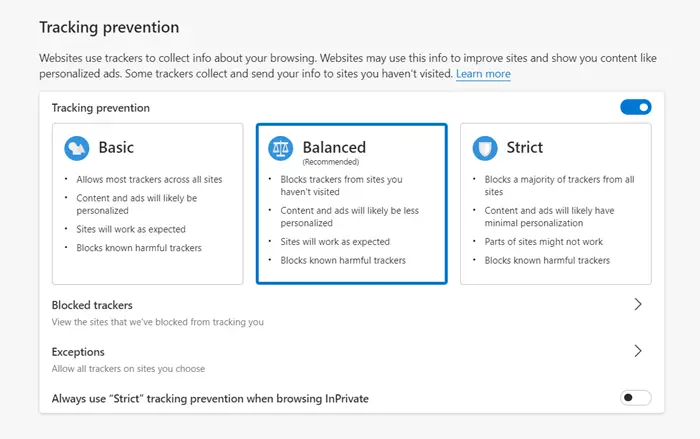 Last but not least, let us talk about Privacy and Security. Security of user data should be of utmost importance to all developers, be it Mozilla, Microsoft or Google. Comparing these two browsers, we found that there are a lot of similarities in their security features. Both of them offer their users three security modes, namely  Basic, Balanced, and Custom in Firefox and Strict in Edge. Microsoft has also integrated the SmartScreen feature that defends the browser from malicious sites and forbids downloading content from unverified sites. Firefox has Deceptive Content and Dangerous Software Protection which works similarly to SmartScreen.
Read: How to best secure web browsers for Windows PC
Both browsers perform well and offer features that users need; although we do feel Microsoft Edge takes the crown here. It is however best that you try both browsers and see which meets your requirements. We hope that you will find this post useful and help you take a decision.
Which is better Microsoft Edge or Mozilla Firefox?
Edge and Firefox are two of the best browsers in the market. Microsoft Edge, because it is well-integrated with the Windows operating system, performs better. Bot browsers, however take user privacy seriously and offer settings to control them.
Is Edge faster on Windows 11?
Edge offers top-of-the-line performance courtesy of its Chromium build and being optimized for Windows OS. Due to these two things, Edge does have an edge and it performs faster on Windows 11 as compared to other browsers. It does not consume a lot of resources including RAMs and CPU.