Chrome or Firefox? Which one is better for use on Windows 11/10? We discuss the main points to find out the key differences between Google Chrome & Mozilla Firefox web browsers. This post is based on my experience as an end-user.
Chrome and Firefox are two popular browsers for Windows computers. These flagship browsers from Google and Mozilla have ruled the market for ages and will continue to dominate the space. However, there's always one dilemma among users, which one is superior.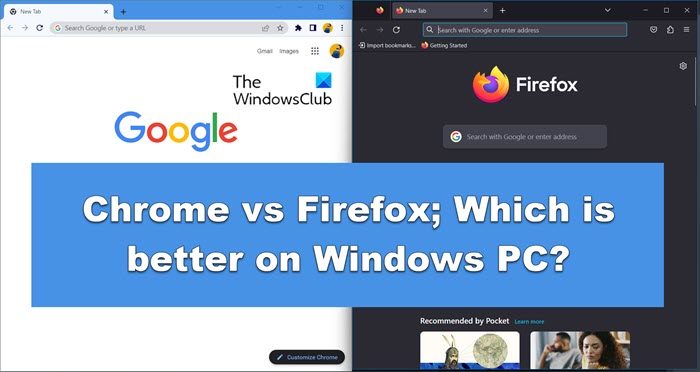 Highlights:
Google Chrome is considered a resource hog compared to Mozilla Firefox; we'll look into it below
Mozilla Firefox is an open-source software browser, while Google Chrome uses different ways to provide users with a faster browsing experience
Folks say the speed of Chrome is better than Firefox as such, but Firefox has improved a lot
Firefox's interface design makes using it slightly interesting to end users
Google Chrome, on Windows, can cast the whole screen or one of the open tabs to different screens; the feature is not available in Firefox by default
There is no READ view in Google Chrome; Extensions are available, but users must search for different extensions and experiment to see what suits them.
Chrome vs Firefox: Which is better?
Chrome and Firefox are two excellent browsers. You won't miss out on anything if you pick either of the two browsers. That's why we need to discuss the nuanced differences and compare them on the following parameters.
1] Chrome vs Firefox: User Interface
Our first point of contact with any piece of software is its UI. Therefore, how good it looks and how easy it is to use plays an important role in picking the go-to browser.
Chrome goes for simplicity, minimalism, and overall clean aesthetics. However, it has many themes and customization features to tailor the UI to your liking. It has many themes and extensions to make the browser suit your taste.
Firefox goes for a similar approach, but the advantage of Firefox is customization, Chrome provides you with some tools, but Firefox allows you to customize it, change the toolbar and add extensions.
Read: Edge vs Firefox: Which is better for Windows 11
2] Chrome vs Firefox: Privacy and Security
When it comes to privacy and security of the data, no browser explicitly comes out and claims that their browser is not secure. Not only that, both browsers have some integrated security features, the most popular one being private browsing. However, there are some no-to-so obvious differences between the two browsers when it comes to security.
Chrome is developed by Google. No one can deny that Google collects user data with or without their consent to deliver targeted ads.
Mozilla, on the other hand, is a nonprofit organization that ensures user security and privacy. They have strict tracking policies and also ensure great customization features.
Therefore, we can say that Firefox is a better browser for the security and privacy of users' data.
Read: How to best secure web browsers for Windows PC
3] Chrome vs Firefox: Performance and RAM Management
Performance and RAM Management are two different things, but we clubbed them together as in the real world, every browser is powerful.
When it comes to sheer speed and performance, Chrome comes on top. It is built on powerful code and does tasks pretty quickly. The problem that has plagued Chrome users for years is its RAM management. It takes a lot of the system's resources and cripples the computer. Due to this, the system's overall performance could take a hit.
Regarding Firefox, the browser takes significantly fewer resources than Chrome.
Considering this, we will go with Firefox on this one.
Read: Chrome vs Edge; Which is better on Windows 11?
4] Chrome vs Firefox: Extensions and Features
Most developers tend to build their extensions for both Chrome and Firefox, that's because both browsers are popular. However, since Chrome captures the biggest chunk of the browser market, it has the biggest selection of extensions.
Mozilla Firefox has almost all the features of Chrome, if not more. But the one big feature that Firefox lacks is Casting. You cant cast your YouTube or Netflix video on other devices. This may or may not be a deal breaker for you. Firefox also allows its users to create their own extensions using CSS.
Read: Most useful Google Chrome Flag settings for Windows users
5] Chrome vs Firefox: Mobile Support
When it comes to mobile apps, both Chrome and Firefox have a pretty enormous user base. However, the very fact that Google owns Android, and a lot of phones run on Android, gives Google the leverage to preinstall their own app suite, including Chrome, on all Android devices.
Firefox, on the other hand, doesn't have this luxury. It has to compete with an array of browsers that only enthusiasts download when they need an alternative. This disparity changes the outlook of both these companies toward the user. Chrome values security and easy-of-use the most, whereas, Firefox likes packing the latest features into its browser.
Conclusion
There is little difference in resource consumption and speed when comparing Google Chrome with Mozilla Firefox on Windows 11/10. Things have improved a lot with Firefox. Chrome, however, appears to have become sluggish at times.
Firefox offers good privacy features that can keep user data and experiences private as compared to Chrome.
The main factors for adopting only one of these browsers depend upon how they are intended to use. Suppose a person uses multiple monitors and wants to cast different tabs to different monitors, the person will use Google Chrome rather than searching for a similar extension for Firefox.
There can be no clear verdict in this case as both browsers are pretty good, and one should pick their side, based on what they need, and make their decision based on the parameters mentioned here.
Over to you. Your experience?
Which is the better browser for Windows?
There are a lot of browsers in the market other than the recommended one that is preinstalled on your computer – which is Microsoft Edge. If you are not a fan of the default browser, read our post on the best browsers for Windows computers. You can install and use them the way you were using the default browser.
Which is safer Chrome or Firefox?
When it comes to privacy and security, both Chrome and Firefox try to do their part. However, the best part about Firefox is that it comes preinstalled with a tracker that blocks trackers and scripts such as social media trackers, cross-site tracking cookies, fingerprinting, crypto miners, and more. Chrome doesn't have any of these features. In that sense, Firefox is slightly ahead of Chrome. If you are still concerned about your privacy check out the list of some of the best Privacy browsers.