There are different ways to customize Google Chrome and make it look like how we want it. Changing themes is a way to customize the look of the browser. In this guide, we will list the 10 best Google Chrome Themes for Windows PC you can download and use for free.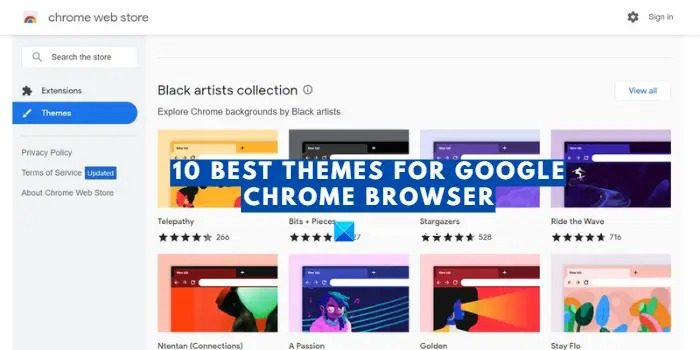 Google Chrome is one of the major browsers that has a huge advantage with its large user base. It has become synonymous with web browsers and is a go-to browser for millions of people around the world. The web browsing experience remains great on it except for the CPU resources it takes while we use the browser. Except for that, there is nothing to complain about it. The browser gets updated regularly by Google to give a good experience and security to the users.
Best Chrome Themes for your browser on Windows PC
The themes to customize the look of the Google Chrome browser are available to download and use on the Chrome web store. The following is the list of the 10 best themes you can find in the Chrome web store.
Slinky Elegant
Ride the Wave
Whale's Tail
Lando Norris in Motion
Under The Leaf
Classic Blue
Distance
Black Carbon + silver metal
Galaxy-View
wide awake theme
Let's get into the details of each of them and find the one you like to apply to your Google Chrome.
1] Slinky Elegant
If you like simple themes with a beautiful retro look that is not too distracting or disturbing to the eyes, you can give a try too Slinky Elegant theme on the Chrome web store. The theme is developed with a motto of simplicity and convenience. The theme lets you focus more on the key elements of the web pages and makes your browser more beautiful with great performance.
2] Ride the Wave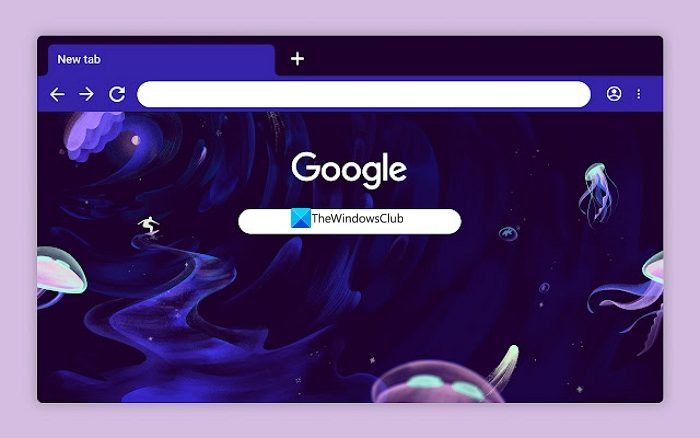 Ride the Wave is one of the best-looking themes if you are kind of a more colorful person. It comes with a beautiful abstract painting-like image as the background and makes your browser look dark and beautiful in blue. The background image represents a surfer riding a giant wave immersed in floating, bioluminescent jellyfish and shooting stars. The image was illustrated by Janelle Cummins born and raised in Barbados. The theme is elegant and beautiful which is not too disturbing.
3] Whale's Tail
A beautiful theme that is developed to represent the culture of the author Crystal Worl's community, Whale's Tail is another good theme if you are looking for a colorful but not overpowering theme. The author hails from Southeast Alaska which is abundant in sea life and resources that shaped the lifestyles of many people. Crystal Worl, the author made this theme as a representation of her native place. It is offered by The Chrome team and is in version 2 that is updated on November 2022.
4] Lando Norris in Motion
Google Chrome is an official partner of the McLaren Formula 1 team. Chrome developed some themes based on the McLaren Formula 1 team to make the browser more customizable for the racing team fans. Lando Norris who has 183 race wins, 12 Driver's Championships, and 8 Constructor's championships, is the inspiration for this beautiful theme. It is one of the most downloaded themes from the pack of themes designed based on the Formula 1 team. Lando Norris in Motion can be your choice if you like a speed and racing theme for your Google Chrome.
5] Under The Leaf
If you are more of a green person and want your Google Chrome to look leafy and green, Under The Leaf can be your choice to customize the look. The theme was inspired by the findings in nature to remind us that sometimes we only have to look under our noses to find what we are looking for. It is designed by Marisol Ortega, a first-generation Mexican-American designer, illustrator, and letterer.
6] Classic Blue
If you are looking for a theme that looks similar to the earlier versions of Google Chrome in its nascent stage, Classic Blue can be your theme. It is a theme that only has classic blue that looks too good on Google Chrome. The theme is developed just to remind us of the earlier stages of Chrome where the browser looks beautiful in blue.
7] Distance
If you love themes that look more vibrant and rich in colors that splash at the look, Distance can be your theme of choice. Though the theme is vibrant in its colors, it looks good on your Chrome. This can be a replacement for the dark theme that you have gotten used to for a long time.
8] Black Carbon + silver metal
If you want Google Chrome to look solid like a metal, Black carbon + silver metal can be the one. It looks simple, and beautiful without any disturbing looks. It is developed to cater to lovers of minimalistic themes which look simple but stylish that do not strain the eyes. Black carbon + silver metal is one of the low-size themes that are available to customize the look of Google Chrome.
9] Galaxy-View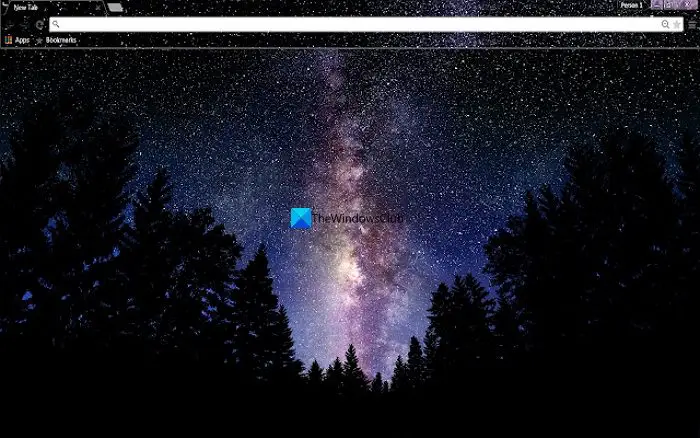 If you like starry view and dark look on your Google Chrome, Galaxy-View theme is one theme you should check out. It gives your Chrome a dark look and shows you a beautiful wallpaper with trees in silhouette and stars shining in the background. The theme is a bit heavy in size with 3.65MB which is huge compared to other themes, the look is worth it if you like such themes.
10] wide awake theme
If you are a pet lover or a cat person, you will love the wide awake theme which is too simple a theme to customize your Google Chrome browser. It has more than 60000 users around the world. The themes look beautiful on Chrome with a wide-awake cat as the background image. The tabs look highlighted in yellow and give more visibility to the active tabs.
These are the 10 best Google Chrome themes you can use to customize the look of your Google Chrome.
Read: Extensions to customize your Chrome browser Home and New Tab page
How do I get cool Chrome themes?
There are thousands of themes available in the Chrome web store that you can get to change the look of Google Chrome. They are all categorized into different packs that represent a category of taste. There is also a category called the Cool themes, which you can have a look at and install a theme.
How do I make Chrome beautiful?
To look Chrome beautiful and get rid of the existing look, you can visit the Chrome web store and click on the Themes tab. It will show you the themes that are available under different categories that may suit your taste. Have a look at them and install a theme if you want to change your Chrome to the look shown by the theme.
Related read: How to remove Themes from Chrome, Edge, or Firefox.