This article lists some best free lightweight browsers for low-end PCs. Firefox, Chrome, and Edge are popular web browsers. When we say low-end PCs, we are talking about computers with weak hardware and low performance. You can do limited tasks on such computers, like surfing the internet, sending emails, etc. If you have an old or a low-end computer, you can install any of the following web browsers because they all are suitable for doing simple tasks on the internet.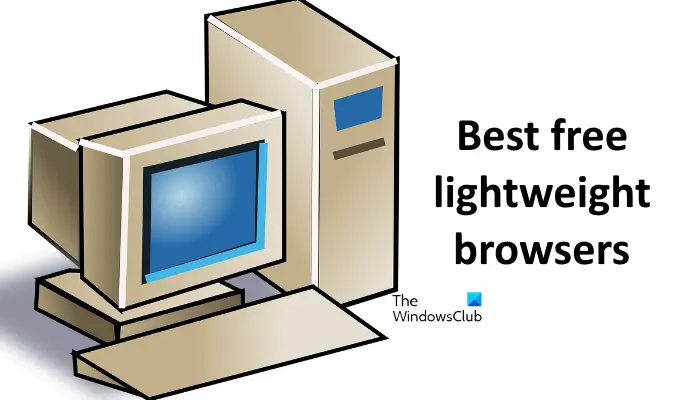 Best free Lightweight Browsers for Old and Low-end PCs
If you are searching for the lightest browser for a low-end PC, you can install browsers like SeaMonkey, Pale Moon, etc. These browsers do not consume more system resources. Hence, they are suitable for low-end computers. Below, we have touched upon these browsers in brief.
SeaMonkey
Pale Moon
Midori
Let's see the features offered by these web browsers.
1] SeaMonkey
SeaMonkey has an interface similar to the old web browsers. Hence, it does not put a strain on your computer's CPU and RAM. It has almost all the features that are required for basic internet surfing. The Menu Bar is available at the top of the browser. Just below the Menu Bar, there is an Address Bar, where you can type the website URL directly. The Bookmarks bar is located just below the Address Bar.
Some shortcuts of SeaMonkey are similar to other browsers, like:
Ctrl + T: Opens a new tab.
Ctrl + W: Closes the current tab.
Ctrl + Tab: Moves you to the next tab.
Ctrl + Shift + Tab: Moves you to the previous tab.
Ctrl + Shift + Delete: Opens the clear history window.
Ctrl + D: Bookmarks the current web page.
SeaMonkey also has an email client. You can add your mail address to send and receive emails. In addition to this, the email client also features a calendar that you can use to create events and tasks.
Add-on support: As compared to popular web browsers, like Firefox, Chrome, Edge, etc., SeaMonkey does not have wide extension support; but a good number of extensions are available. You can search for the extensions that you need by entering related keywords and install them if you find them relevant to you. To open the Add-ons page, open a new tab and then click on the Home button available on the Bookmarks bar. Now, click on the Add-ons link on the left side.
You can download SeaMonkey from its official website, seamonkey-project.org.
2] Pale Moon
Pale Moon is another free lightweight web browser for low-end PCs. Its interface is similar to the older version of Firefox. The default search engine is DuckDuckGo. If you want to use another search engine, you can change it by clicking on the drop-down arrow showing the current search engine. You will find it on the top right side.
Google search is not available by default in its search engines list. If you want to make Google your default search engine in Pale Moon, you can do it by going to the Search Plugins page. The following steps will help you:
Click on the search engine icon in the search bar.
Select Manage Search Engines.
Click on the Search Plugins tab and then select Google.
Talking about the browsing speed, Pale Moon is slower than Firefox and other popular web browsers like Chrome, Edge, etc. Pale Moon has good extension support but it lacks many useful extensions that are available in Firefox and other popular browsers. Hence, you can use it for basic web browsing.
You can download Pale Moon for Windows from palemoon.org.
Read: Best Privacy browsers for Windows PC
3] Midori
Midori is one more lightweight web browser for old or low-end computers. Its interface looks like Google Chrome. Unlike Chrome and other popular browsers, it does not consume much RAM and CPU which makes it the best fit for low-end computers.
Midori is the only web browser on this list that comes with wide extension support. All the extensions that are available for Google Chrome can be installed on Midori. You just have to visit Chrome Web Store and search for your favorite extension. When you click on an extension, you will see the Add to Midori button. Click on it to install that extension on Midori. This feature of Midori makes it the best web browser for low-end computers.
Talking about the browsing speed, Midori is the fastest browser as compared to the first two added to this list. To download Midori, visit its official website, astian.org.
What's the best browser for low-end PC?
You will find many browsers for low-end PCs. Midori is the best web browser for low-end PC because it is not only the fastest as compared to the other two added to this list but it also has wide extension support.
Read next: List of best alternative web browsers for Windows PC.