If your Desktop Background appears Black in Windows 11/10 then this post will be able to help you. Users may see a Black desktop background after installing a particular update, miscongigured settings or if they have a corrupted Graphics driver. This post offers suggestions to help you resolve the issue.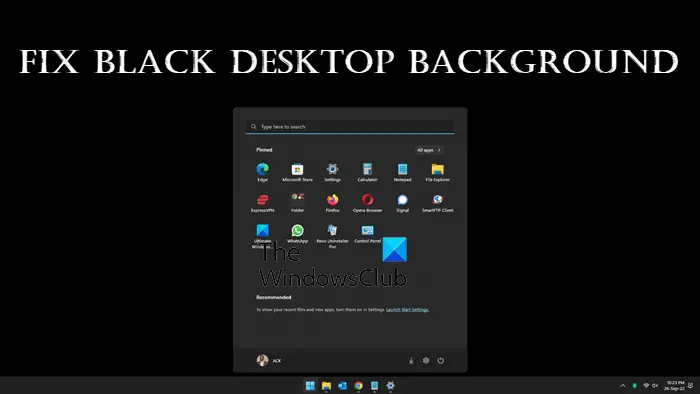 Fix Black Desktop Background on Windows 11/10
Here are some suggestions to help you fix the Black Desktop Background problem in Windows 11/10:
Change wallpaper and see
Check Solid color
Check Power Options Settings
Switch Desktop Background Type
Check Control Panel setting
Update or Rollback Display Drivers
Enable Show Desktop Background Image Option
Check in Clean Boot State
Use System Restore.
Let us see them in detail.
Wallpaper keeps going Black in Windows 11/10
1] Change wallpaper and see
Change the wallpaper and see. Maybe the wallpaper TranscodedWallpaper File is corrupt.
2] Check Solid color
This issue is sometimes caused by the changes made in the Desktop Background settings. For instance, you might have mistakenly selected the Solid color option on these settings. Check if you have by chance set a solid black color for your background.
Open Windows 11 Settings > Personalization. You will see the setting here. Select your favorite picture and make it your Desktop wallpaper.
3] Check Power Options Settings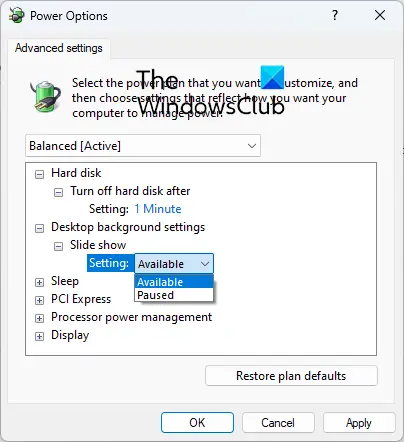 Using Search, open Control Panel > Power Options and
Click Edit plan settings
Click Change advanced power settings.
Expand the Desktop background settings option
Click the Slide show option
Choose the Available option for both the On battery and Plugged in options.
Read: Desktop background or Wallpaper not showing in Windows
4] Switch Desktop Background Type
Open Windows Settings > Personalization
Select Background
Under Personalize your background, switch from your existing option to another, and see if that helps.
Read: Desktop Background Slideshow not working in Windows
5] Check Control Panel setting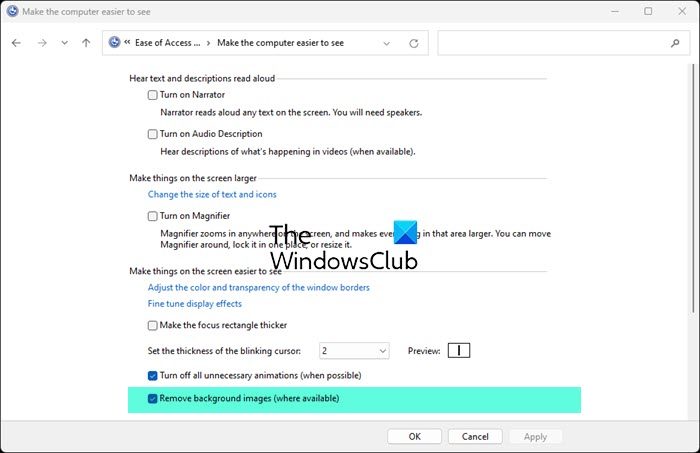 Open Control Panel > Ease of Access > Make computer easier to use.
Here ensure that the Remove background image option is unchecked.
Read: Wallpaper on second monitor turns black after logging in
6] Update or Rollback Display Drivers
Update your Graphics (Display) drivers and see if that helps.
You may visit your computer manufacturer's website, or you may visit the graphics hardware manufacturers site. Some of you may want to use free Driver Update software or tools like AMD Driver Autodetect, Intel Driver Update Utility or Dell Update utility to update your device drivers. NV Updater will keep NVIDIA Graphic Card Driver updated.
If you recently update your drivers and then the problem started then you may need to roll-back the Device Driver.
7] Enable Show Desktop Background Image Option
This issue can be caused if you've configured your display settings differently. To enable Show desktop background image option in Windows 10, do the following:
Press Win+I to open Windows Settings.
Click the Ease of Access option.
Click the Display option on the left-hand side pane.
Locate the Show desktop background image button and then switch it on.
Restart your computer and see if its usual Desktop Background has returned.
Read: Desktop Background Group Policy is not applying to Windows
8] Check in Clean Boot State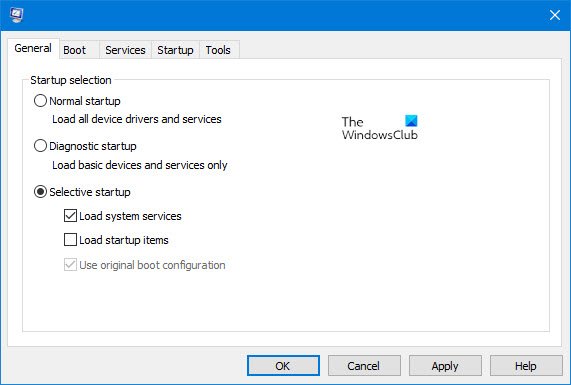 Perform Clean Boot and see if the problem gets resolved, If it does, then it is obvious that some third-party process is interfering with the process. You will have to take a number of actions, and then restart the computer after each action. You may need to manually disable one item after another to try and pinpoint the one that is causing the problem. Once you have identified the offender, you can consider removing or disabling it.
9] Use System Restore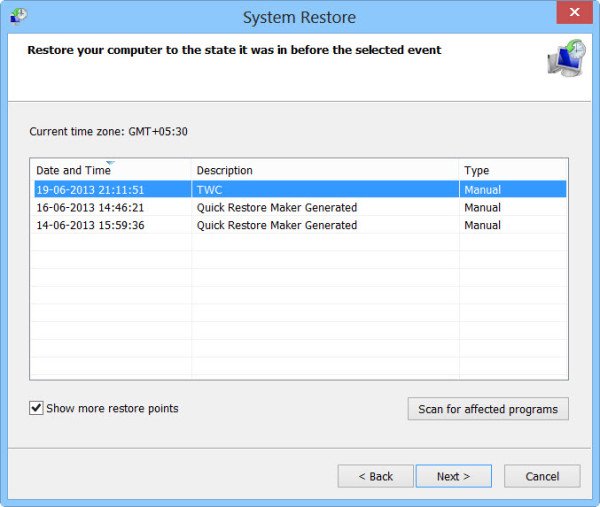 If nothing helps, you may want to consider restoring your computer to a prior good point when the desktop background was not black, using System Restore.
Why did my desktop background suddenly turn black?
This may occur if some settings have changed after a Windows Update or after you installed a program. It can also occur if the wallpaper file or your graphics driver is corrupted. This post examines all possibilities and suggests suitable solutions.
Read: Windows desktop background changes by itself automatically
How do I get rid of the black background on Windows 11?
This post helps you if you see a Black desktop background. But see these posts if you see a Black background behind Folder icons or a Back Screen on your Windows PC. The issues, as well as the solutions, are different for these scenarios.
Read: Cannot change Desktop Background in Windows.
Windows 7 users
If you are using Windows 7, then this section will interest you.
The black screen problem has happened earlier as well, but it was to indicate the copy of the Windows 7 Starter Edition is not genuine. It's different this time.
Mitigate Windows 7 Black Desktop Background issue
Open Windows Settings (Win + I)
Navigate to Personalization > Background
Set your custom image to an option other than Stretch, such as Fill, Fit, Tile, or Center.
Also, make sure to choose a custom wallpaper that matches the resolution of your desktop.
Microsoft released update KB4539602 to fix the issue. If your PC does not have it, download and install it from the Microsoft update catalog website.
I hope the post helps you.