If you find that your Windows desktop slideshow feature in Windows 11/10/8/7, which used to work fine, does not work anymore, you may want to check out this article. You may even receive an error message An error is preventing this slideshow from playing when trying to use the feature.
Desktop Background Slideshow not working in Windows
First, make sure that no installed software is preventing changing of the wallpapers. Also, ensure that your version of Windows OS has this feature.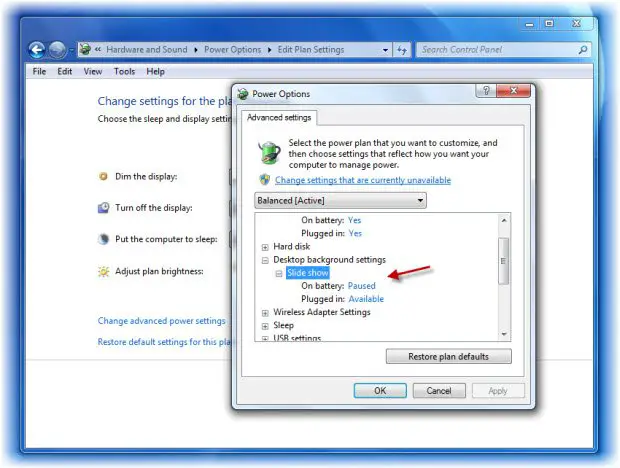 Having done that, click on the Power icon sitting in your notification area and select More Power Options. This will open Control Panel, Power Options applet.
Now from your current/selected Plan, click Change plan settings and then Change advanced power settings.
Next, in the Advanced settings, expand Desktop background settings and then Slide show.
Here from the drop-down menu of each option, ensure that the appropriate options are checked.
Click Apply/OK. Exit.
An error is preventing this slideshow from playing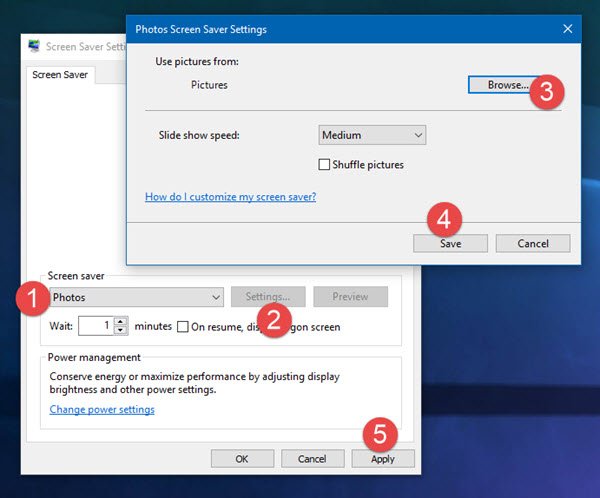 You may want also to check your Slideshow settings.
Open Screen saver settings, select Photos, click on Settings, browse to the desired pictures folder, and click on Save and then Apply.

See this post if you cannot change the desktop wallpaper or if you cannot set an image as desktop wallpaper.
PS: Windows Starter and Windows Home Basic do not support the changing of the desktop background picture and consequently support the slideshow feature; so you might want to confirm that! But sure there is a  way to change your wallpaper in the Windows Starter and Basic Editions too!
This post will help you if the Lock Screen slideshow is not working.