Desktop is the home of our PC and the wallpaper sets its mood. We have the option to customize or change it as per our taste. We can use our own pictures as well as the default ones. Some users are complaining that the desktop background or wallpaper on their PC has disappeared. In this guide, we have a few solutions to help you if the desktop background or wallpaper is not showing in Windows 11/10.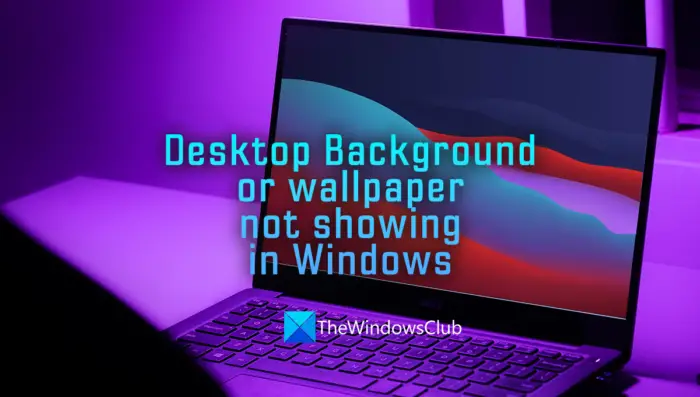 Desktop Background or Wallpaper not showing in Windows 11/10
If the desktop background or wallpaper not showing or has disappeared on Windows 11/10 PC, the following fixes can help you resolve it.
Change Background Type
Check the background image
Disable Remove background images
Tweak Power Settings
Activate Windows
Let's get into the details of each method and fix the issue.
1] Change Background Type
There are chances that the background is set to solid color or some other option other than the picture you have selected. You need to set it back to Picture or Slideshow according to your choice to see the background or wallpaper of your choice again on the desktop.
To change the background type,
Press Win+I to open the Settings app
Click on Personalization settings
Click on the Background tab on the right side
Against the Personalize your background setting, click on the drop-down button and select the type of background you need to set.
Check if it has fixed the issue and got your desktop background back.
Read: How to set different wallpaper on different desktops on Windows 11
2] Check the background image
Check if the image you set as the background is not corrupted or in the supported format to be set as background. If you can open it on the Photos app without any issue, you can set it as background. Make sure the background image is okay before setting it as your background.
Read: Best free Wallpapers & Background pictures for Windows desktop
3] Disable Remove background images
The other possibility of your desktop wallpaper not showing is because of a setting in the Control Panel. You need to disable or uncheck the button beside Remove background images. To do so, open Control Panel from the Start menu and click on the Ease of Access tab. Then, select Optimize Visual Display. Scroll down to the Make things on the screen easier to see section and make sure the checkbox beside Remove background images (where available) is unchecked. Then, click on OK. This should fix the issue. If not, follow the below methods.
4] Tweak Power Settings
If you have set a slideshow of a folder as your background picture and they disappeared, this method will fix the issue. Open the Control Panel from the Start menu and click on System and Security. Select Power Options and click on Change Plan settings beside the power plan you have selected. It will open the Edit Plan Settings window. Click on Change advanced power settings. It will open a Power Options popup window. Scroll down to Desktop background settings and expand it. Then, expand the Slide show and set Paused to Available, and click OK. Check if it has fixed the issue.
Read Windows desktop background changes by itself automatically
5] Activate Windows
If your Windows 11/10 is not activated beyond a certain time, your background will automatically disappear and change to black with a suggestion to activate Windows at the bottom of the screen. You need to activate it as soon as possible to get your background image back.
Read: How to change Wallpaper without activating Windows 11/10
Why is my wallpaper not showing up in Windows 11?
There might be different reasons why your desktop wallpaper is not showing. The type of desktop wallpaper might be set to Solid color, or the image you've selected is not supported as a desktop wallpaper or it might be corrupted. If you have set a slideshow of a folder, the power plan might be pausing it on battery. Last but not the least, you should verify if your copy of Windows 11 is activated or not.
Why has my background gone black?
The type of background of your desktop might be set to Solid color and black or the wallpaper you have selected might be corrupted or missing. You might even see black background if the Windows version you are using is not activated. Therefore, you need to ensure that your Windows installation is activated or not first. Then, you can go through the aforementioned tips and tricks.
Related read: Fix Black Desktop Background on Windows 11/10.