If you do not activate your copy of Windows, you cannot change most of the Personalization panel in Windows Settings. However, if you want to change wallpaper without Windows 11/10 Activation, then this article might be handy for you. As Windows 10 prevents users from using any option on the Personalization page, you can use other tools to get the job done.
Windows Settings lets you customize your wallpaper, theme, color scheme, etc. However, if you do not activate your copy of Windows 11/10, you cannot access those options. For your information, there are several methods to do this. You can use any one of them as per your wish.
Change wallpaper without Windows Activation
To change desktop wallpaper without activating Windows 11/10, follow these steps-
Use right-click context menu option
Using the Photos app
Using Firefox browser
Using Registry Editor
Using Group Policy
To learn more about these steps, keep reading.
1] Use right-click content menu option
It is possible to set a wallpaper on Windows 10 PC using a dedicated right-click context menu option. It is called Set as desktop background. To use this method, select an image, and right-click on it. You can see an option called Set as desktop background.
Click on it. The image will be set as your wallpaper instantly.
2] Using the Photos app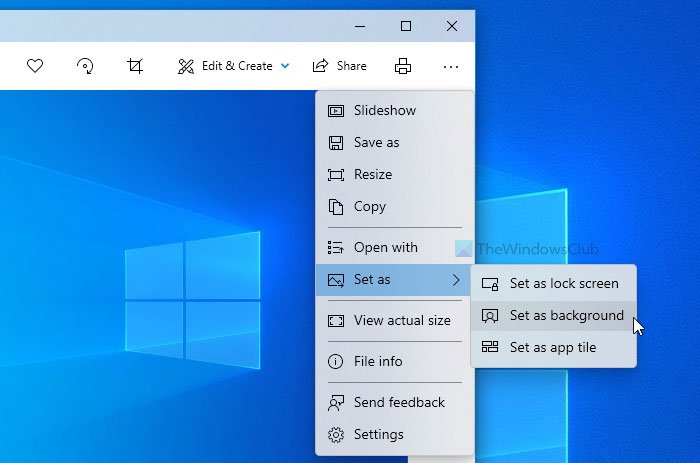 The Photos app replaced the traditional Windows Photo Viewer on Windows 10. It comes with more features and options than the previous tool. From adding basic effects to resizing, you can do almost everything in the Photos app. Apart from that, it is possible to use the Photos app to set the desktop wallpaper. Not only desktop wallpaper, but also you can set an image as a lock screen background as well.
To use this option, you need to open your desired image in the Photos app. If it is already imported into the Photos app, you do not need to do that again. You can click on it to open the image. On the other hand, if you, for example, have an image on your desktop, you can double-click on it to do the same.
Next, click on the three-dotted icon visible on the top-right corner > Set as > Set as background.
It changes the desktop wallpaper immediately.
Read: Best free Wallpapers for Windows.
3] Using Firefox browser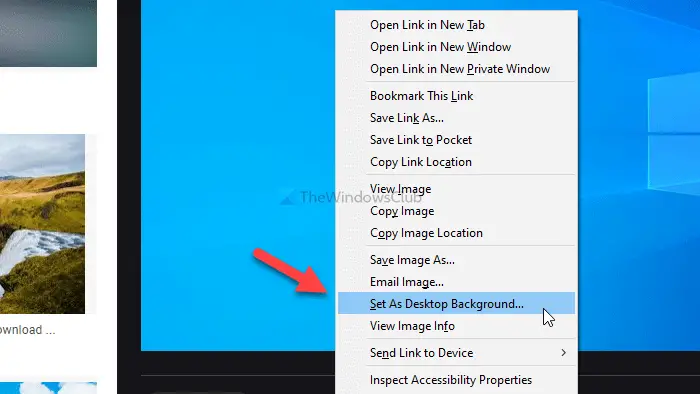 Mozilla Firefox is the go-to browser for many people, and you can use the same to change the desktop wallpaper. This browser offers an option to replace the existing wallpaper right from any webpage. To get started with this method, open the Firefox browser, and do a Google search for your favorite wallpaper.
Once it is found, right-click on the image and select the Set As Desktop Background option from the context menu.
You can find the new wallpaper immediately.
4] Using Registry Editor
You can use Registry Editor to change your desktop wallpaper. Before getting started with this utility, it is recommended to create a System Restore point.
At first, press Win+R > type regedit > press the Enter button > click the Yes option in the UAC prompt. Next, navigate to the following path-
HKEY_CURRENT_USER\SOFTWARE\Microsoft\Windows\CurrentVersion\Policies
Right-click on Policies > New > Key, and name it as System. After that, you need to create a String Value in the System key. For that, right-click on System > New > String Value, and name it as Wallpaper.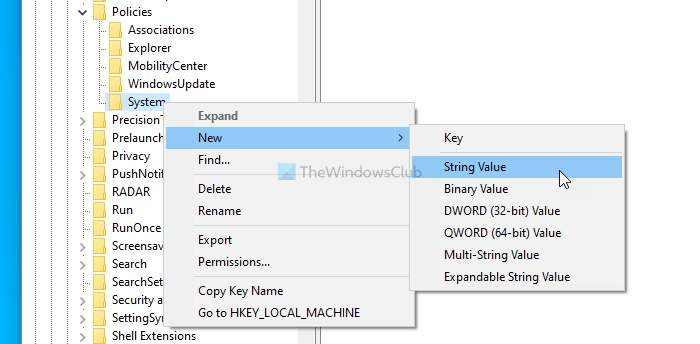 Now, double-click on the Wallpaper String Value and paste the image path in the Value data box.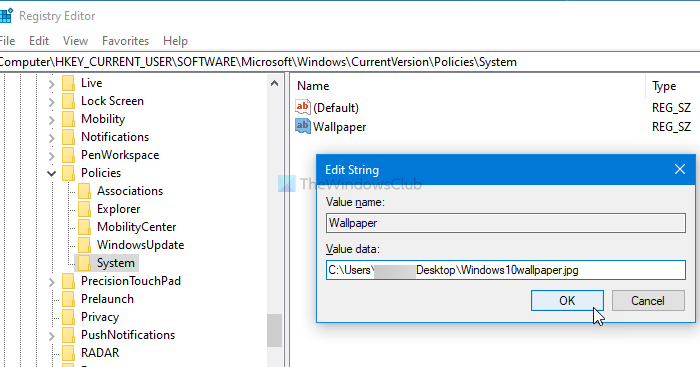 At last, click the OK button.
If you want to change the wallpaper style, you have to create another String Value named WallpaperStyle and set the Value data as 0/1/2/3/4/5.
5] Using Group Policy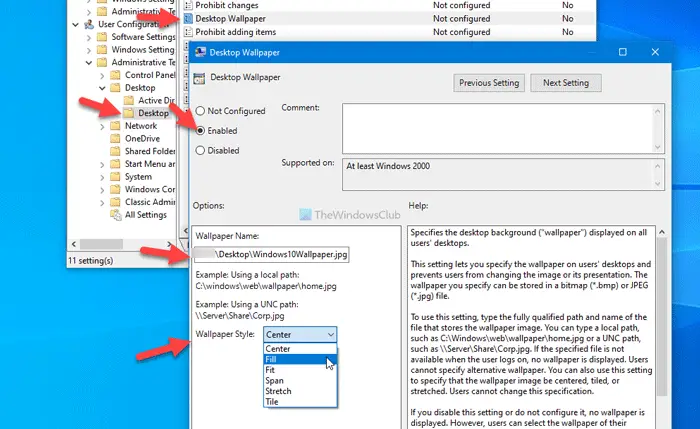 Like Registry Editor, you can use the Local Group Policy Editor to change your desktop wallpaper on Windows 10. The best thing is that you can change the wallpaper style as per your requirements. To get started, press Win+R, type gpedit.msc, and press the Enter button to open the Local Group Policy Editor on your computer. Then, navigate to the following path-
User Configuration > Administrative Templates > Desktop > Desktop
Here you can find a setting called Desktop Wallpaper. Double-click on it > select the Enabled option > enter the path of the image in Wallpaper Name box > expand the Wallpaper Style drop-down list > choose something that suits your wallpaper.
At last, click on the OK button to save the change.
That's all! Hope these methods work.
Read next: How to change the theme without Activation.