If Windows backup is not working on your Windows 11 or Windows 10 PC, in this case when you try to use File History to backup to an external drive, via Settings > Backup options you see the Overview with Size of backup showing 0 bytes with the message Your data is not yet backed up, and when you click the Back up now button nothing happens, then this post is sure to help you resolve the issue.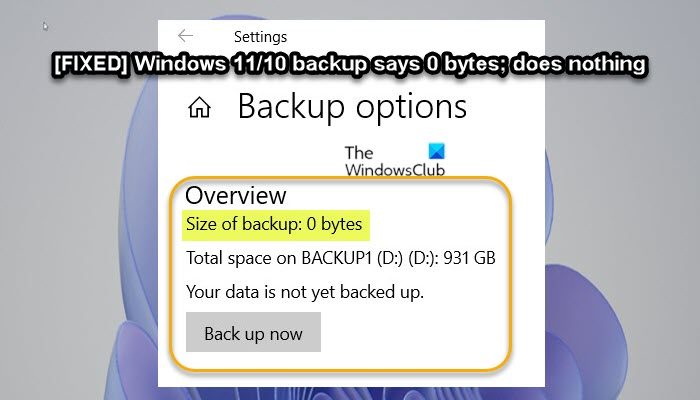 Windows System Image backup completed successfully shows 0 bytes on external hard drive backup folder.
Windows 11/10 backup says 0 bytes; does nothing!
If you're faced with the issue whereby Windows 11/10 backup does nothing when you try to perform a backup task, you can try our recommended solutions in the order presented below to resolve the issue.
Run CHKDSK
Format the external storage drive
Use third-party backup utility
Use Cloud-based Online Backup service
Delete WindowsImageBackup folder (if applicable)
Let's take a look at the description of the process involved concerning each of the listed solutions.
Before you try the solutions below, check for updates and install any available bits on your Windows 11/10 device and see if the issue is resolved. On the other hand, if the error started after a recent Windows update, you can perform System Restore or uninstall the update – but if you prefer not to do neither, you can then go ahead with the solutions below.
1] Run CHKDSK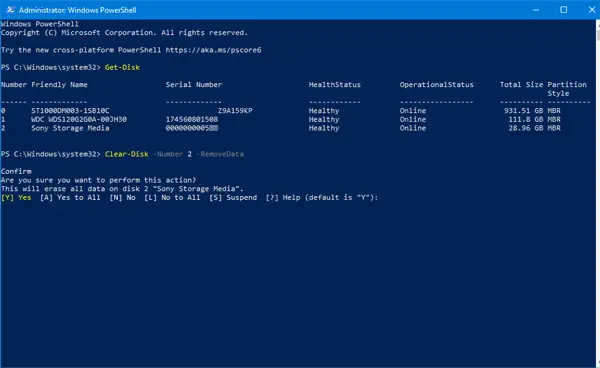 The issue you're having on your system might be caused by the bad sectors present on the external hard drive. In this case, to resolve the issue, you can run CHKDSK on the external drive and then see if you can now back up to the external storage drive.
For this, you have to use the ChkDsk /r parameter. The /r parameter repairs not only the errors but also the bad sectors on the selected disk.
chkdsk /r X:
Replace the letter X in the above command with your drive letter.
If the issue is unresolved after carrying out this task, try the next solution.
2] Format the external storage drive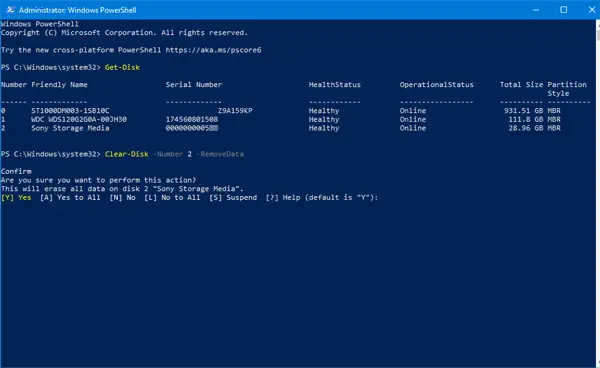 This solution follows if CHKDSK didn't fix the issue in hand. You may have to format the external storage drive which will erase any saved data/files. If Windows was unable to complete the format or the formatting just didn't resolve the issue, you may have to replace the external drive.
But going forward, to prevent loss of backed up data at a single point in cases like this, we recommend the 3-2-1 Backup Rule which involves:
3: Create one primary backup and two copies of your data.
2: Save your backups to two different types of media.
1: Keep at least one backup media offsite.
3] Use third-party backup utility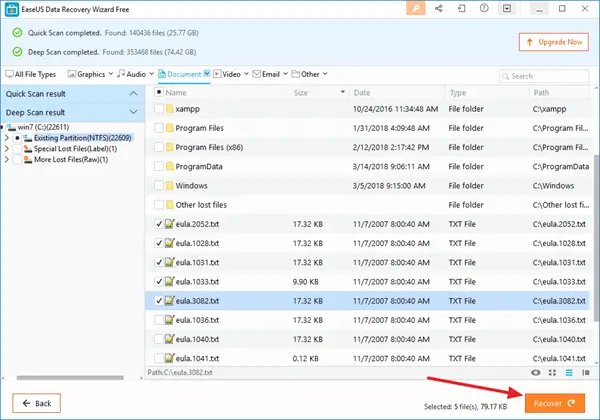 It's imperative to point out that File History, System Image, Backup and Restore in Windows 11/10 are not being actively maintained or developed. Microsoft is planning to remove these features in a future release. Based on this, we recommend you use any of the third-party free or professional Backup and Data recovery software for Windows PC.
4] Use Cloud-based Online Backup service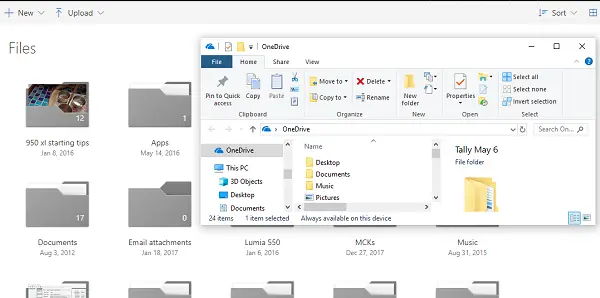 Similar to the solution above, you should also consider using any of the free Cloud-based Online Backup Services or encrypted Cloud Storage Services. With any of these secure paid or free services, you can backup so your files are easily accessible via the internet just like email.
5] Delete WindowsImageBackup folder (if applicable)
It's likely you're experiencing this issue in hand because you created a system image of your drive, which is not quite the same as backing up your data. The result would be stored in a folder called WindowsImageBackup which is inaccessible to you unless you operate under administrative privileges, and that's why you cannot see any files. To be sure this scenario doesn't apply here, do the following:
Press Windows key + R to invoke the Run dialog.
In the Run dialog box, type cmd and then press CTRL + SHIFT + ENTER to open Command Prompt in admin/elevated mode.
In the command prompt window, type the command below and hit Enter to see the contents of the folder. Replace Q: with the correct drive letter for the external drive.
dir /s /a Q:\WindowsImageBackup
Next, run the command below to delete the folder:
Warning: You will not be able to restore the folder from Recycle Bin.
rd  /s  /q  Q:\WindowsImageBackup
Exit Command Prompt when done.
Hope you find this post helpful!
Why does my Windows 10 backup keep failing?
To fix Windows 11/10 backup to network drive fails, you can map Network Drive to local disk. If Windows won't backup to external drive, make sure the drive is well-connected and formatted to NTFS file system.
Why is my File History not backing up?
File History do not backup encrypted file system (efs) files. So, if you have got these type of files on your system, they won't be backed up and you may get the "File History has found files that are encrypted with Encrypting File System" error. In this case, make sure there is no encrypted files in the backup queue.
Is Windows 10 backup still supported?
Backup and Restore is no longer a maintained feature on Windows 11/10. You can still use it, but in the future, it may stop working. Also, as a deprecated feature in Windows, Microsoft can decide to completely remove this tool in future releases of the operating system.
Related post: Fix File History Error 80070005.