If you are trying to format your external hard disk, SD card, or USB drive, but receive an error message Windows was unable to complete the format, you can follow this tutorial to fix the issue. You might face this problem when you right-click on the drive in Windows Explorer and select Format. This may happen due to a wrong disk format or if the source is corrupted.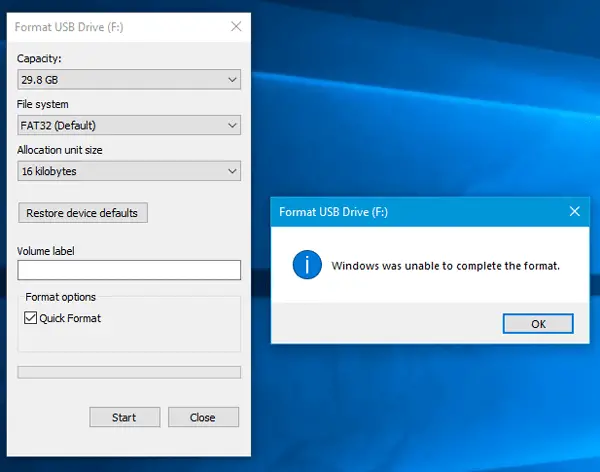 Windows was unable to complete the format
There are several methods to fix this problem. Please go through the list.
1] Disk Management
If the "Format" option ends with an error, you can take the help of Disk Management. Open the Disk Management via WinX Menu and  right-click on the hard disk or USB drive that is giving the error and choose Format.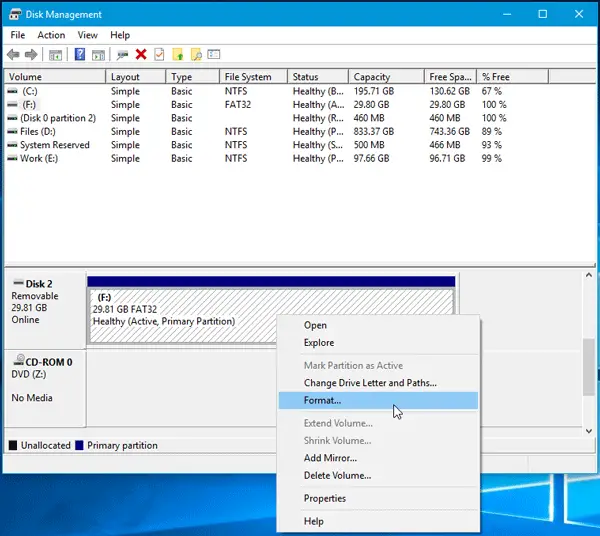 Now, you need to select the affirmative option as regards to the File System, Allocation Unit Size, etc. If the task gets completed successfully, you would be able to use your disk right after that.
2] Using Command Prompt
This solution may work even if the first solution fails to do its work. You can use Command Prompt to format the hard disk, SD card, USB drive or any other drive.Before you begin, you should note down the drive letter of the Drive you want to format. Having noted it, open Command Prompt and run the following command-
format F: /fs:ntfs
Here "F" is the drive letter and "ntfs" is the file system that I want. You may replace the drive letter and the file system as per your case.  For your information, this process takes a lot of time even if you have a 4 GB USB drive. Therefore, do not close the window in any circumstances. Otherwise, your drive may get corrupted.
Related: Bad sectors were encountered during the format
3] EaseUS Partition Master
EaseUS Partition Master is a handy disk management software available for Windows. Although it has a premium version, the free version will do the job pretty well.
Download and install this software on your computer. During installation, it may ask you to install some other software. Do not just hit the "Next" button continuously during installation to block them.
Now make sure the disk that you want to format is plugged in and then right-click on the desired Disk and select Format Partition.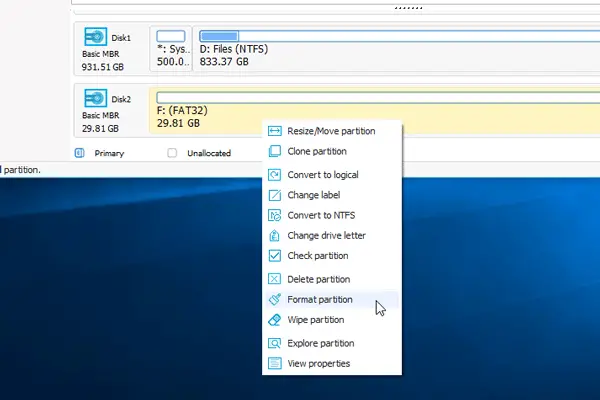 Now, you need to select the Partition label, File system, cluster size, etc. and finally hit the Apply button.
Let us know if anything here helped you.
Related reads: