Planning to shrink a 120 GB Windows OS partition to 80 GB, but find it hard to remember any good, reliable Partition Managers names? Do not worry, we have, in this post highlighted names of some of the best free Partition Manager software for Windows 10/8/7 and mentioned each in brief. While many may prefer to use the in-built Disk Management Tool, there are some who may want to use a third-party software offering more features. We have already covered all of these on our site, but we are now just putting them all together in one post for ready reference.
Free Partition Managers for Windows 10
Here are some of the best free Disk and Partition Manager software for Windows 10 that will help you resize disk, create partitions, extend, shrink, manage, format disks, and more!
EaseUs Partition Master Home Edition
Paragon Partition Manager
Partition Wizard
AOMEI Partition Assistant Home Edition
Wondershare Disk Manager Free
MiniTool Partition Wizard Home Edition
PartitionGuru/DiskGenius
Macrorit Disk Partition Expert.
Earlier known as EaseUs Partition Manager, the freeware program is ALL-IN-ONE partition solution and disk management software that allows you to extend partition (especially for system drive) and manage disk space easily.
The comprehensive free hard disk partition management utility contains no adware or toolbars. Some of the functions that you can carry out using EaseUs Partition Master Home Edition include resizing and Moving partitions, Creating, Deleting and Formatting partitions, hiding and unhiding partitions, and a lot more.
Its Copy wizard lets you back up all data or copy the entire hard disk to another without Windows reinstallation. You can use the freeware for dual boot Windows 7 and Windows 8 too.
Paragon Partition Manager includes step-by-step wizards that make it for any user the process of creating, managing, and reorganizing hard drive partitions fairly quick and safe. Its powerful features easily organize your hard drive and redistribute free space to enhance system performance.
The main highlight of the program is its ingenious engine which along with built-in advanced recovery facilities makes it possible to securely carry out partitioning operations, optimize the performance of NTFS and FAT file systems and migrate the system to another hard disk, without fear of losing valuable data.
Mini Tool Partition Wizard is a Windows-based server partition manager software that helps home users, Professional users, and system administrators to easily perform partition operations. The process of partitioning is quick and safe; your data is kept safe even if there is an event of misfortune such as power outage or a hardware failure.
Home users can perform complicated partition operations by using this powerful partition manager to manage their hard disk. Using this freeware, you can Resize partitions, Copy partitions, Create partitions, Delete partitions, Format partitions, Convert partitions, Explore partitions, Hide partitions, Change drive letters, Set active partitions and carry out Partition Recovery too, if required.
This hard disk partition manager can resize and move partition, extend system drive, merge partitions, copy partition and allocate free space. It includes a built-in Extend Partition Wizard that assists you to extend system partition without rebooting.
Like most others, it too is compatible with both 32 bit & 64-bit versions of Windows operating systems, including Windows 8, Windows 7 (SP1 supported), Vista, XP, and Windows 2000 Professional.
Wondershare Disk Manager is a handy tool for disk and partition management. It lets you create, delete, copy, and recover partitions. When in operation, it helps you allocate disk space and re-structure your hard disk for maximum use. Its Wizard mode and Expert mode separately make both the novice and the expert users manage partition with great ease.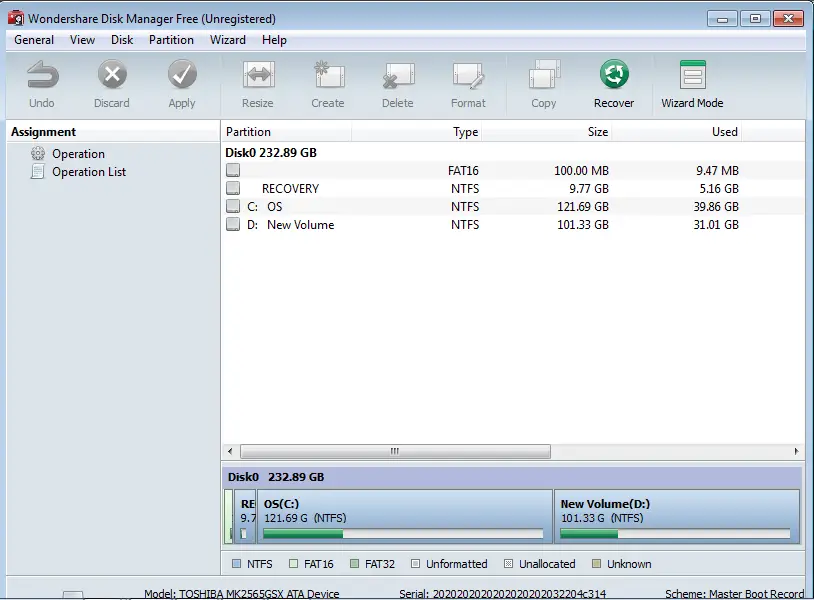 WonderShare gives you a free key code, with which you can activate the program and enjoy its full functionality.
MiniTool Partition Wizard Home Edition lets you Resize partitions, Copy partitions, Create partitions, Extend Partitions, Split Partitions, Delete partitions, Format partitions, Convert partitions, Explore partitions, Hide partitions, Change drive letter, Set active partition, Revolver partitions.
Also take a look at:
Let us know which one is your favorite!