For many, operations related to disks and partitions seem to put off some people as they appear to be difficult to be carried out on the other hand. While the built-in Windows Disk Manager solves this problem to a large extent, free partition managers like the free AOMEI Partition Assistant Standard or Home  Edition make things easier. This freeware will allow home users to resize, move, split, extend, copy, create, delete, format, wipe and hide partitions on your hard disk drive.
Partition Assistant Standard Edition review
Convenient Wizards

For those not familiar with Windows & computers in general, its clear wizards are its most attractive feature. Even if you are inexperienced in handling disks or partitions operations, with its help, things become very easy.
Extend System Partition without Rebooting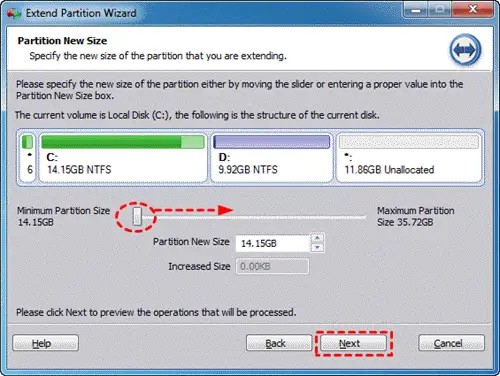 Extending the system partition is usually necessary for most PC users, but it is really a tough task. You may worry about possible data loss. With the help of the Partition Assistant Standard Edition, a few simple clicks can help you achieve this goal without rebooting. Besides, you can also resize the system drive during this process.
Migrate OS to SSD/HDD
A system crash, virus attack, etc. cannot be avoided when you use your computer. Luckily, this freeware provides a function that allows you to migrate your current operating system to SSD or HDD. When you encounter any sudden problems, you can easily restore your computer.
Advantages of Partition Assistant Standard Edition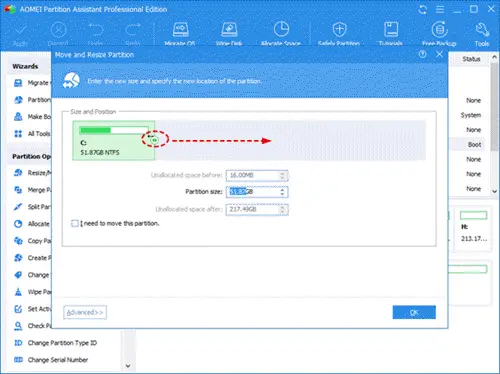 Resize, move, split, extend, copy, create, delete, format, wipe, hide partitions without data loss.
Compatible with Windows 10, Windows 8, Windows 7, Vista, XP and 2000, both 32-bit and 64-bit editions.
Support seven languages, including English, German, French, Japanese Spanish, Italian and Chinese.
Free and easy to use.
Disadvantages of Partition Assistant Standard Edition
Does not support Dynamic Disks.
Does not support Change serial number.
Does not support the conversion between MBR and GBT disks.
Partition alignment functionality is not included.
AOMEI Partition Assistant Standard Edition is endowed with so many features, it's a good choice for PC users if they want to manage their disks and partitions.  If you have any problems in managing your disks or partitions, download Partition Assistant Home Edition absolutely free from its home page.
The AOMEI Partition Assistant has some useful features:
Enhanced GPT to MBR disk conversion: support to convert a GPT disk that has more than 4 partitions to MBR disk.
Fully clone system disk between MBR and GPT partition styles and ensure that the system is able to boot from destination disk (e.g. clone system disk from GPT to MBR, MBR to GPT, GPT to GPT, MBR to MBR).
Enhanced the ability of Windows PE bootable disc to recognize devices: automatically integrate existing hardware drivers of the current system into Windows PE when creating it.
Partition Assistant Standard Edition is a full-featured free partition management software, which can also be used for personal as well as commercial purposes. It now also includes a Windows To Go Creator.