AOMEI Partition Assistant Standard has been one of the most popular free disk partition tools for Windows users. This compact tool helps users to manage the space in their hard disk drive. It optimizes the performance of your computer system by dividing your disk space wisely. One should always be careful while planning the disk usage and free partition tools like AOMEI make things easier with their intuitive interface.
AOMEI Partition Assistant now brings a new feature named Windows To Go Creator which allows users to install a full corporate environment from an external USB drive. It is not a trimmed or cropped version of Windows but a complete copy of Windows 11/10 with all its features.
You can run a fully manageable corporate Windows 8 environment without purchasing Windows 11/10/8 Enterprise Edition. You can use the Windows to Go feature that lets you create Windows To Go portable environment & workspace in Windows. While Windows 7 users might notice the interface differences, it is easier for Windows 11/10 users as 'Windows To Go interface' is almost the same as Windows 11/10, in Windows To Go Creator.
The easy-to-use Windows To Go creator in AOMEI Partition Assistant helps you to carry your personalized Windows 8/8.1 OS in an external USB drive, and you can then use it on any compatible device. Although 'Windows To Go' works well with USB 2.0, you can achieve better performance if you plug the USB drive into an integrated USB 3.0 port on your machine.
You just need is a USB drive or an external hard with 13 GB space and a Windows installation disc or ISO file to create a Windows To Go. Please keep the installation file extracted in an easily reachable location, and if you have the installation disc you can directly run it via DVD ROM of your computer system.
Using Windows To Go Creator in Partition Assistant
Download and install AOMEI Partition Assistant Standard on your computer system. It takes just a few minutes to download and install on your machine.
Plug in your external USB drive on the PC and launch AOMEI Partition Assistant. Once the program detects your USB drive, click on Windows To Go Creator in the left pane. Please note that the program will format your external USB drive and delete its entire data, so it is always recommended to take a backup before you start. You can use AOMEI Backupper to take a backup of your USB drive.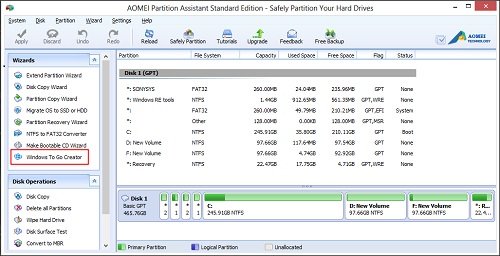 You will now get a pop-up window asking to select the Windows installation file.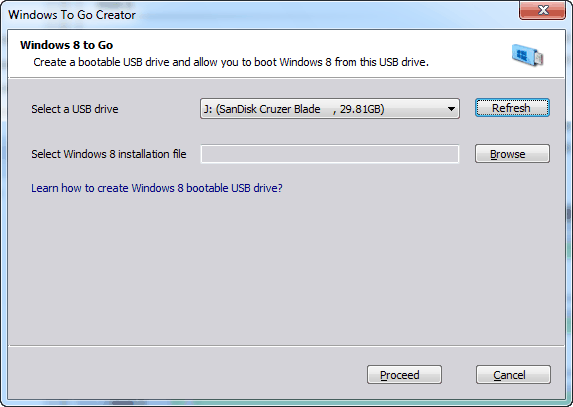 Browse your installation file named 'install.wim' and click 'OK'.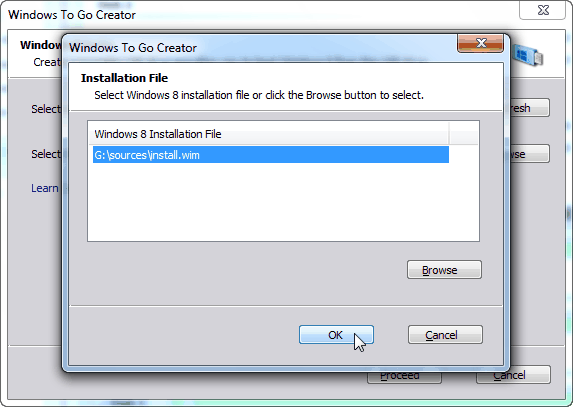 You will be prompted to create a backup first. Do the needful and click Yes.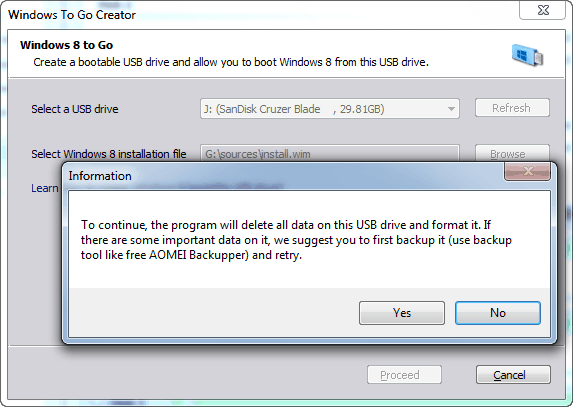 The procedure will start.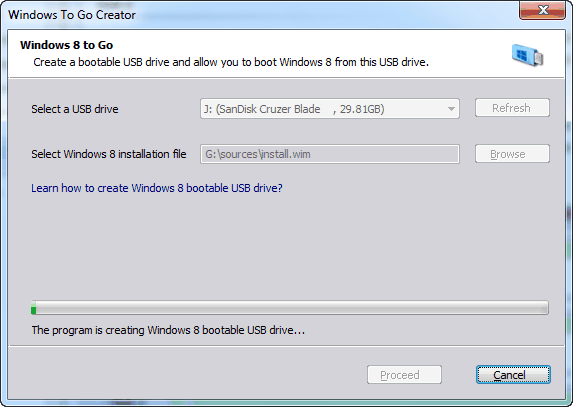 Click on 'Proceed' once you select the installation file. You will notice a pop-up message saying, 'the program will delete the data on USB drive'. When you click 'Yes', the program will start creating Windows bootable USB drive.
When Windows To Go image is created you can use it on any compatible device. Just plug in the USB drive into any compatible machine, enter the BIOS setting, and change the firmware boot order to USB first.
With the newly added Windows To Go Creator feature of AOMEI Partition Assistant Standard, you can enjoy this new feature, Windows To Go Creator, on any of your computer systems.
AOMEI Partition Assistant Standard now also supports Windows 10 and Windows 11 and Disks with 4KB sectors.