Macrorit Disk Partition Expert is a new powerful disk management software with a lot of options. Like any other Disk management software Macrorit Disk Partition Expert also has the ability to extend partition, especially for the system drive. The main reason to extend the partition is to avoid low disk space problem. While many may prefer to use the in-built Disk Management Tool, there are some who may want to use a third-party disk management software offering more features. Macrorit Disk Partition Expert is the new kid on the block!
Macrorit Disk Partition Expert
Some of the main features of Macrorit Disk Partition Expert are: Resize/Move, Create, Delete, Format, Set Active, Hide/Unhide, Change Label, Change Drive Letter, Explore, View Props, Check, Defragment, wipe, Surface test. Macrorit Disk Partition Expert also claims to have an unprecedented fast working speed. It claims to have the best data movingalgorithm which is 300% faster than other partition software with least CPU resources.
With Macrorit Disk Partition Expert you can delete, move or shrink partition without losing any data. It's very easy to do it. What you need to do is first select the drive you want to resize and right-click, then select Move/Resize. Once you do that you'll get a pop up Window with options to resize the drive. It's pretty neat and easy to do.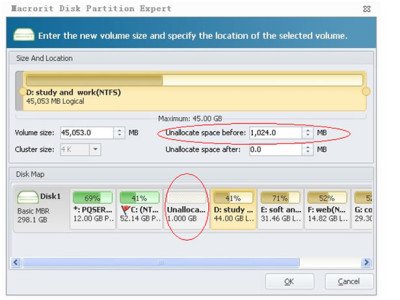 Once you manipulate the drive space, click OK and in the end click on the Apply button.
Macrorit Disk Partition Expert has the option to check for bad sectors also. If you need to scan your disk with a custom check range, click the button "Scan area" to choose the check range. Then click on Start now to start the scan. You also have the option to Automatic shutdown after scan which is the recommended way if you are running it overnight.
Then another option is called Wipe Disk where you can wipe the whole drive with a variety of options such as :
Full sectors with zero
Full sectors with one
Full sectors with zero&one

DoD

5220.22-M

DoD

5220.28-STD
In this, the Full sector with zero is the fastest option and DoD 5220.28-STD is the slowest since it will run 7 passes to make sure it's a complete and proper wipe. Another feature of this tool is the ability to change the status to either Offline or Online.
Macrorit Disk Partition Expert can also Convert GPT disk to MBR disk without data loss and vice versa, but remember it can't do it for the system drive. It also supports disk larger than 2TB, support 1024 sector size.
It is different form the other disk management software as it includes the following features:
Fast working speed: Obtain the best data

movingalgorithm

, 300% faster than other partition software with least CPU resource.
Flexible task process control: Any operation can be canceled anytime under Windows platform.
Power-off data protection: Protect your most important enterprise or personal data all the time even in power shortage situation.
Zero fragmentations guaranteed: Maximum OS performance based on the automatically disk fragmentations during the resize and move partition process.
To conclude, there are plenty of options in Macrorit Disk Partition Expert. It is ease to use, and you don't have to be an IT pro to manipulate the drive. Best of all, the whole program setup is less than 4MB and it installs very fast. If you are looking for a free partition manager for your Windows, then you can consider Macrorit Disk Partition Expert.
Unfortunately, there is no direct link on the home website, you have to download it from CNET. So when you visit the page, remember to click on the Direct Download link and NOT the Download Now CNET Installer.
UPDATE: Here is the direct download link from the macrorit.com website.