Disk partitions are necessary to organize your data into different drives. It also makes sense to keep the system drives different and run scheduled maintenance tasks (defragmenting, cleaning, etc.) on them so that the operating system gives you a better computing experience.
I would never recommend keeping both system files and data files on the same partition or drive because if you have to format the system partition for some reason, your data will be lost unless you back it up first. EaseUs Partition Manager is one of the popular tools to manage partitions and offers a little more services than others in the industry.
This review of EaseUs Partition Master Free checks to see what all options are available in the new version.
EaseUS Partition Master Free
According to their website, the new 10.5 version of EaseUs Partition Master has the following benefits
Better user interface – I agree with that. I have used EaseUs in past, and the new version has a better UI that helps newbies to manage their partitions without any fear; the UI is self-explanatory
Support for larger disks – the free version supports up to 8TB disks while the commercial version supports up to 16TB; since most hard disk drives today are mega capacity drives, it makes sense to use a partition manager that can handle huge volumes
Conversion between GPT and MBR disks – GPT disks are faster and help with high-capacity hard disk drives so if you wish to convert your regular hard disk drive MBR into GPT; you can use EaseUs that'll do the conversion for you without any data loss
Besides these, there are plenty of operations that you can perform on your hard disks without the fear of losing data – though I would recommend you to back up data just in case you get unlucky. They (EaseUs) have their own data backup and recovery software, but you can use anything you like to back up the data on partitions before performing any operations on them. It is just to make sure the data stays with you in case of any problem. Otherwise, EaseUs Partition Master is capable of performing different actions on partitions without damaging data. It has its own algorithms that take care that data on any of the partitions being worked upon is not destroyed or damaged.
Main Features of EaseUs Partition Master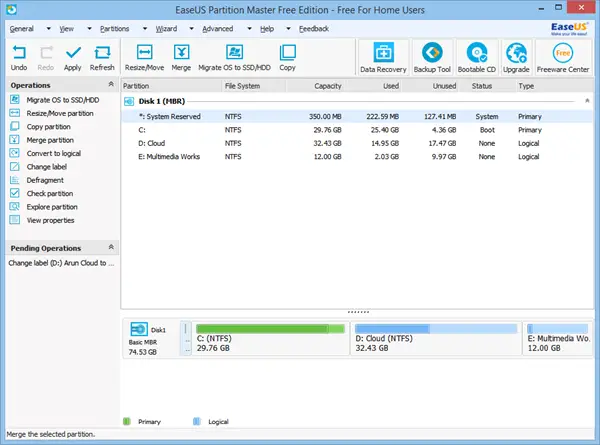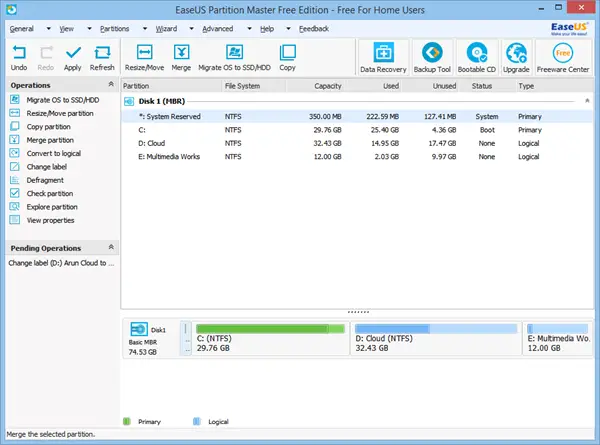 There are many things you can do with the EaseUS Partition Master. A look at the interface image above will tell you what all options are available. I will talk about the options that interested me when reviewing the application.
The first option itself is interesting. You can move the entire operating system from one disk to another without damaging the files. I am yet to imagine a scenario where this function can be put to use, but it is interesting to have the feature handy. You can move the operating system and program files to other hard disks. The operating system works fine after moving. It is not cloning exactly but produces a similar effect – just that, instead of copying the operating system, it is moved from one disk to another and then, you can use the other disk as primary to boot the computer and to run your program files.
Merge partition is yet another interesting option that EaseUs provides. You can merge two partitions without any loss of data. The partitions should be in succession. For example, you can merge drive F with G or E: the succeeding and preceding partitions. All you need to do is to select F, click on Merge partition and then select a partition succeeding or preceding it.
Among other options that you can use is to split partitions by shrinking them, enlarge partitions by merging them, copy a partition to some other hard disk, and explore partition. The tool has a built-in explorer that helps you explore the selected partition. You will view all the system and hidden files too in addition to normal files.
There is extensive documentation on the website that can be triggered using the Help menu. The documentation also has video files showing you how to use the different options, so it is easy for anyone to get familiar with the program.
Drawbacks of EaseUs Partition Master
There are not many. I found it a bit irritating that I had to cross three screens that asked me if I wanted to install other programs. These were the free backup program from EaseUs, Skype for Windows, and Utility Programs (basically, crapware in my opinion). Other than that, there were no problems in installation.
When you launch the EaseUs Partition Manager, it launches a window that again asks to you click on a button to launch EaseUs Partition Manager and shows ads for other products. Thus you have two windows open – which I feel is unnecessary. The EaseUs tools are already popular, and the main interface too has options to download and install them as shown in the image above. The image below shows you what comes up after you click on the desktop icon to launch EaseUs Partition Master. In my opinion, this step is absolutely unnecessary.
But considering the range of operations the application performs on our partitions, making hard disk management easier, we can put up with the 'extras'. Other than these, there are no negatives that I could find related to EaseUs Partition Master.
It is a good tool to view and manage partitions on all your hard disks, and with the support to larger disks, the tools become better. You might want to give it a try when you wish to change something on your hard disk the next time. Before starting it, just check the documentation once so that you understand how to perform tasks. Let us know if I missed anything in this review of EaseUs Partition Master 10.5. You can download it from its home page.
You might want to check out Easeus Backup Free too.