As with most operating systems, users who installed Windows 10 have been facing some problems too. Here are some of the issues that are being faced by users who installed an Upgrade. Wherever possible, we will add known solutions to those issues.
Windows 10 problems & issues being reported
Action Center Panel Separated from Task Bar
Well, this is a problem I faced. After the update, when I clicked on the Network icon, the flyer panel just flew to the middle of the computer screen!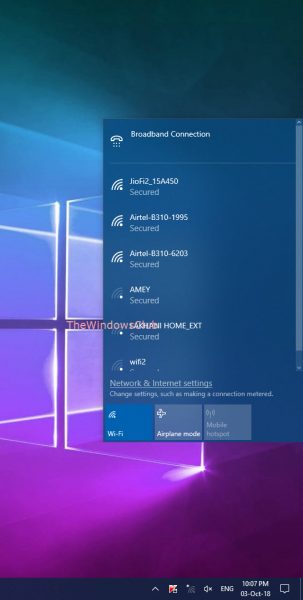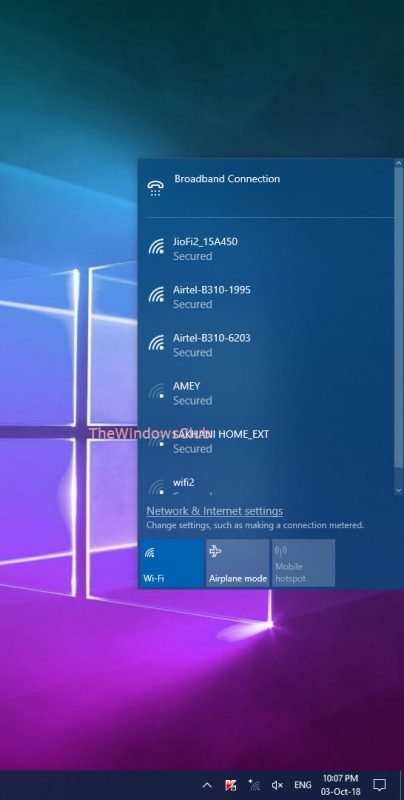 Refreshing the desktop or restarting Explorer did not help. It was only after a computer restart did the situation come back to normal.
Possibly it was a one-time occurrence … maybe some bug!
Audio Driver from Intel Consuming More battery & high CPU usage
Some users are reporting that PCs with 6th Generation (codenamed Skylake) or newer processors confirm that Intel Graphics Driver version less than 24.20.100.6286 are experiencing huge battery drain and high CPU usage. The fact is that Windows 10 initially blocked the update because of incompatibility, but where forced update by those users.
So if you did that make sure to update to 24.20.100.6286 higher to resolve this issue.  The exact error message goes like:

"What needs your attention: Intel Display Audio Device(intcdaud.sys) KB 4465877

A driver is installed that causes stability problems causing stability problems in Windows. The driver will be disabled. Check with your software/driver provider for an updated version that runs on this version of Windows.
Please check this post if the Intel Display Audio device drivers blocking Windows Feature Update.
Window Update is re-initializing after downloading v1809 Update
A few users have reported that while the computer is able to download 1809 update, but it after download it again initializes. If this is the case, then your best bet is to manually install 1809 by downloading the ISO file or using the Media Creation Tool.
No Prompt to Install after downloading the update

There is an option to install the feature update when its download. It seems the install button has gone missing for some, and even from the Start menu where you get options like Update & Restart or Update and Shutdown
Computer Freezes on Reboot while installing 1809
Some of the users are not able to Update to Windows 10 v1809, and the computer freezes after the first reboot.
Windows Update Rolls back to 1803 while halfway through 1809 Update
Because of incompatible drivers or software block, it is possible that the Windows Upgrade process might start rollback if it encounters an error like this:
Windows could not configure one or more of the system components. To install Windows, restart the computer and then restart the installation.The computer then shows Undoing changes made to your computer, according to users.
Missing files in User folders
Reddit users are reporting that after updating to Windows 10 version 1809, a lot of files from Document and Music folders have gone missing. While there is nothing you can do to resolve this issue, but there is a small chance you may be able to recover the files. This post will help you recover the missing User folders & files.
When Windows 10 installs a new feature update, it backs up all the fils which is kept in Windows.old folder in C drive. This comes in handy when you want to rollback to the previous version of Windows.
Go to C:\Windows.old\Users\XXXX (XXXX is the username).
This should have all the User folders in place for that user.
Copy the files which you need to your preferred location.
Brightness reduced to 50% after restart
On some laptops, the brightness drops somewhere between 25 to 50% when its restarted.  Users have to manually change the brightness. If Brightness is not working properly, it could be either display driver issue or power plan issue as its happening mostly on laptops.
Update Performed Reset
These are probably the most common issues that happen after every Windows 10 Upgrade. Users are reporting in Microsoft forums that:
Applications like Event Viewer, Task Scheduled and System restore has been reset. All previously available tasks, restore point, etc. are not available anymore.
Preferences changed in Settings has been reset as well.
Tiles are missing in the Start Screen.
Windows user account has been reset from Administrator to Standard. You may have to create a new Admin Account.
If you have lost all calendar entries, sign in with your Microsoft account to get back all the details.
System says it is running version 1803 with 1809 installed
One of the interesting reports that showed up is having 1809 installed on the PC, but the system shows how seems to be stuck in 1803.  This usually happens when you revert to a restore point which was of an earlier version. Post this when you try to install the latest feature update, it won't work. The only solution out here is to use the Media Creation tool to update to v1809.
Feature Update still available after Updating to v1809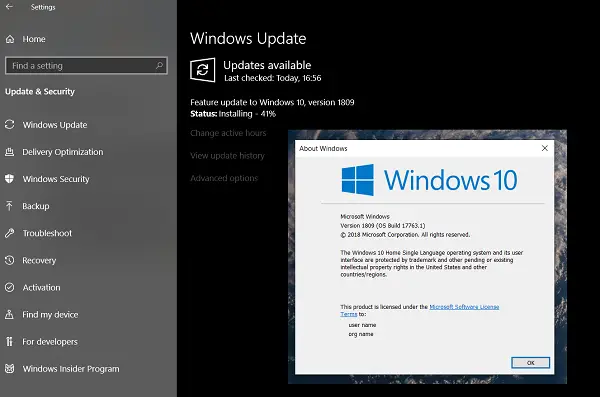 If you have updated your Windows 10 to v1809 through media creation tool or update assistant, and if Windows Update still shows that its available for your system, you might want to restart your Windows 10 PC several times until it figures out the current version. You need to reset the catroot2 folder to resolves this issue.
Not able to log-in to Windows after updating to v1809
A few are reporting that they were unable to login to Windows after updating to v1809.
Internet Connectivity Issues
Some users are reporting that they are not able to login to their Microsoft Account, and if they managed to get it, they are not able to use Edge and Store, Xbox Live, Skype, Your Phone and more with the same account. Most of them are receiving error –Something went wrong.
Also, if you have received error code 0x80072EFD, then this, and issue above its because of network issue. You can tun the built-in Windows Troubleshooters like Network Adapter Troubleshooter and Internet Connection Troubleshooter and see if it helps.
Microsoft has also made it mandatory to enable IPv6 in 1809. So you may want to enable that right away to resolve this issue. This post will help you if Edge & Apps are not connecting.
Backup and Recovery now shows error 0x80070013
This is another feature that is broken in Windows 10 v1809 for some users. After Windows 10 version 1809 update the backup and recovery now shows error 0x80070013 and fails. You should know that the backup and restore feature has been deprecated from this version.
Cannot change the Default Apps
After the update, Windows 10 seems to have blocked the ability to change the default apps which is not recognized by windows by default. Even if someone tries to change the default app by going to new settings, it doesn't work.
No Sound from speakers along with 100% CPU usage
You will probably need to update your sound drivers to fix this No Sound issue. Check with the OEM to find out the new version, download and install it. It is also possible that your volume control might be muted.
October 2018 update failed and now cannot be found Windows Update 1809
This is an interesting situation where the download fails, and then when users check for an update, it fails to find any new update. The problem is that it has got stuck at the last moment, and is confused. You may have to run the Windows 10 Update Troubleshooter or clear the Software Distribution folder to fix this.
Windows Hello Fails to Work
Dell Alienware 17 R5 about 2 months old. After updating to October release no longer works. Dell technical support uninstalled and reinstalled Tobii eyetracking software-still did not resolve problem. Webcam is working checked with SKYPE. When you click on the SET UP button for Windows Hello nothing happens.
I am guessing this is a mostly a driver issue. You need to check with Windows Update for the latest driver if you are using Surface devices, but if you are using third-party Windows Hello camera, please check with OEM for the latest driver.
Dark Theme is not enabled for File Explorer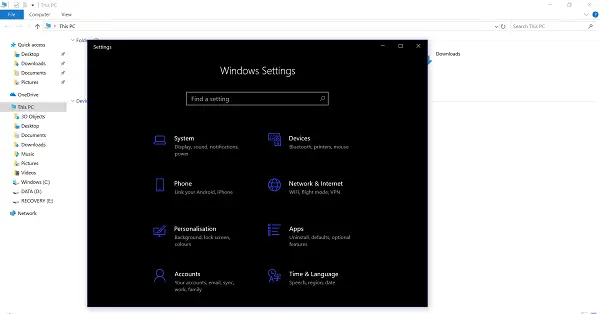 After enabling Dark Mode from personalization settings, some users have reported that File Explorer still retains the white mode. For some, they are visualizing dark text in black theme instead of white text. See this mode if Dark Mode is not working properly for Explorer.
Bluetooth Battery level indicator is missing
Windows 10 v1809 now displays a battery level of Bluetooth connected devices.  After the update, it seems to be working for some devices while on others it doesn't show up. To resolve this, you might want to unpair the device and repair to see if the indicators show up.
Unable to detect External Monitor
Some are not able to find their external monitor which was previously visible in the 1803 update. You may have to force detect in this case. Open Settings > System > Display > Under "Select and rearrange displays," click the Detect button in the bottom-right corner (if available).
Display settings not allowing multiple displays
It seems the recent update has also disabled some of the settings for multiple displays. This user reported that settings in multiple displays are not functioning correctly. Most boxes are blank, and with not allow to extend the display to all monitors.
Black screen on old ATI video card after upgrade to 1809
However after upgrading to Windows 10 1809 I've noticed that my ATI x1400 that's built into this laptop will show a black screen after suspending the laptop and waking it back up. You can eventually get some screen back by bashing [win] + [p] and eventually forcing detection.
Make sure to download the recent drivers for your graphics card which is compatible with the Windows 10 1809 update.
Other issues
V1809 is stuck in downloading.
Games stop working after installing 1809.
Edge doesn't accept copy paste command.
Read: Re-released Windows 10 1809 causes Blue Screen and Breaks Audio for some.
What about you? Are you facing problem after updating to Windows 10 v1809 October 2018 Update? Let us know in the comments.