When updating Windows 11 or Windows 10 with a Feature Update, if you receive a setup notification that the installation is blocked because of Intel Display Audio Device (intcdaud.sys), then know that this is by design as Microsoft has blocked the upgrade because the concerned device driver causes excessive processor demand and reduced battery life.

What needs your attention: Intel Display Audio Device (intcdaud.sys)
More details on the Error Message:
"What needs your attention: Intel Display Audio Device (intcdaud.sys) KB 4465877

A driver is installed that causes stability problems causing stability problems in Windows. The driver will be disabled. Check with your software/driver provider for an updated version that runs on this version of Windows.
To ensure a seamless experience, Microsoft is blocking devices from being offered Windows 10 version 1809, until updated Intel device drivers are installed on your current operating system. If you see this box, do not click Confirm as it may lead to issues later on. Click on Back and exit the upgrade.

Intel Display Audio device drivers blocking Windows Feature Update
This is a straightforward case where Intel needs to update its drivers to a version that is compatible with the Windows 10 October 2018 Update v1809. There is an issue with the Intel Display Audio Driver versions 10.25.0.3 through 10.25.0.8.
The good news is that the issue has been identified, and a  fix for these issues is already included in Intel Display Audio Driver version 10.25.0.10, which is bundled with the Intel Graphics Driver version 24.20.100.6286 and newer.
Intel has also strongly recommended that all users with the 6th Generation (codenamed Skylake) or newer processors update their drivers to version 10.25.0.10. In case you are seeing this message screen, just hit the Back button, and to exit the Windows 10 update installation.
To check the version of the driver, you can Open Device Manager > Expand Sound, video and game controllers and then right-click Intel(R) Display Audio and select Properties. Switch to Drivers Tab, and then check the version.
To update the Intel driver, follow the steps:

Go to the Intel Download Center for Drivers on intel.com. Search for and Download  24.20.100.6286  or newer. The total size is around 354 MB. You will be notified about the new releases right on top of the page.
Follow the setup file for the usual installation procedure.
Once complete, restart your Windows 10 PC and initiate the Update Process. The block will be no more.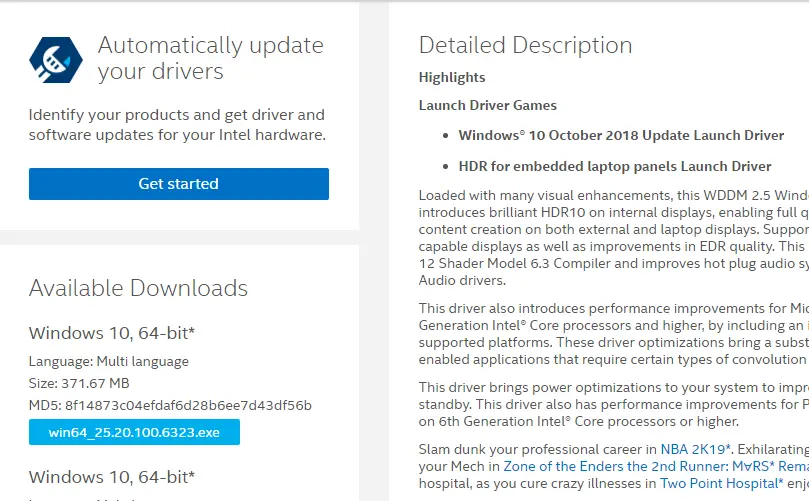 Microsoft has clearly warned users not to manually update Windows 10 to version 1809 if they have this issue.  If you do not want to update manually, its best to wait for Windows Update to download the latest device driver software automatically.
Have you seen this message?