While updating or upgrading Windows 10 computer, if you see an error code 0xc1900204, then this post may help you. It mainly appears on the Enterprise version – but it can appear in other versions too.
0xC1900204 MOSETUP_E_COMPAT_MIGCHOICE_BLOCK
While upgrading the Windows version, it creates a checklist to ensure that users don't get any problems after the migration or update. However, if Windows doesn't comply with the requirements, you might get this error. It is known as a Modern Setup Error.
Windows Upgrade error 0xc1900204
To fix Windows upgrade error 0xc1900204, follow these steps:
Run pre-upgrade validation check
Unplug all external devices from all computers
Update all drivers to the latest version
Disable network security and firewall software
Run chkdsk on the specific computer
To learn more about these steps, keep reading.
1] Run pre-upgrade validation check
There is a tool called SETUP.EXE that lets you run pre-upgrade validation checks on your computer and shows possible errors, if there are any. Whether you are trying to install a feature update or any other minor Windows 10 update, you can have prior knowledge about the problems.
Follow this detailed guide to run a pre-upgrade validation check using SETUP.EXE.
2] Unplug all external devices from all computers
As this error appears on a network computer, IT admins require to unplug all the external devices attached to the computer. If they are getting this issue on all computers, it is wise to unplug all the external devices such as pen driver, external hard driver, etc., before trying again.
3] Check for Driver Updates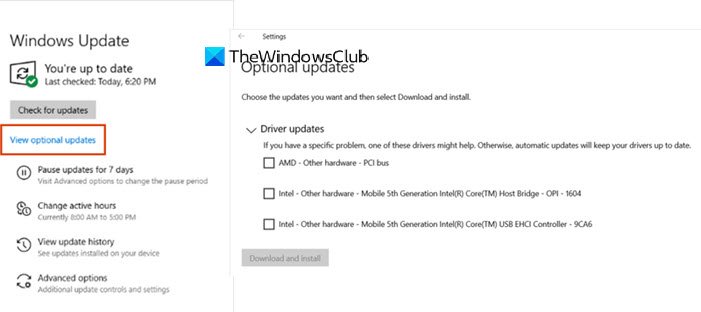 Microsoft has now made it easier for you to discover the available Windows 10 feature updates, monthly non-security quality updates, and driver updates. You will now no longer need to use the Device Manager to search for device driver updates. Consequently, the Device Manager will no longer search the internet for available updates. You will able to use it only if you have the driver update file on your computer.
To check the Driver Updates available to your system:
Open Settings (Win + I)
Navigate to Settings > Update & Security > Windows Update
Right under it, look for a clickable link—View optional updates.
Under Driver Updates, a list of updates will be available, which you can choose to install if you are facing an issue manually.
4] Disable network security and firewall software
As you are running a computer network, there is a high chance that you are using dedicated software to manage all of them when it comes to security and all. If so, you can try disabling that software temporarily and check if it solves the issue or not.
5] Run chkdsk on the specific computer
Even if your organization has multiple computers, you might get this problem on a single machine. Whether you are getting it on one or two computers, you can try using the chkdsk command or utility to fix possible conflicts.
Hope something helped.
Read: How IT administrators can troubleshoot Windows 10 upgrade errors.