Windows 10 introduces a lot of new features and improvements which have been covered in detail at TheWindowsClub. One of the most anticipated features that were introduced in this update was Dark Mode for Windows File Explorer.
Enable Dark Mode for File Explorer & other Apps
A little background information first. The dark mode was already available for all the modern apps such as Settings, Groove Music, Photos app, Movies & TV app, and likes. But Windows File Explorer would still open in its normal light-colored scheme which really made it look odd with respect to the rest of the windows using a dark theme.

But in this update, Microsoft has addressed it and included a dark theme for Windows Explorer. If you are not a big fan of white backgrounds, you are totally going to love it. At first, it might seem a little unprecedented, but again, you'll get used to it and even enjoy it later.
Coming to the point, now let's see how to enable Dark Mode for Windows File Explorer.
Head over to Settings, then open Personalization and select Colors from the left menu. Scroll down to the bottom to find a setting that says Choose your default app mode. Select the Dark radio button and you are done.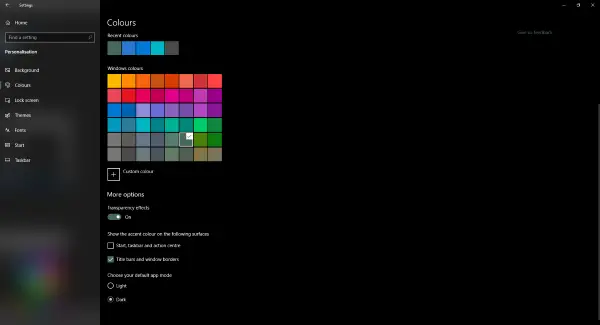 Changing this setting will entirely switch colors for all the applications supported. And Windows Explorer is one of them. So, you can now go to Explorer and rejoice the dark mode. The Dark Mode looks stunning and well reduces a considerable amount of strain on your eyes. Also, if you have a LED panel, switching to the black theme can reduce power consumption and hence improve battery life.
Other affected areas after changing this setting are the right-click menus. All context menus now also appear in dark color.
This addition is a great step towards getting a full dark mode on Windows. Not much has changed, the settings are still the same, but File Explorer is now attached to it. So if you were looking for a dark Windows Explorer, update your Windows to the latest release.
See this post if Dark Mode is not working properly for Explorer.
Love dark themes? Then read the following: