Many individuals now use the Wacom tablet as an input device for their graphics work, which has made many things easier. However, most of these tablet users have been reporting that the Wacom driver is not installing, responding, or working on platforms like Microsoft forums and Reddit. This issue occurs when using the Wacom tablet, and it's often a software problem.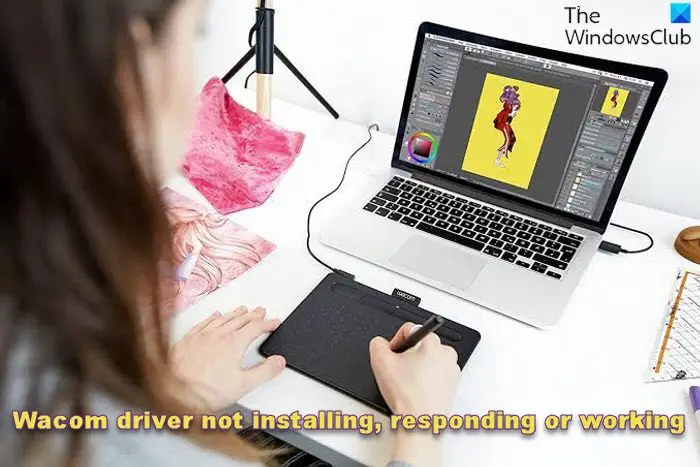 In addition, the hardware may just stop working without any prior issue, and trying to install a new driver for it may not be possible; this could be very annoying. Regardless of how frustrating the glitch could be, there are some proven workarounds to fix it. Hence, this article will detail five ways to fix this issue.
Fix Wacom driver not installing, responding or working
The Wacom driver not installing issue is mostly due to corrupt or conflicting software on your computer. So if perhaps you've been using the device for a long time, try unplugging it and reconnecting, or maybe restarting the device; this could help in getting the Wacom tablet to work. It's also recommended to make sure there is no pending Windows Update on your computer. Nonetheless, if the issue persists, we've compiled a list of solutions to fix the issue on your PC, and here they are :
Uninstall Wacom and reconnect the device
Restart Wacom services.
Update the Wacom driver.
Run Hardware Troubleshooter
Troubleshoot in Clean Boot State.
Make sure you restart your computer after each of the solutions. So, let's dive into the details on how to go about these solutions.
1] Uninstall Wacom drivers and reconnect the device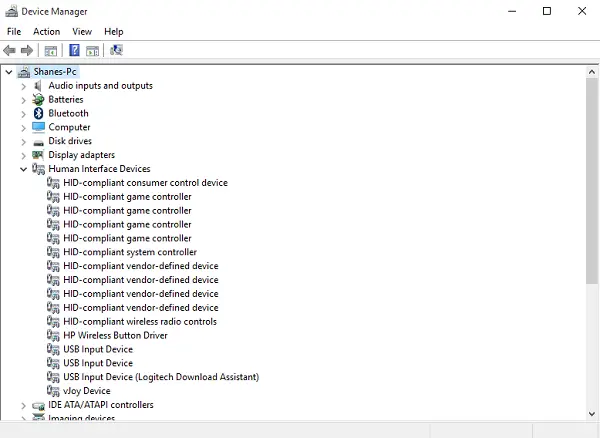 Oftentimes, hardware issues can always be traced back to the driver. And one of the ways to fix driver glitches is to uninstall the driver. Hence, this is another method you can try to fix Wacom driver not installing, responding, or working. To do this:
Disconnect your Wacom tablet and open Device Manager.
Double-click Human Interface and Devices, right-click Wacom drivers and select Uninstall.
Follow other prompts to finish the process.
After all that, reconnect the tablet and see if the issue has been fixed.
Read: How to download or update HID compliant touch screen driver
2] Restart Wacom Services
This solution has worked for many users and can help you fix the Wacom driver not installing, responding, or working issues too. You simply have to Restart the Wacom services to get the device up and running.
To do that, press Windows + R to open Run, enter services.msc, and select OK.
This step will open Windows services, where you'll navigate to Wacom Professional Services.
Right-click the option and select Restart.
After that, go back and check if the device is working correctly.
Read: HID-Compliant Touch Screen Driver is missing
3] Update the Wacom driver
Wacom driver 6.3.44 and newer fully supports Windows 11. To download the compatible driver, you can visit wacom.com.
Select your product to see the list of compatible drivers, or scroll down the page to select download under the latest Windows driver.
Another thing you may want to pay attention to is whether this issue started after you Upgraded your Wacom device driver. If so, you may want to roll back the driver. This method could help fix the issue so it's worth a try.
4] Run Hardware Troubleshooter
Run the Hardware Troubleshooter and see if that helps you in any way.
5] Troubleshoot in Clean Boot State
You can perform a clean boot on your computer to be clear on where the issue is coming from. Besides, this may require you to take several actions on the computer and restart it afterward. You may need to manually disable one item after another to try and pinpoint the one that is causing the problem. Once you have identified the offender, you can consider removing or disabling it.
If the problem persists after doing this, you'll at least be able to know the direction to go in other to fix the issue.
Related: Windows encountered a problem installing the Driver software for your Device
Why is my Wacom connected but not working?
Suppose a Wacom tablet connected to your computer is not working, you are most likely having an issue with the device driver. It could be a bug in the current version of the driver you're running, necessitating an update or a rollback to a previous version, depending on the situation. It would be best if you also tried connecting the tablet to a different USB port to be sure the issue isn't mechanical.
Wacom driver platform not supported
If you see this error message then it means that the driver version is not compatible with your operating system version or your hardware. You need to go to wacom.com and download the driver version file for your Windows version and device, as explained in this post.
How do I get Wacom to work on Windows 11/10?
Restarting the Wacom service on your computer till it comes up again is one of the ways to get it to operate on Windows 10/11. This has helped many people so far, and it might be the solution for you as well. So simply follow the step-by-step instructions in the article to restart Wacom Services, and perhaps the problems will be resolved. If that doesn't work, try the other option.