Sometimes, the second Monitor or the external monitor lags or stutters when playing a game. This is a very common issue and is mostly caused due to the failure of the graphics driver. In this post, we will see what you can do if the second monitor lags when playing games.
Why is my monitor lagging when I play games?
A monitor will lag when running a game when the game is either exceeding the frame rate of the monitor or limiting it. Most games have an option to limit frame rate or a particular FPS count as that is a remedy for lagging issues. Another common cause of this issue is outdated Graphics Drivers. It is pretty simple and beneficial to keep all drivers up-to-date.
Fix Second Monitor lags or stutters when playing games
If the Second or External Monitor lags or stutters when playing games, follow the solutions mentioned below.
Check the connection and the cable
Display Hardware-accelerated GPU Scheduling
Turn off Hardware Acceleration
Change the Refresh rate of monitors
Run the game with integrated graphics
Update your display drivers
Let us talk about them in detail.
1] Check the connection and the cable
First of all, you need to make sure that the HDMI cable that's connecting the second monitor to your system is tightly connected. In case the connection is loose, one may notice lag and stutter. That is why check your connection; you can also remove the cables and plug them back again. If there is nothing wrong with your connection, connect the cable to a different monitor to ensure that the cable has not malfunctioned.
Read: Fix Mouse lag when connected to external monitor
2] Disable Hardware-accelerated GPU Scheduling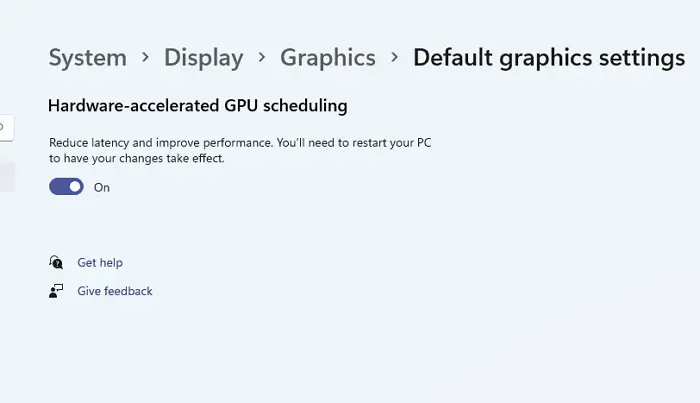 Hardware-accelerated GPU Scheduling is a feature that improves the scheduling of GPU usage for better efficiency between different applications. However, sometimes, instead of making it easier for the second monitor to access the GPU, it does the exact opposite. Since you are noticing a lag, disable Hardware-accelerated GPU Scheduling from Windows Settings and then see if the issue is resolved.
Read: Test Computer Monitor for Gaming & Motion Handling
3] Turn off Hardware Acceleration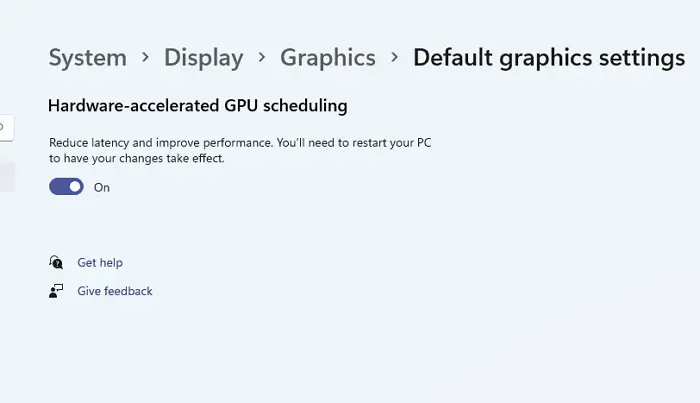 When multiple monitors are not refreshing at the same rate, the monitor with a lower FPS tries to bottleneck the one with a higher FPS. This conundrum is what causes your second monitor to lag or stutter. If you don't want this to happen, disable Hardware Acceleration. Hardware Acceleration is a feature used by Windows and some other applications to use the system's GPU to perform graphically demanding tasks. In case the hardware of both monitors is not compatible with each other, Hardware Acceleration can make your system stutter. That is why you need to disable Hardware Acceleration for Windows.
Also, disable Hardware Acceleration in Chrome, Discord, Steam, OBS, or any other app you use.
4] Change the Refresh rate of monitors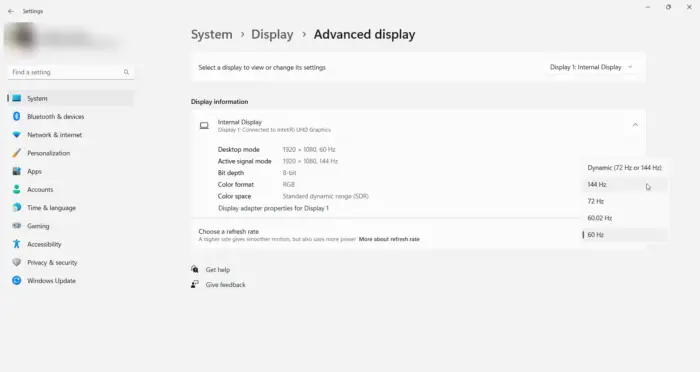 The disparity in the refresh rate of monitors can make the monitor with a higher refresh rate stutter, as discussed earlier. In most cases, disabling Hardware Acceleration does the trick, but in some cases, one needs to manually match the refresh rate of both monitors or at least lower that of the high FPS monitor. To do the same, follow the steps mentioned below.
Open Settings by Win + I.
Then go to System > Display > Advanced display.
Select the Display from the drop-down menu and then from the Choose a refresh rate option, select an FPS count.
If the monitor can support 144 Hz, lower it to 120 Hz or 72 Hz and check if it makes any difference, but if that is to no avail, lower it to 60 Hz until Microsoft doesn't release an update to resolve the issue.
Read: How does Dynamic Refresh Rate feature work in Windows 11?
5] Run the game with integrated graphics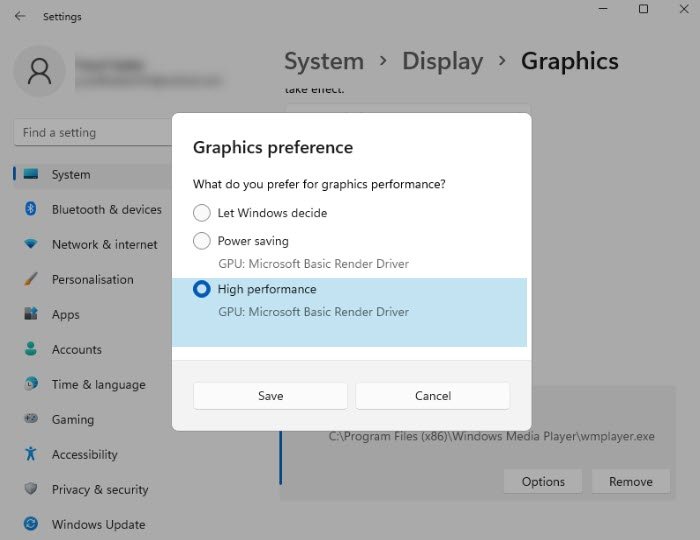 Windows automatically allocates resources as per the demand of a task, but sometimes, it fails to do so. The same can be said about your game, and it lacks the graphic strength to render images on two monitors. In this case, force the game to use a Graphics Card.
6] Update your display drivers
Last but not least, we need to update your graphics drivers. That's because otherwise, you will face peculiar issues due to incompatibility between the driver and the game. So, go ahead and update your graphics drivers. You can download the latest version directly from the manufacturer's website or install Windows Driver and Optional update.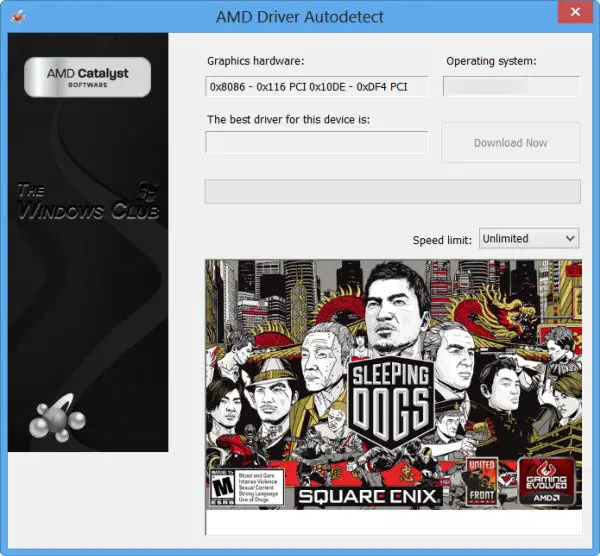 Some of you may want to use free Driver Update software or tools like AMD Driver Autodetect, Intel Driver Update Utility or Dell Update utility to update your device drivers. NV Updater will keep NVIDIA Graphic Card Driver updated.
We hope your issue is resolved using the solutions mentioned in this post.
Read: Fix Lag when Projecting to PC or Streaming to TV
Why am I lagging with 2 monitors?
Your computer has to render a lot more graphics in order to compensate for two monitors. If your system is not capable of doing the same, you will notice stuttering and lagging from time to time. You can check the solutions mentioned in this post to get rid of the issue if you are certain that your computer is capable of handling two monitors at the same time.