It is possible to project another screen on an existing PC or project an existing PC to another wireless display. What you do on the screen doesn't reflect instantly and lags? Sometimes when you try to project your screen to This PC, you might face an extreme lag between the PC and the laptop for about 60 seconds. This lag might interrupt your work. This post will suggest solutions to fix the lag when projecting to This PC or Streaming to TV.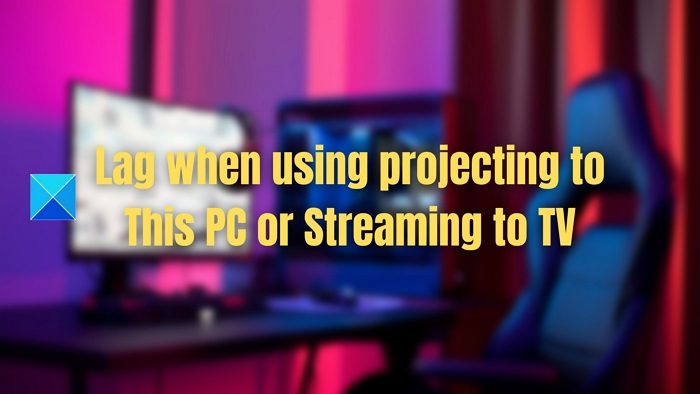 Why does the lag occur?
Poor WiFi: Any wireless display will struggle to provide a smooth experience if the WiFi signal is feeble or the network overlaps.
Out-of-date drivers: This issue may arise if the chipset's display, network, and other drivers are out-of-date.
Problematic Windows version: An old version of Windows could be a key factor.
Problematic system components: Windows may become unstable and troublesome if specific system components are corrupted.
Problematic BIOS/Motherboard firmware: If your PC's newest features and updates do not operate well enough, it may be because your motherboard's BIOS or firmware software is out-of-date.
Sorting out these causes first is the best method to address this issue. After that, you can take action to correct it by reading the following section of this article.
Fix Lag when Projecting to PC or Streaming to TV
Below are the suggestions to fix lag when projecting to your PC or TV:
Basic troubleshooting to fix the lag
Check for other wireless devices
Use only one display
Change Refresh Rate
Uninstall the MWDA driver, and let Windows install it
Reset the adapter
Update the OEM drives
Update the device maker's site
Make sure to use an admin account, and check if the lag persists after trying out each solution.
1] Basic troubleshooting to fix the lag
We advise you to complete a few tasks before attempting the actual steps. These are:
Restart your computer and the Wireless Display Adapter.
Verify that WiFi is being used rather than an Ethernet connection.
Instead of a 2.4 GHz WiFi connection, use a 5 GHz one.
Let's check out some advanced troubleshooting methods if these don't work.
2] Check for Other Wireless Devices
Check if there are multiple wireless devices connected to the same network. Try turning off other wireless devices and isolate the issue.
Press the Windows key + I to open Settings.
On the left pane, find Bluetooth & devices > Devices
Check if there are other devices connected to the same network. If that is the case, remove them manually and check to project to This PC again.
3] Use Only One Display
Always make sure to use only one display, as the lag usually happens when the PC or Laptop cannot use the display with full power, as switching to one monitor can reduce the stress on the GPU.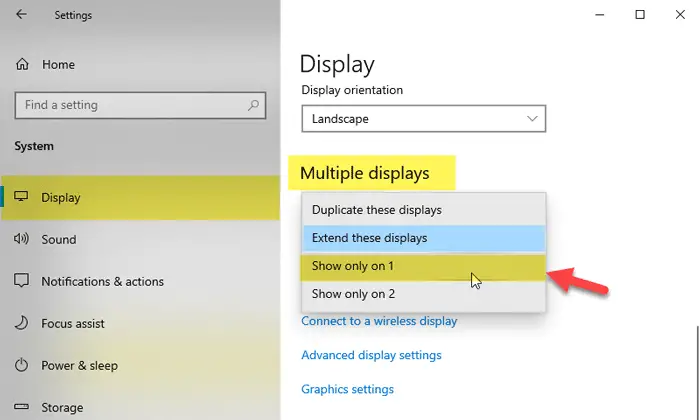 Open Settings > System > Display and select only one display.
4] Change Refresh Rate
According to users, your refresh rate may be the root problem of the lag. Many people claimed they fixed the issue by accessing their graphics adapter software and switching the refresh rate from 30Hz to 25Hz. Although users reported this issue with Intel Graphics, it may also affect other graphics adapters.
If that does not work, go to Settings > Display. Scroll down and click on Advanced display. Go to Choose a refresh rate, press the drop-down menu next to it and choose 60 Hz. You can also experiment with a higher refresh rate if it's available.
5] Uninstall MWDA Driver and Let Windows Install It
Sometimes the issue can be resolved by just uninstalling the Microsoft Wireless Display Adapter driver and having Windows install it again automatically. If you are unsure of how to do that, follow these steps: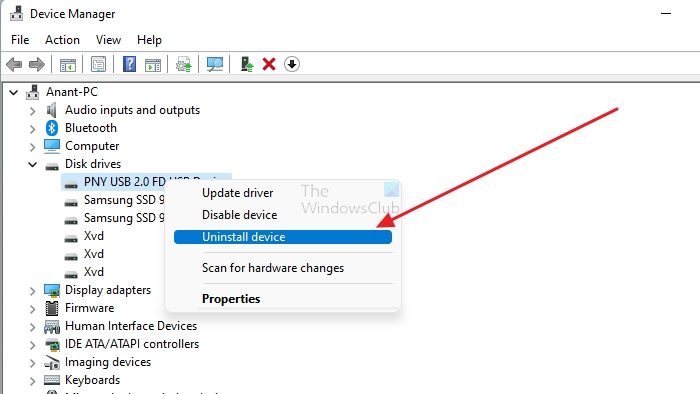 Press Windows Key + X and click on Device Manager.
Locate your projecting device, right-click and select Uninstall from the context menu.
Restart your computer after the uninstallation is complete.
Check for updates by going to Settings > Windows Updates.
Everything should function after Microsoft updates the Wireless Display Adapter driver once more. If there is no update, go to Windows Update > Advanced Options > Optional Updates. Check if you have a driver update available for the display adapter. If yes, install it.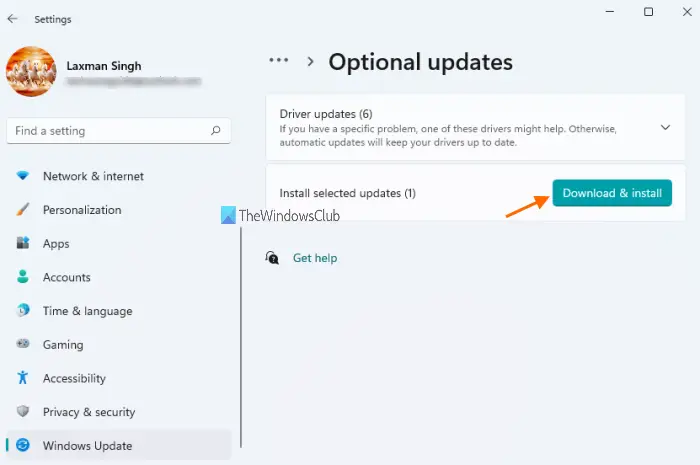 6] Reset the Adapter
If updating the drivers did not work, try resetting the adaptor. Here is what you need to do:
Press and hold the reset button on the adapter for 10 seconds.
Open Action Center from the Taskbar once the Ready to connect notification shows.
Select Connect, then choose Microsoft Wireless Display Adapter from the list of displays.
Your Microsoft Wireless Display Adapter's default settings will be restored. As a result, any incorrect settings will now be removed.
You might also be able to solve the issue by correctly connecting your Microsoft Wireless Display adapter if it is not operating. Users claim that you can solve this issue by carrying out the following actions:
Connect the adapter to the USB port.
Next, connect it to the HDMI port.
Once you are done, change to the HDMI input. Your gadget will not function unless you complete this critical step and switch to the correct input.
Next, choose the device and add a wireless display.
These methods have helped several users fix the lag.
7] Update Drivers (OEM Websites)
The next step to avoid the lag is to update BIOS, chipset drivers, and all other significant divers. After the installation, restart the computer and check if the lag persists.
If you are using separate hardware for video, sound, and network  (WiFi and NIC) (Realtek, Intel, Nvidia, ATI as examples)) which can affect Miracast, then update those drivers as well. Make sure to reboot after installation.
So, all these multiple solutions mentioned in this article will surely help you solve the lag problem when projecting to T is PC. If the issue still exists, you can try reducing the number of active background processes and see if that helps.
Why is casting to my TV laggy?
There are multiple reasons why your TV casting is so laggy on Windows 11/10 PC. It could happen due to poo WiFi, out-of-date drivers, corrupt system files, problematic BIOS firmware, etc. A detailed guide is mentioned in this article and you can go through them to get rid of the issue.
How do I stop screen mirroring from lagging?
To stop screen mirroring from lagging, you can follow these solutions as mentioned above. For example, you can check the wireless devices, use only one display, tweak the refresh rate, reset the adapter, etc. Finally, you can uninstall the MWDA driver and let Windows install it.