To get the best out of your computing device, you need to install drivers that provide a good quality picture and powerful graphic functions. Microsoft Display Adapter driver for Windows is one such driver that is responsible for maintaining the visual quality of a system. Let's cover some of its characteristics and find out where to download it from.
Microsoft Basic Display Adapter for Windows 11/10
Display Adapter is often shipped as a built-in utility by the hardware manufacturers. When it is not, you can obtain a copy of it directly from the hardware manufacturer's website.
Alternatively, you can use Microsoft Basic Display Adapter. It's built directly into Windows and offers display and graphics capabilities when software from your hardware manufacturer isn't installed.
Below are some of the characteristics that make the driver software an important utility for a Windows machine.
1] Faster performance
Your Graphics card or GPU (Graphics Processing Unit) is one of the core components of your Desktop or laptop. And your graphics driver plays a crucial role in driving top performance from your GPU i.e., fluid animations with little to no lag issues.
2] Smoother video playback
GPU specializes in the type of calculations that intense visuals require and its performance can be aided by installing the right driver. So a powerful graphics card, aided by the right display adapter driver helps the CPU calculate the movement of all pixels quickly, providing a video quality with higher resolution and more detail.
4] Improved battery life
A major plus point of some Display Adapter drivers is that they require less energy to operate. This helps in yielding better power efficiency and thus, improved battery life. Also, it makes them better suited for situations where the notebook is running on battery.
5] Multiple monitor outputs
The Wireless Display Adapters offer a strong, reliable way to project your content, photos, and videos to a big screen. Plus, after you're connected to your external monitors or displays, you can change settings like your resolution, screen layout, and more.
Considering these benefits, it makes sense to have Microsoft Basic Display Adapter for Windows installed on your system if you do not have one or cannot obtain it from the hardware manufacturer's website.
Is my PC using Microsoft Basic Display Adapter?
To check if your system is using the Microsoft Basic Display Adapter, type dxdiag.exe in the search bar and hit Enter to open the DirectX Diagnostic Tool. Here, under the Display tab, check the entry against Name. If you are using it, you will see it there. If not, then you will see the one you are using – eg Intel, etc.
Where do I download Microsoft Basic Display Adapter driver?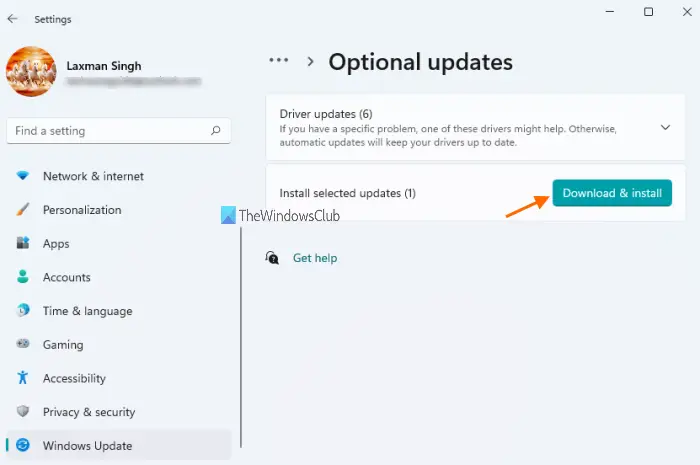 The best and latest version of the Microsoft Basic Display Adapter must already be installed on your computer. However not all systems may use it, Some may be using Intel, AMD, etc, graphics drivers. The best way to download the latest Microsoft Basic Display Adapter driver to your PC is by using Windows Updates.
The other way is to install the Microsoft Wireless Display Adapter app from the Microsoft Store. After installing it, to get the latest firmware and drivers for your Microsoft Wireless Display Adapter, follow these steps:
Open the Wireless Display Adapter app and connect to your adapter.
After you're connected, select Firmware on the left side of the navigation pane in the app.
If an update is available, follow the instructions to install it.
What is the Microsoft Wireless Display Adapter app?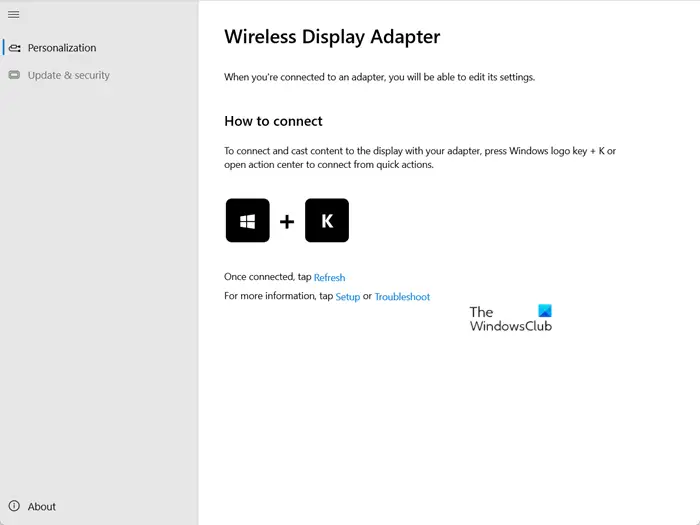 The companion app for Microsoft Wireless Display Adapter lets you Name the adapter, Change the adapter language, Customize the display wallpaper, Connect your adapter to Wi-Fi for better performance, Update firmware, Enable HDCP to stream digital copyrighted content, Enable PIN when connecting a new device, Enable password for adapter settings, etc. You can download Microsoft Wireless Display Adapter here from microsoft.com.
How to update Microsoft Basic Display Adapter?
The best way to update Microsoft Basic Display Adapter is to open Settings > Windows Updates and check for Driver & Optional Updates.
Is Microsoft Basic Display Adapter good for gaming?
The Microsoft Basic Display Adapter is as good as any other graphics card driver. So, you need not worry but your device's hardware manufacturer can provide you with better drivers that produce higher-quality visuals on your screen.
What happens if you uninstall Microsoft Basic Display Adapter?
If you choose to uninstall the driver in safe mode and restart your PC, you won't experience any issues. However, take care to select the box while uninstalling else, the driver will simply reload when you reboot.
Hope it helps!