DirectX is a suite of technologies or application programming interfaces used by many multimedia applications or programs in Windows. It is developed by Microsoft to provide hardware acceleration for heavy multimedia applications such as 3D games and HD videos. Windows 7 has DirectX 11. Windows 11/10 has DirectX 12 installed.
Run DirectX Diagnostic Tool (DxDiag)
If you're having problems getting a game or movie to play properly, the DirectX Diagnostic Tool can help you point out the source. To access it, go to Start in Windows 11/10/8/7, type dxdiag, and press Enter.
If this is the first time you've used the DirectX Diagnostic Tool, you might be asked whether you want to check if your drivers are digitally signed.
Click Yes to ensure that your drivers have been signed by a publisher that has verified their authenticity.
Once the Diagnostic Tool has finished, here are three key things to check in the DxDiag report.
1. Check your video card
Some programs run very slowly or not unless Microsoft DirectDraw or Direct3D hardware acceleration is turned on.
To determine this, click the Display tab, and then under DirectX Features, check to see whether DirectDraw, Direct3D, and AGP Texture Acceleration appear as Enabled. If not, try turning on hardware acceleration.
Right-click on desktop and open Screen Resolution.
Click Advanced settings.
Click the Troubleshoot tab, and then click Change settings.
Move the Hardware Acceleration slider to Full.
If that fails, you might need to update the video driver or the card itself. You can typically find the latest drivers for your hardware in the support section of the manufacturer's website.
2. Check your game controllers
If a joystick or other input device fails to respond, it might not be installed correctly. Make sure the device shows up on the Input tab. If not, reinstall the device according to the manufacturer's instructions. If it's a USB device, unplug it and then plug it back in.
3. Check for "unsigned" drivers
A driver that's been digitally signed has been tested by the Microsoft Windows Hardware Quality Lab for DirectX compatibility. If the Diagnostic Tool flags an unsigned driver, updating the driver might solve your problem. You can typically find the latest driver for your hardware on the support section of the manufacturer's website.
Make sure you have the 64-bit driver for your 64-bit PC and the driver version is compatible. You may have to check your hardware configuration to figure this out.
4. Other things to check
If you're still having problems with a game or movie after running the DirectX Diagnostic Tool, there are a couple of other things you can check using the DxDiag file.
Check the Display Mode of Your Application or Game
When a DirectX 9 application goes to full-screen mode, the resolution of the application might not match the native resolution of your LCD monitor; the resolution of your monitor was designed to display based on its size. If you see black bands on the tops or sides of your screen where a portion isn't used, you can try scaling the full-screen image. If your application or game allows you to choose the display mode, you might be able to change the application or game settings and choose a mode that matches the native resolution of your LCD monitor. This will help you use all of the screens and still preserve the application's intended resolution.
Which Version of DirectX Is Installed on Your PC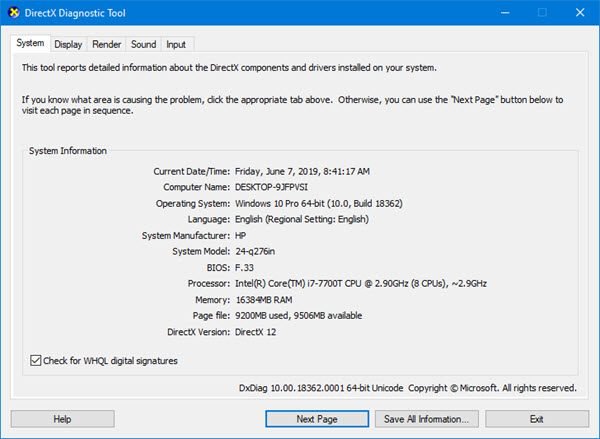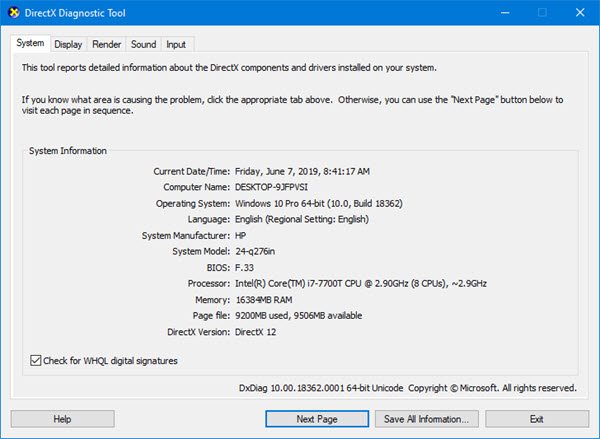 Under the System tab against DirectX Version, you will see the version installed on your system. In the image above, you will see DirectX 2 mentioned.
If running the tool does not help, you could uninstall DirectX from your system and then download DirectX and fresh-install it.
Check the Version of DirectX That Your Application or Game Requires
Some applications and games require DirectX 9. However, Windows 7 is installed with a more recent version of DirectX. If you install an application or game that requires DirectX 9, you might receive an error message, such as: "The program can't start because d3dx9_35.dll is missing from your computer; try reinstalling the program to fix this problem." The last two digits of the file name might vary. If you receive the same error message after reinstalling the application or game, go to the DirectX End-User Runtime Web Installer webpage and follow the instructions to install DirectX and receive updates to DirectX and previous versions of DirectX.
How do I generate a DirectX Diagnostic (DxDiag)?
Once the DirectX Diagnostic finishes its analysis, click Save all information, then Save as. Make sure to name it, so you remember and a location where you can find it easily.
How Can I Tell If DirectX Is Working?
If you can find it in the search result, and the diagnostic tool is not generating any error, it means DirectX is working. You cant use it directly, and only applications and games can use it by calling different functions using their API.
Is There Any Way to Force Restart DirectX?
No. You will need to restart your PC if you feel there is something wrong with the game, and there is a related DirectX error. You can also generate the report to check if there is anything else that is causing the problem.
Can I Install DirectX 12 on Earlier versions of Windows?
You cannot. Microsoft needs to support it as it makes a lot of low-level calls which is not available in earlier versions of Windows.  It is possible that someone may port it, but it may not be as reliable. So if you try it, it is on your risk.