If when you try to start a program, you receive an error message – This program can't start because xinput1_3.dll, xinput1_4.dll or d3dx9_43.dll is missing from your computer, here is a solution that you can use to fix both the problems. These types of problems mainly occur when you try to start a game. Some game setup files come with the DirectX installer file that gets installed automatically along with the game files. If it doesn't get installed for some reason or if the said file becomes corrupted or goes missing, you receive such error messages.
xinput1_3.dll or d3dx9_43.dll is missing or not found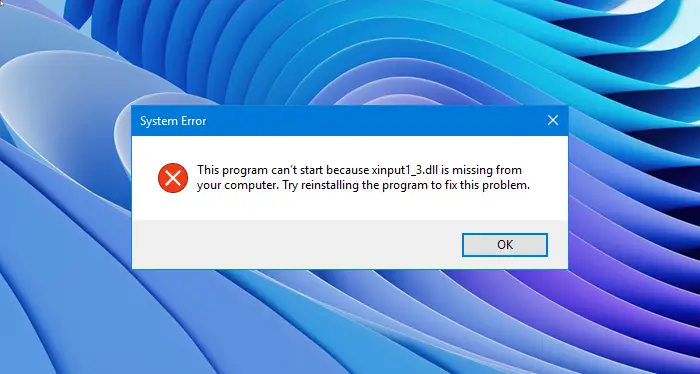 DirectX helps users to play multimedia files or programs on Windows computers by accelerating the hardware. If DirectX files go missing or get corrupted, such issues can arise.
1] Update DirectX
The leading cause of both of the problems is missing dll files of the DirectX installation.
To fix xinput1_3.dll missing error on Windows 10/8/7, you need to install the latest version of DirectX on your computer. However, the standalone installer file provides up to DirectX 9. If you already have DirectX 10, 11, or 12, you need to use the Windows Update tool on your computer. Otherwise, you can download the DirectX End-User Runtime Web Installer from Microsoft that supports Windows 7 and older versions of Windows.
If you are using Windows 11/10 with DirectX 11.1 and DirectX 12, you should run the Windows Update tool. If any update is pending, do install that and check whether it solves the issue or not.
The way of solving d3dx9_43.dll missing error is exactly the same as above. You need to download DirectX End-User Runtime Web Installer to your computer if you have DirectX 9, or if want to update the existing DirectX installation to v9.0. You need to also run Windows Update.
2] Update Graphics driver
To fix either of the problems, you may update your Graphics Driver. You can either check out the official website or the graphics card management tool that most of the manufacturers provide with the graphics driver.
Hope these solutions work for you. If not, you can always try to re-install the software after removing it completely.
Related reads: