If the external monitor is not working with your Windows 11/10 laptop or your Windows PC is not detecting the second monitor, here are some solutions which may help you troubleshoot this problem.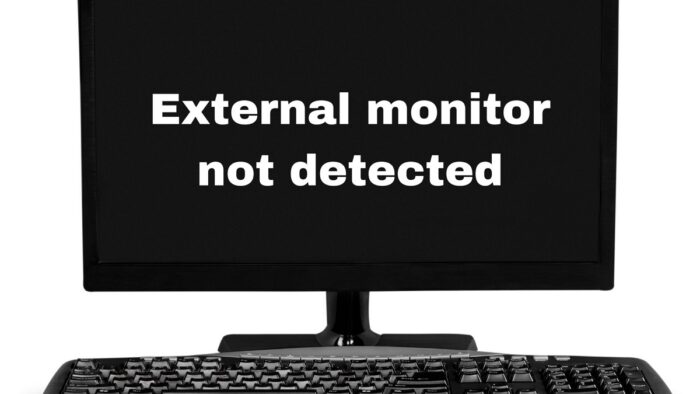 Laptop external monitor not detected
Before trying any of these suggestions, you should check whether your second display is receiving proper power or not or not. Just plug in the power cord and check if it displays the manufacturer's logo or displaying No Signal. That way, you would be able to confirm that your monitor is getting power properly.
If the Laptop External Monitor is not working, detected or displaying anything when connected, or Windows 11/10 won't recognize the second HDMI monitor, here are some solutions to fix the issue.
Crosscheck with another setup
Check Source detection
Install or Uninstall & Re-install Display driver
Check the driver in compatibility mode
Roll Back driver
Change the Refresh Rate.
Enable Monitor
You will need admin permission to follow some of these methods.
1] Crosscheck with another setup

Check whether your second display is working properly with another computer or not. It is recommended to use the same HDMI port while connecting it to another PC or machine. In this way, you would be able to ensure that the HDMI port is up and running. Similarly, you should check the HDMI cable that you are using to connect the second display to the Windows 10 laptop. If you are using any kind of converter, it is suggested to verify that it is working with another setup as well.
Related: Third monitor not detected in Windows 11
2] Source detection
Even if you have configured everything correctly, your second display may not work if the "Source" is not selected properly. Almost every monitor has a similar option that determines whether the source will be selected by the user or the machine itself. If it is set to Manual, you need to check whether HDMI is selected or not. Alternatively, you can simply opt for the Auto mode.
3] Install or Uninstall & Re-install Display driver
If your Windows 10 laptop has a dedicated graphics card, you may need to update Graphics Drivers. Alternatively, you may consider uninstalling and reinstalling the graphics driver.
4] Check driver in compatibility mode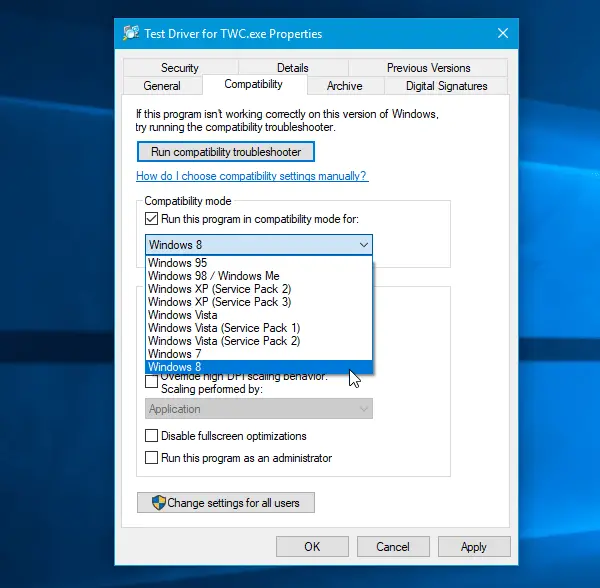 If your system does not detect the graphics driver properly even after reinstallation, you should check the driver in compatibility mode. For that, download the driver that you want to install and right-click on it to select Properties. Now switch to the Compatibility tab, select the checkbox that says Run this program in compatibility mode for, select the desired OS from the drop-down menu and hit the Apply button.
5] Roll Back driver
If you face this issue after updating your driver, you should roll it back. For that, press Win + X, and select Device Manager. After open Device Manager, right-click on the graphics driver > select Properties > switch to Driver tab > click on Roll Back Driver.
6] Change the Refresh Rate
The Monitor Refresh Rate plays a vital role while connecting two monitors to the same system. If the refresh rate of both monitors is different, you might face problems connecting them together. Therefore, if the second monitor is being detected by the Windows 10 system, but it is showing a blank screen, you should follow this suggestion. Press Win + I to open Windows Settings Panel. Go to System > Display. Now select the second monitor on the right-hand side and click on the option called Display adapter properties.
After that, switch to the Monitor tab and try to change the refresh rate.
7] Enable Monitor
When you already have 2 monitors and a third monitor is connected, it is possible that the new monitor will display nothing even though it is visible in the Windows Settings. This is normal behavior, and all you need to do is turn it on.
Go to Windows Settings > System Display Advanced Display. Select your monitor, and make sure to toggle off the option—Remove Display from Desktop.
Related: Fix Generic PnP Monitor driver issue on Windows 11/10.
Why is my monitor being detected but not displaying?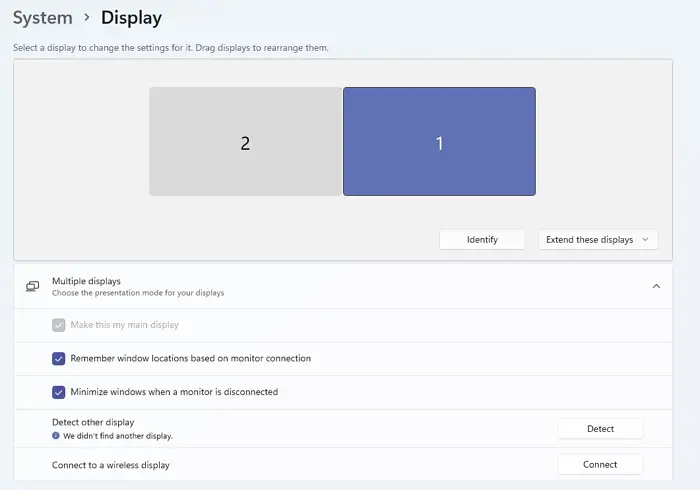 Go to Settings > System > Display > Under multiple displays section, click on Detect other display. Windows will check on a hardware level for any connected monitor and display it here.
How do I reset my monitor?
The option is built into the monitor and can be done using the physical buttons. Check for the power button on the side or behind the display. You can then long-press it and open more options. These options allow you to calibrate the display of the monitor and also offer a reset option. Once done, the monitor will use the factory settings.
Windows is not getting displayed properly on the edge of the monitor
If Windows looks cropped o you have blank space on one side of the display, then you need to use the hardware button on the display. One of the internal menus will allow you to move the display so it can be matched from edge to edge.
All the best!