Outlook allows you to add other accounts from different mail providers. You can add your Gmail, Yahoo, GoDaddy, and other POP email accounts in Outlook – this allows you to access many accounts on a single application. If one of your connected accounts has not had an update in a while, and you see the Update failed status on the account, then this post is intended to help you resolve the issue.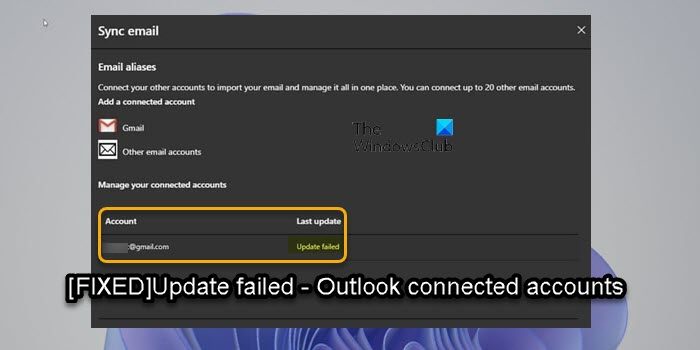 What is a connected account in Outlook.com?
When you add a Connected Account in your Outlook.com account, it is similar to adding an email account to Gmail for POP3 and SMTP. However, Outlook.com allows you to add a Connected Account via IMAP which allows you to sync to your email server.
Outlook connected accounts Update failed
If Update failed for one or more of your Outlook connected accounts, you can try our recommended solutions below in no particular order and see if that helps to resolve the issue on your device.
Edit the connected account
Change Server Settings of Email Provider
Change POP Account to IMAP Account
Use Mail app
Let's take a look at the description of the process involved concerning each of the listed solutions.
Before you try the solutions below, manually update Microsoft Office on your Windows 11/10 device and see if the issue is resolved. You can also remove and re-add account the account and see if that helps.
1] Edit the connected account
This solution to resolve the Update failed issue requires you to edit the password settings of the connected POP account.
Do the following:
Fire up a browser and head over to Outlook.com.
Log in to Outlook.com with your credentials.
Next, click the gear icon or go to settings and click on Connected Accounts.
In the window that opens with a list of connected accounts to Outlook, select to edit the account with the Update failed status next to it.
Now, update the Account Password and save it.
Once done, the Update failed status will change to Pending Update, which after some time the Pending Update status will change to Up-to-date. The issue should be resolved now. You can restart Outlook and check for the same.
Related: Outlook not connecting to Server
2] Change Server Settings of Email Provider
You may encounter this issue in view due to any update or change in security settings or mail server settings in Outlook-connected accounts. It could be that the connected account has a blocked connection to another server. In this case, to resolve the issue, you need to unblock or change the server settings of the email provider of the connected accounts like Gmail, Yahoo, and others.
3] Change POP Account to IMAP Account
IMAP (Internet Mail Access Protocol) is much better than POP (Post Office Protocol) – this is so because IMAP provides better facilities than POP supporting rich media transfer and synchronizing with devices.
This solution requires you to change your POP Account to an IMAP Account. Do the following:
Sign in to Outlook.com.
Go to Connected Accounts.
Select the POP account you are having issues with.
Next, remove the linked POP Account.
Now, you can add the account to Outlook.com with the default settings. The Account should be added under the Choose where the imported email will be stored section with the option Create a new folder for imported email, with subfolders like the account you connect.
4] Use Mail app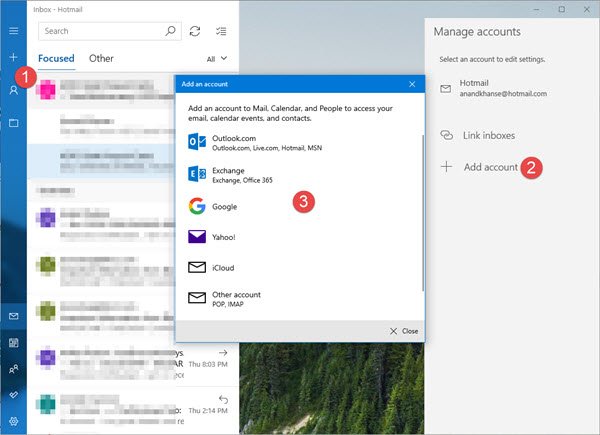 This is more of a workaround than a solution given that Outlook might be your preferred email client on your Windows 11/10 PC.
This involves setting up & adding multiple email accounts to the Mail app on your device to send and receive emails from your connected account.
Hope this helps!
Related post: Email in Outlook not syncing
Why is one of my Outlook accounts not working?
Incorrect settings are the most common problem when connecting accounts to Outlook.com. So, if your Outlook account is not working, to resolve the issue, confirm your account settings with your provider. After you set up your account, sign out and sign in again, and make sure that your settings are correct.
Why is my Outlook not connecting to the server?
If Outlook is not connecting to the server, try the following suggestions:
Make sure your account credentials or Exchange server name are correct.
Verify that Outlook is online.
Make sure that your computer is connected to the network.
Check your Microsoft Exchange server connection.
Where is managed connected accounts in Outlook?
To see managed connected accounts in Outlook, do the following:
At the top of the screen, select Settings > Mail.
Under Options, select Accounts > Connected accounts.
Not all features are available in every region. If you don't see the Connected accounts option, this feature might not be available for your account.