Microsoft researched a lot about how people use email and email apps before building the Windows Mail App. It realized users today have multiple email accounts and receive more and more emails each year. Therefore, an app aggregating multiple email accounts should provide an easy way out to the users. Hence, Windows Mail App!
Although Windows Mail App aggregates multiple email accounts, it not clearly shown how to add multiple accounts to it. We have already seen some free email clients. In this post, we will let you know how to go about it. No need of  POP or IMAP settings – all you require is your login credentials!
Set up Mail App in Windows 11/10
To begin with, from your Start, click open the Mail app.
You will get a notification 'You aren't signed with a Microsoft account. To use mail, sign in with a Microsoft account and try again'.

Enter your credentials here and sign in with your Microsoft account.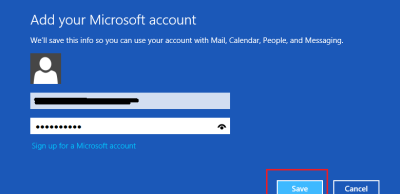 Once done, your Microsoft account will be configured on the Windows Mail app. Now, you will also have the choice to add multiple email accounts.
Add multiple email accounts to Windows Mail app
Once you have configured your Microsoft account, you will be provided with a clue for adding multiple email accounts to the Windows Mail App.
Click on Accounts on the left side, and a panel will pop out from the right side. Here click on '+ Add account' to add an email account.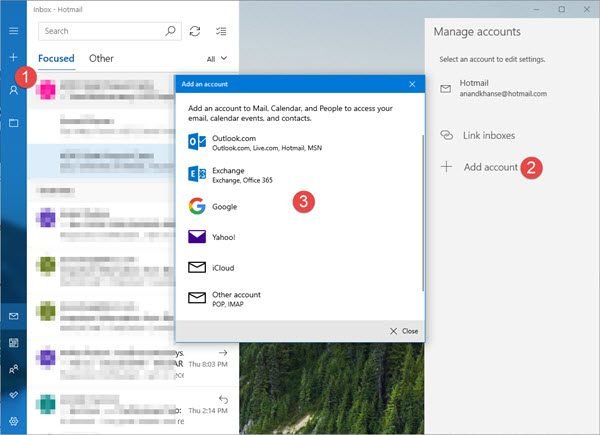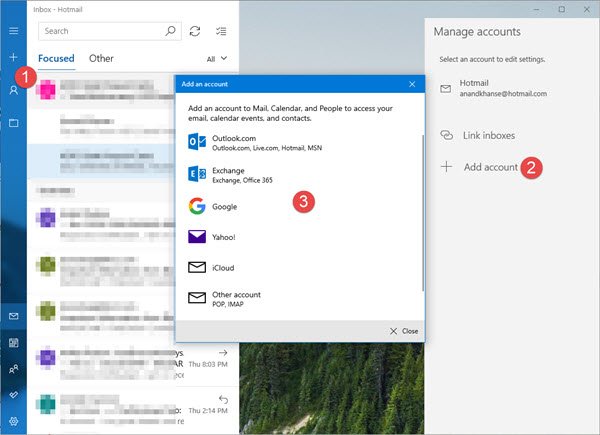 From the fly-out, you can select your email service and follow the process to its conclusion.
I chose Gmail as the second mail ID to be added; i.e., Google account.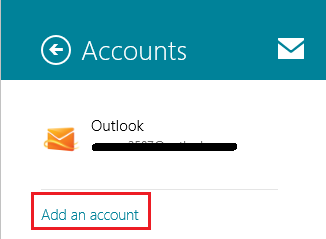 Once selected, enter the required information and click 'Connect' to connect to your email account.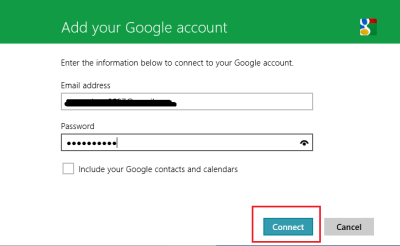 That's it!
You will have now added a new email account to the Windows Mail app. Likewise, you can add other accounts too.
How to edit Mail App signature & other settings in Windows may also interest you.
TIP: Learn how to add additional Email IDs in Windows Mail App & how to pin or add multiple Live Tiles, for multiple email accounts to Start Menu, easily.