Windows 10 has a built-in Mail app that lets you add your email ID and check up on your mail. The Windows Mail app is quite good, and now, you do not really feel the need for a third-party email client for checking mail. The latest version of the Mail app in Windows comes with a  makeover, and the current user interface looks awesome.
You can use different email services providers like Outlook.com, Google Mail, Office 365, iCloud or any other IMAP-enabled account. Many people use multiple email accounts to separate their professional and personal life. If you are one of them and wish to use more than one email account and set a live tile for all your accounts, you can do so easily now.
Live Tiles help users to check mail or any other notifications without opening the app. In this tutorial, we will see how to add additional email IDs and display multiple live tiles for multiple email accounts in Windows.
Add additional Email ID in Windows Mail App
If you are following this guide, it means you have already added one email ID. To add a second email ID, open your Mail app. You can do so from Start or using Cortana. After opening the app, click on the Settings button that is positioned in the left pane.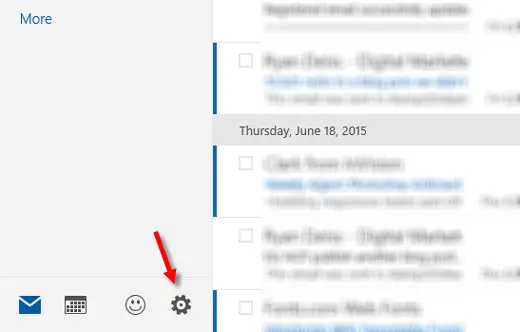 Now, go to Accounts > Add Account and select the email provider. If you want to use a Gmail ID, select Google.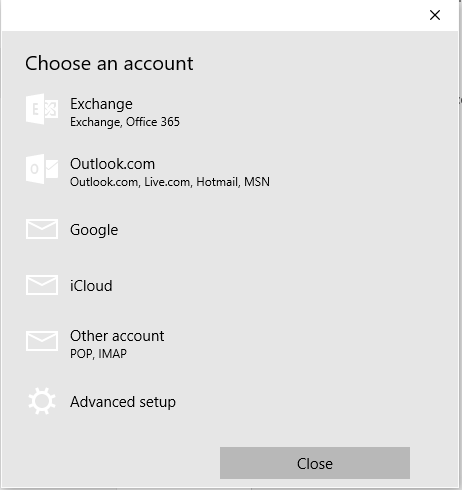 Sign in with your credential. If you use Manual setup, you will have to enter other required details. After signing in, you will get a pop-up window, asking you to save the login credential to your Windows machine. If you want to, just hit the Yes button. If you don't want to do so, hit the Skip button.
If everything goes right, your account will be added immediately. After that, you need to follow the subsequent steps to pin a new email ID to the Start Menu in Windows.
Add Multiple Icons or Tiles for Multiple Email Accounts in Windows Mail app
Open your Mail app and switch to the second account. Click on the email account name on the left-hand side. Now, right-click on the email account name and select Pin to Start.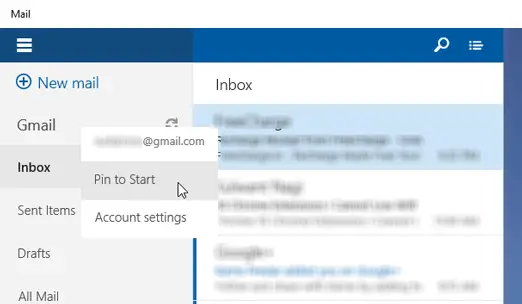 Your new email account will be pinned right away.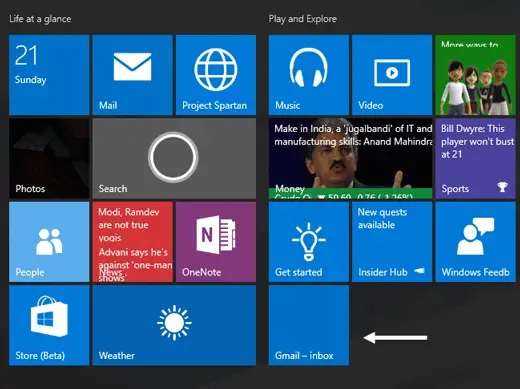 Similarly, you can pin your second email account and other email accounts too.
I hope this works for you.