Email services can block a sizable number of users from accessing their messages if any issue is continuously experienced. In most cases, these errors are easy to diagnose and fix. At other times they require a bit of investigation. Described below, are some of the instances where users can experience issues with Outlook.com and the remedial measures available for them.
Fix Outlook.com problems
Primarily, issues related to Outlook.com are noticed when-
Email messages, attachments, and features
Connecting of Outlook to Outlook.com
Outlook Update in progress
In the first category, a user's connected account might get stuck at the time of the update, precisely during "Update in progress" message. When this happens, it's advisable to take no action as a fix for such issues are rolled out automatically by the service provider.
Old Bookmarks not working in Outlook
Outlook is the official name of Microsoft's email service, formerly known as Hotmail and Windows Live Hotmail. So, if you added a bookmark for your Windows Live Mail, Hotmail, or Outlook.com inbox, it may not work properly. Please change the same to https://www.outlook.com.
Outlook on iOS 11 does not send mail
A bug in the iOS 11 leaves users locked out of Microsoft's software like Office and Outlook.com. The Users complained of receiving a message reading "Cannot Send Mail.  The message was rejected by the server." when trying to send emails from iOS 11. This affects email from Outlook.com, Office 365, or an Exchange Server 2016 running on Windows Server 2016. To fix the issue, please update to iOS 11.0.1.
My Outlook.com status always showing as Available
At other times, users may experience problems with bookmarks or My Outlook.com status always showing as Available. Here's how to resolve this quickly.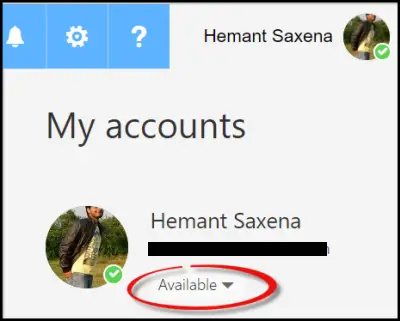 You mainly notice your account status appearing next to your account picture. This is to let your Outlook.com and Skype contacts know whether you are available to chat or ready to receive a Skype call. You can change your account status in Outlook.com or Skype, but every time you sign in to Outlook.com, you find your account status is reset to 'Available'. Here's a way to fix it! Do not sign out of Outlook.com. Stay signed in (even when the browser is closed) by selecting the 'Keep me signed in' box at the sign in prompt.
Read: How to find out if Microsoft Services like Outlook.com are down or not.
In the second category, you may observe issues related to Outlook.com email account appearing as:
Outlook_[long series of letters and numbers]@outlook.com
The issue is noted with users having multiple account aliases. An alias is something similar to a nickname for your account that can be an email address, phone number, or Skype name. It uses the same inbox, contact list, and account settings as the primary alias. To avoid any Outlook.com problem related to the above issue, go to https://account.live.com/names/Manage and sign in to your Outlook.com account.
Here, set your Outlook.com email as the primary alias. If you are using Outlook for Windows, remove and re-add the account. You can Add your Outlook.com account in Outlook for Windows by,
Opening Outlook and selecting the File tab.
Thereafter, under Account Information, choose 'Add Account' > E-mail Account, and then enter your name.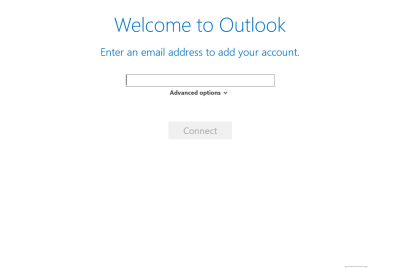 When done, enter the address and password of the email account that you want to add.
Retype your password, and choose Next.
Finally, click 'Finish' when you see 'congratulations' message and then restart Outlook.
Outlook.com sending email as 'On behalf of' your Outlook.com account
If Outlook is connected to a primary Outlook.com account that is in turn associated with secondary email accounts such as Gmail, Yahoo, etc., then, while sending an email in Outlook, you cannot choose the other secondary connected account as the "From" sending account. If you try to undo this change and manually type in the secondary connected account email address in the "From" field, the email is sent as "On behalf of" your primary Outlook.com account.
To avoid this instance and add the secondary connected accounts (Gmail, Yahoo, etc.) in Outlook.com as additional accounts in the Outlook profile follow this,
Open Outlook and choose 'File' tab.
Next, under Account Information, choose Add Account
Then, on the Auto Account Setup page, enter your name, email address, and password, and then choose Next.
Click 'Finish'.
Error sharing Calendar from Outlook.com to Office 365 business account
The final issue pertains to an instance where you try to accept a shared Outlook.com calendar using your Office 365 for the Business account in Outlook 2016 and in return receive the "Something went wrong" error.
To solve this and be able to access the calendar shared with your Office 365 for the business account, you'll need to accept the invitation from Outlook on the Web. Unfortunately, if you've already clicked the Accept button in Outlook 2016, you won't be able to re-accept the invitation in Outlook on the Web. To get a new invitation, the person who sent you the invitation will need to remove your permissions and then send a new invitation.
Source: Office.com.