Some PC users have reported that new Tabs are not opening or loading in Chrome, Edge, or Firefox browsers on their Windows computer for some reasons that they can't seem to grasp. If you are faced with a similar issue, then this post offers adequate solutions that can be applied to resolve the issue.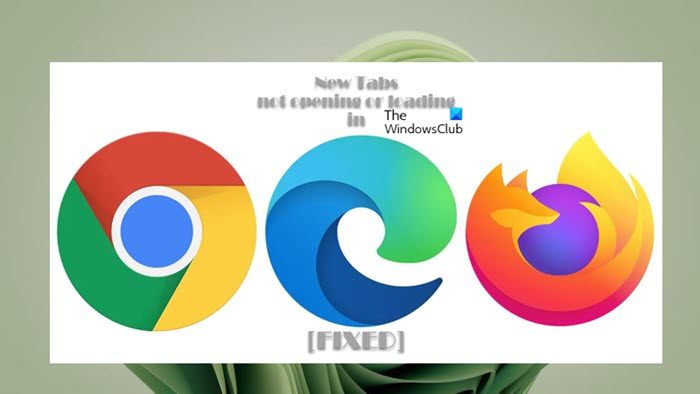 New Tabs not opening or loading in Chrome, Edge, Firefox
If new Tabs are not opening or loading in Chrome, Edge, or Firefox on your Windows 11/10 computer, then the following suggestions we have drawn up can help you resolve the issue on your system easily.
Update Windows & the browser
Update/Disable browser extensions and plugins
Clear browser cache
Repair/Reset the browser
Reinstall the browser.
Let's have a look at the description of these suggestions and how they apply to the issue.
1] Update Windows & the browser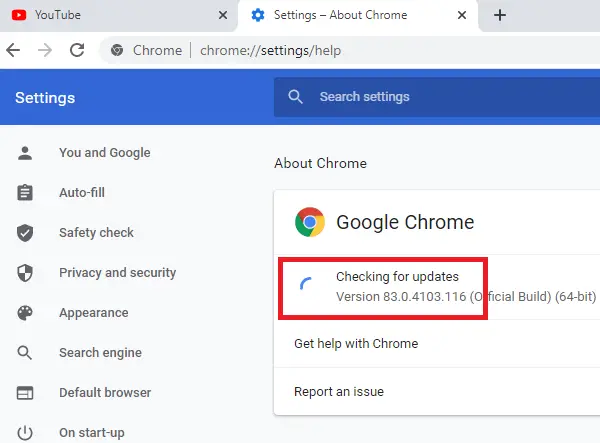 Before you proceed, make sure Windows is updated.
Similarly, make sure the browser is updated.
2] Update/Disable browser extensions and plugins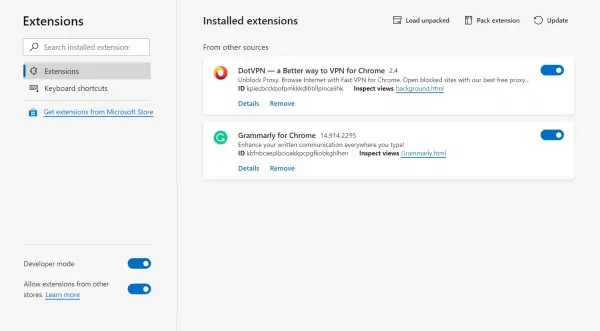 Despite the intended functionality of web browser extensions and plugins, sometimes these add-ons can cause unintended issues like the issue in focus. In this case, to rule out this possibility, you can update all extensions.
If the issue persists, then you will need to disable all the extensions: Edge, Chrome, Firefox, and then re-enable them one after the other and in between, check to see if the browser tabs are opening or loading — this will help you pinpoint the extension or plugin that is causing the issue — so you can either leave the addon disabled or remove it entirely from your browser.
Read: How to restore the last session or Chrome tabs after a crash
3] Clear browser cache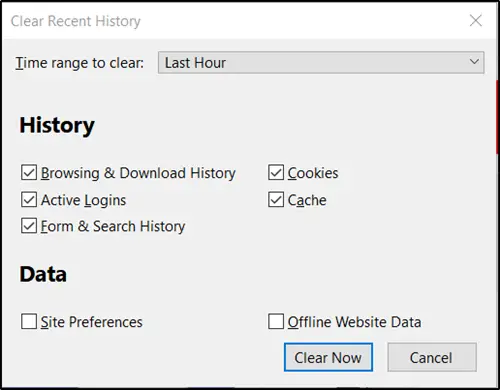 As we all know, the cache is a tool used by your internet browser to speed up the page-loading process. In other words, browsers typically cache what is known as "static assets" – which are parts of a website that do not change from visit to visit.
However, sometimes it can cause a problem when websites are updated and developed as files saved in the cache may conflict with what's coded into the website.
In other cases, it could be the cache is corrupted. So, we suggest you clear your browser cache: Edge, Chrome, Firefox, and see if the issue is resolved. If not, you can continue with the next fix.
4] Reset the browser
In most cases, a Reset can resolve most browser issues. So, we suggest you perform this action on the browser that's giving you issues.
For instance, to reset Edge, open this link in your Edge browser and click on the Reset settings button:
edge://settings/resetProfileSettings
This will reset your startup page, new tab page, search engine, and pinned tabs. It will also turn off all extensions and clear temporary data like cookies. Your favorites, history and saved passwords will not be cleared.
The links below provide instructions for the respective browser on resetting the settings to default.
Read: Stop Firefox from opening new empty tabs when clicking a link
5] Reinstall or Repair the browser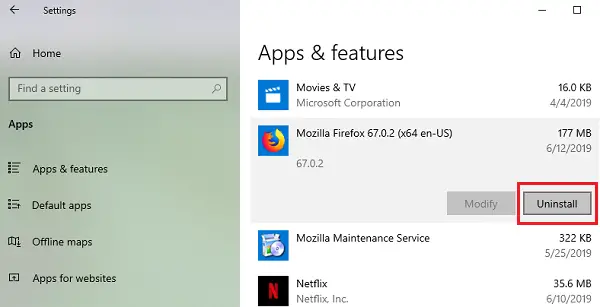 This solution requires you to uninstall and then reinstall the browser.
Uninstall the Chrome or Firefox browser via Settings and then download its latest version from its official website and install it.
As you cannot uninstall Edge in Windows 11/10 the conventional way, you can follow the below steps.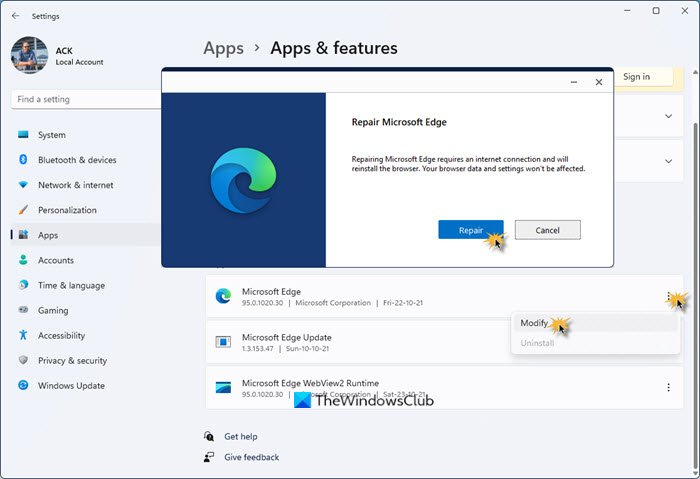 To reinstall or repair the Microsoft Edge browser on Windows 11, do the following:
Press Win+I to open Windows 11 Settings
Select App settings
On the right side, click on Apps and features
Search for Edge in the Apps list
When Microsoft Edge appears, click on the 3-dotted link
From the flyout select Modify
Finally, click on Repair to start the reinstallation of the Edge browser.
You will lose your favorites, history, and saved passwords when you do this, so remember to back them when you choose to reinstall the browser.
We hope these suggestions help you, and if they do not, then we suggest you try another browser on your PC and see.
Also read: Microsoft Edge not restoring previous Tab session
Why are Tabs not open in the Brave browser?
For some users, Tabs don't open, appear or show when using the New Tab option in the Brave browser. This isn't the case as the tabs are still opened in the browser, but Brave does not show them. You need to close out of the browser (force quit) again and re-open it to see your tabs again. There is no set max for the number of tabs that you can have open at a given time. You can open a tab, go to a site, right-click the tab displaying the site, and select Pin Tab (or just Pin).
Read: Search open tabs in Edge, Chrome, Firefox, and Opera browsers
Why can't I open my tabs in Opera?
If Opera is not showing or opening tabs, you can enable tab previews. To do this, go to Settings. Click Advanced in the left sidebar and click Browser. Under the User interface section, turn on the Show tab previews option. If you want, you can save Opera tabs once you have all of your Workspaces created and all the tabs open, click on the Workspace you want to save and then right-click any one of the open tabs, click Save All Tabs as Speed Dial Folder on the menu.
Read: How to make Microsoft Edge launch with Previous Tabs opened.