Some Windows 11/10 users with Bluetooth devices have been experiencing some problems recently. The issue comes up with an error that says-
Windows cannot verify the digital signature for the drivers required for this device. A recent hardware or software change might have installed a file that is signed incorrectly or damaged, or that might be malicious software from an unknown source. (Code 52).
You could see the error code appearing for Microsoft Bluetooth A2dpSource. In this post, we will show you how to fix the Microsoft Bluetooth driver not working (Code 52) and get this error under control and out of your life.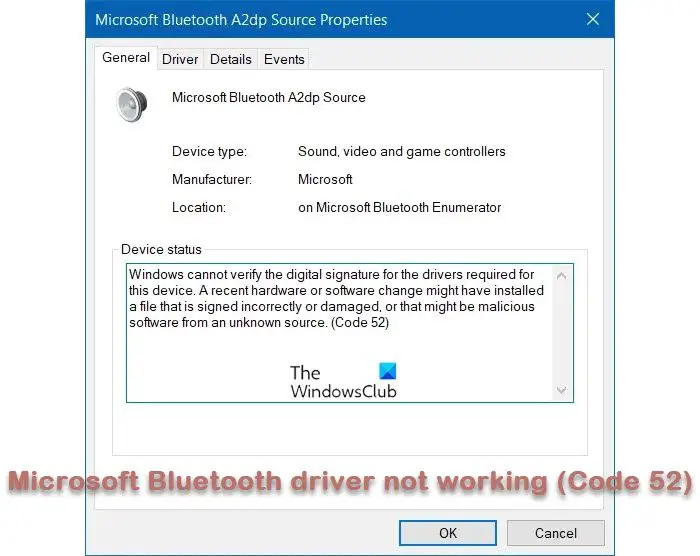 Microsoft Bluetooth driver not working (Code 52)
The key to fixing this error is to install a digitally signed Bluetooth A2DP file or the concerned driver file. Apart from that, there are other generic suggestions as well:
As the last suggestion, we have said Disable Driver Signature enforcement. Suppose nothing works and you want to use this driver in any shape or form. In that case, disabling the Integrity check will forbid Windows from trying to verify the digital signature and integrity of the driver. But you could be compromising your computer's security.
Restart your computer after every suggestion.
Related: Device Manager Error Codes along with solutions.
I hope something here helps you.