A Bluetooth Troubleshooter is an automated tool in Windows computers that helps users fix Bluetooth-related problems. Some of you might have used this tool to fix Bluetooth issues. Windows 11 has different built-in legacy troubleshooters which can be accessed and launched via Windows 11 Settings.
For those who are unaware, Microsoft is going to retire Windows Troubleshooters, including the MSDT.exe based Bluetooth Troubleshooter that we curently use. After being deprecated, you will be redirected to the Get Help app automatically when you launch this troubleshooter. This article shows how to run the new Get Help for Bluetooth Troubleshooter in Windows 11 right now.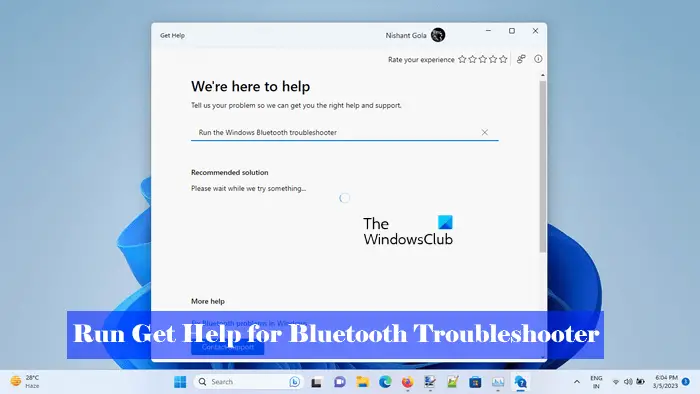 Microsoft decided to deprecate the legacy into Windows Troubleshooters because vulnerabilities were discovered by security researchers in the MSDT.exe Tool last year. This change will only apply to Windows 11 version 22H2 and later builds. Earlier Windows OS will remain unaffected by this update.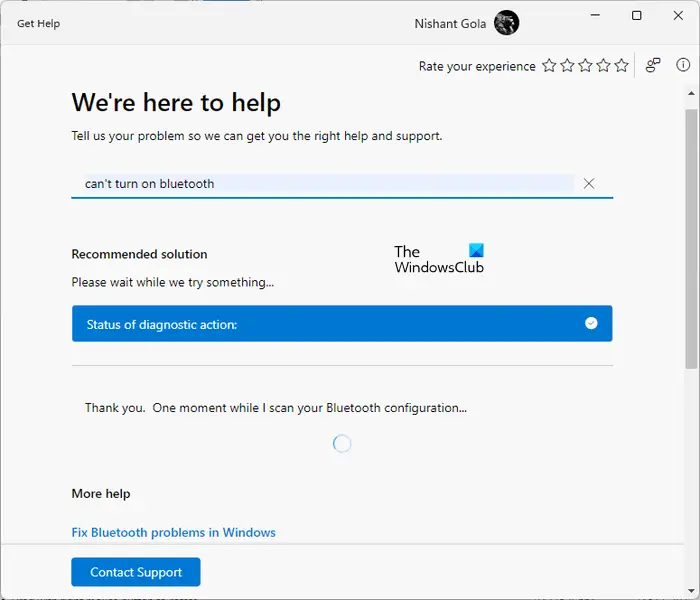 How to use Bluetooth Troubleshooter in Get Help app of Windows 11
Click on Windows Search and type Get Help.
Select the Get Help app from the search results to open the Get Help app.
When the Get Help app opens up, type the issue you are experiencing. For example, if you cannot turn on your Bluetooth, you can type can't turn on Bluetooth.
Press Enter.
Alternatively, click here to open the Bluetooth Get Help Troubleshooter directly. A new tab will open, click on the Open Get Help button. It is available on my Windows version 22H2 Build 22621.1344. If you do not see it yet, wait for it to be offered to your system.
The above steps will launch the new Bluetooth Troubleshooter. After getting launched, the Bluetooth Troubleshooter will start the troubleshooting process in a step-by-step manner. After the completion of step(s), you have to submit your response. Further troubleshooting process will start on the basis of your submitted response.
The first three steps are as follows:
In step 1, the Bluetooth Troubleshooter will perform some initial checks.
In step 2, it will scan your Bluetooth configuration.
In step 3, it will check if your Bluetooth is turned on or not.
If the troubleshooter finds your Bluetooth is turned off, it will turn it on automatically. After enabling the Bluetooth, the further troubleshooting steps will depend on the type of problem you are experiencing. For example, in my case, I typed can't turn on Bluetooth. Hence, the troubleshooter asked me to enable the Bluetooth icon on your Taskbar.
After pinning the Bluetooth icon on the Taskbar, the Get Help app will show the screenshot for the same and ask to provide feedback for the same. However, the screenshot was not visible on my system.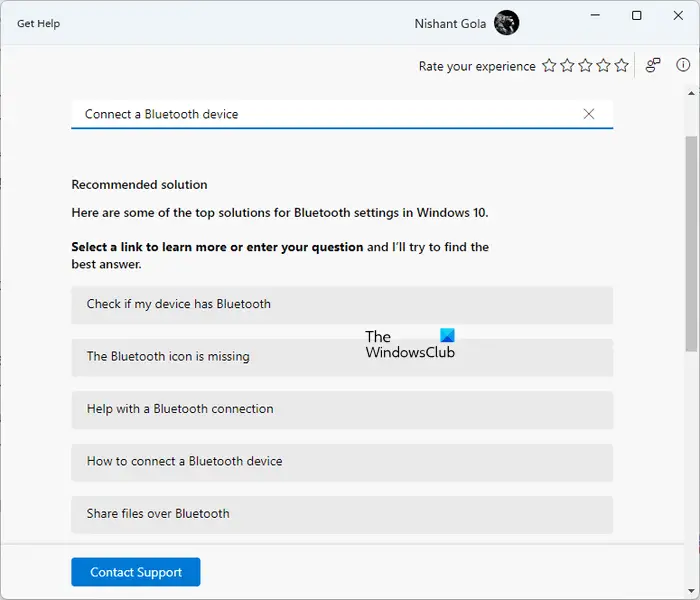 In the Get Help app, you can type your problem to launch the troubleshooter for addressing that particular problem. For example, if you cannot connect your Bluetooth device to your system, you can type can't connect a Bluetooth headset. Or if you want to get help on how to connect a Bluetooth headset or another device, you can type How to connect a Bluetooth headset and hit Enter. After that, the Get Help app will show you some useful links that will help you fix the issue (refer to the above screenshot).
If the Bluetooth Troubleshooter fails to resolve your problem, it will ask you to submit a ticket to Microsoft about the issue via the Feedback Hub.
If you scroll down, you will see more helpful links related to the problem or query you typed in the Get Help app. Clicking on these links will open the Microsoft Support article directly in the Get Help app. You can also contact support by clicking on the Contact Support button on the bottom left side of the Get Help app.
How do I troubleshoot my Bluetooth?
The Bluetooth connection problems occur when the device is out of range, WiFi is causing interference issues, the battery of your Bluetooth device is about to drain, etc. To troubleshoot Bluetooth issues, you can use different fixes, like running Bluetooth Troubleshooter, updating or reinstalling your Bluetooth device driver, restarting the Bluetooth Support service, etc.
How to reinstall Bluetooth drivers?
You can reinstall Bluetooth or any other device drivers via the Device Manager. Open the Device Manager and locate your Bluetooth driver. Right-click on it and select Uninstall device. After uninstalling the driver, restart your computer. This process will reinstall the Bluetooth driver on your system.
Read next: Bluetooth device Paired but Not Connected in Windows.