Monitoring your data usage consumption is extremely important especially if you have a limited connection or a FUP, post which the ISP will throttle the data speed. To be honest Windows 11/10 hasn't exactly been frugal when it comes to data consumption in fact in some of the instances it has completely eaten up my monthly data quota. In this article not only will we talk about how to monitor your data usage but will also explain how you can access data information for every app.
If you open the Task Manager, you will be able to see some details under the Network & Metered network columns. Clicking on the Delete usage history will clear the numbers.
Now, I am not talking about using some third-party app; instead, it is Windows very own data monitoring system that displays how much data is sent and received by every app in a given month. All of this can be done by using your network usage monitor present in the Settings app and the Task Manager.
Monitor Data Usage in Windows 11
Right-click the Windows button on the Taskbar and select Settings from the list of options. Alternatively, you can press Win+I in combination to go to the settings directly.
Select Network & Internet from the side panel on the left.
Then, move to the right pane and scroll down to the Advanced network settings tile.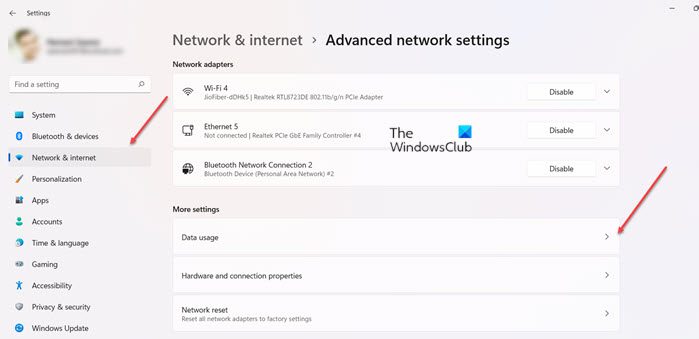 When directed to a new screen, go to the More settings heading. Under it, expand Data usage entry.
Here you can see the cumulative usage for the entire month.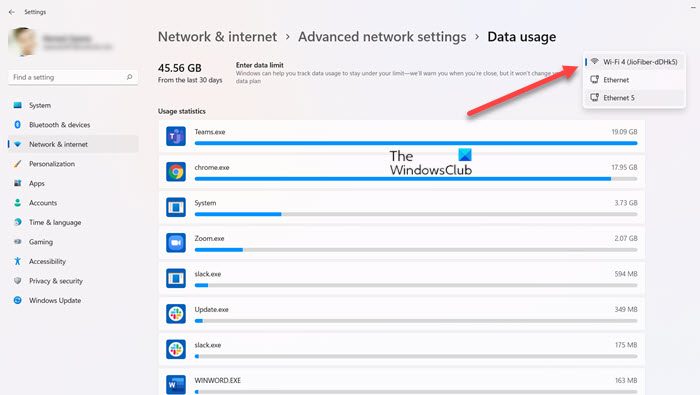 To check usage from WiFi, Ethernet, or any other kind of network, click the drop-down button next to your network name.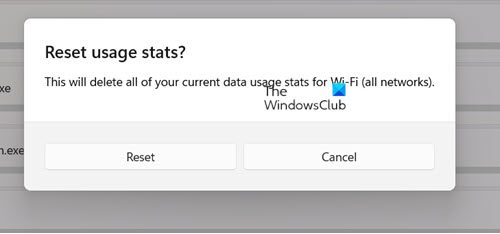 In Windows 10, there wasn't an option to reset the graph. This limitation has been removed in Windows 11. At the bottom of the screen, you'll find an option to reset the statistics. However, it will delete all your current data usage stats for Wi-Fi, including all networks.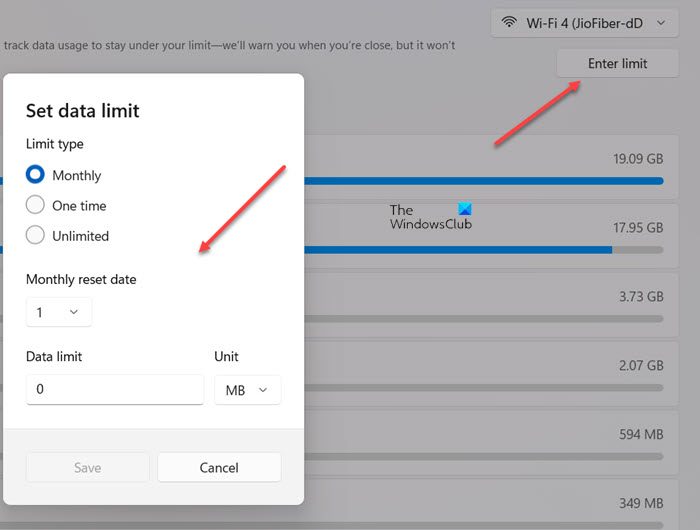 Also, you can configure the data limit in MB or GB units. Simply hit the Enter limit button and set the options as desired.
Monitor Data Usage in Windows 10
Open the Settings app from Start Menu. Select Network & Internet. Select Data Usage, and here you can see the cumulative usage for the entire month.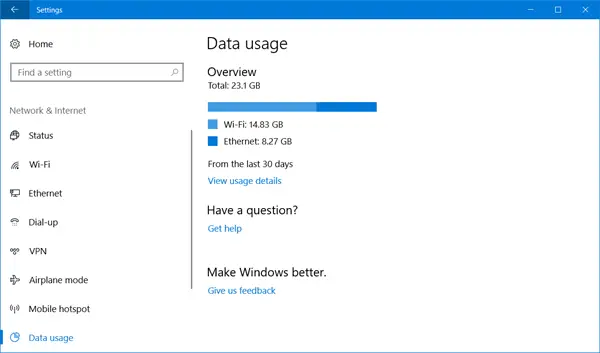 Click on the "Usage details, " and a new window with application wise data usage will open. You can see usage from WiFi, Ethernet or any other kind of network.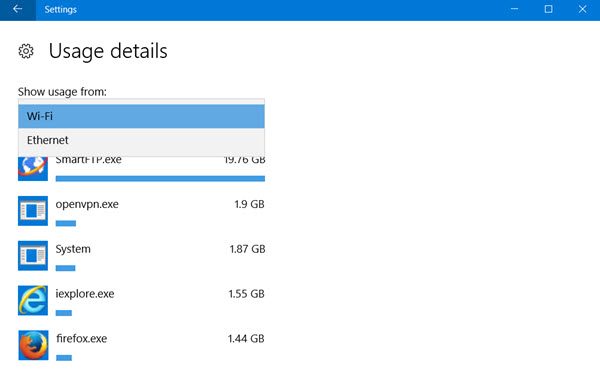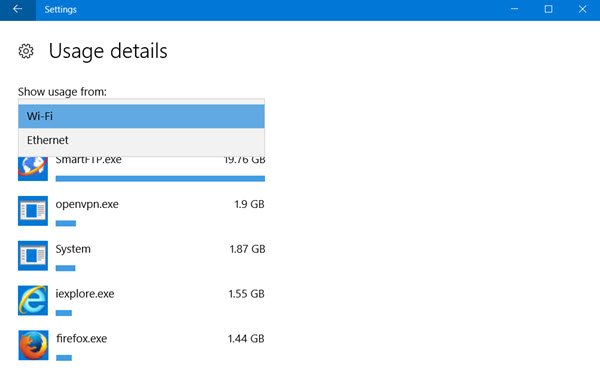 The only limitation is that the Usage details shows the cumulative data and doesn't segregate the data from networked usage or data consumed for an update. Also, you won't be able to reset the graph and the same will automatically get reset only after the end of the month.The plus point, however, is that one can monitor data from both traditional applications and also UWP apps.
Read: How to reset or clear Data Usage in Windows 10.
Set up a metered connections for restricted data usage
This feature has been a lifesaver for me as I don't prefer automatic updates since they eat up my LTE data when I am not using Wi-Fi. Well if you are using a smartphone and tethering the internet you can either set the connection as metered in the smartphone or you can simply manage all the connections on the Windows machine.
In order to set a connection as metered go to Settings > Network & Internet > Wi-Fi and then click on the "Advanced options" on the bottom of the Wi-Fi networks. Once you are in the advanced menu, you will have an option to "Set as metered connection." The metered connection can always be toggled off.
Also if you are worried about the way Windows Updates hogging your data and increasing data usage go to Windows Update in the Settings and then you can always head over to "Configure Automatic Updates" and select "Notify for Download and Notify for Install." With this Windows will notify you every time there is an update available and you can install using WiFi.
Read: How to manage the Data Usage Limit on Windows 11/10.
Restrict Data Usage in Windows
If you want to restrict Data Usage in Windows 11/10 further, here are some other things you could control:
Configure Windows Update as mentioned above
Make sure OneDrive syncing is disabled. Better still disable OneDrive and use it only when you need to
Disable PC Sync your settings. You will find it under Settings > Accounts.
Turn off Background apps so that they do not consume data in the background
Turn off Live Tiles by right-clicking on the Live Tiles and selecting Turn live tile off.
Disable Windows 10 Telemetry. You could use some Windows 10 Privacy Fixer Tools to achieve the same easily.
Other ideas are most welcome!
What consumes data on PC?
Web browsers and the other apps you use make up most of the data. Fortunately, in Windows 11 you can limit this by configuring desired options under Data Usage statistics. You can also make the apps not automatically download updates for your installed games.
Does Windows keep track of data usage?
Yes! you can monitor data usage for specific apps through the Windows Task Manager. Just open the Task Manager and go to the App history tab. There, you'll see a list of your applications along with several columns.