Folks out there are looking for free Windows Privacy fixer tools & software, that will help them harden their Privacy settings in Windows 11/10. We have already seen how you can change Windows Privacy settings.  That should suffice for most, but Microsoft has gone on record and said that Windows 11/10 data collection cannot be stopped.
In the cases where we've not provided options, we feel that those things have to do with the health of the system. In the case of knowing that our system that we've created is crashing, or is having serious performance problems, we view that as so helpful to the ecosystem and so not an issue of personal privacy, that today we collect that data so that we make that experience better for everyone.
Read: Best Free Internet Privacy Software & Products for Windows.
Windows 11/10 Privacy Fixer Tools
If you are looking for freeware and tools to help further harden the Privacy Settings in Windows 11/10, you might want to take a look at some of the best Windows 10 Privacy tools:
Ultimate Windows Tweaker
Ashampoo AntiSpy
Spybot Anti-Beacon a
Win10 Spy Disabler
DoNotSpy10 or DoNotSpy11
O&O ShutUp10
Destroy Windows Spying
Disable Win Tracking
Phrozensoft Windows Privacy Tweaker
W10Privacy
BlackBird Privacy Tweaker
Win.Privacy
Private Win10 or Private WinTen
Debotnet
Spydish.
1] Ultimate Windows Tweaker is a popular tweaking freeware released by us. Under its Security & Privacy section, you will see tweaks that let you disable Telemetry, Biometrics, Advertising ID, Bing search, Cortana, Windows Update sharing, Feedback requests, Password Reveal button, Steps Recorder, Inventory Collector and Application Telemetry, etc.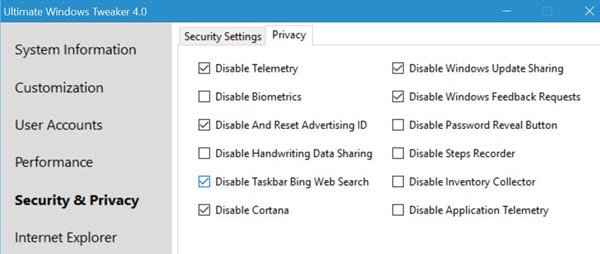 2] Ashampoo AntiSpy lets you configure some privacy settings and also prevent Windows 11/10 from collecting and sending diagnostics as well as other data.
3] Spybot Anti-Beacon allows Windows 11/10 users to immunize their computers and changes settings so that Windows phones home less.
4] Win10 Spy Disabler is a software that helps you to disable Windows services and programs which track your activities and collect data about your usage. Available here.
5] DoNotSpy10 or DoNotSpy11 offers several tweaks that allow you to track and access to your data. It looks pretty good – but it ships with a 3rd party offer. So be careful during its installation.  It is available for download here.
6] O&O ShutUp10 tells Windows to respect your privacy. This too is a portable tool that lets you configure privacy settings.
7] Destroy Windows Spying is an Open Source tool that lets you remove Windows apps that leak data, remove telemetry, block IP addresses, disable Windows Defender & Windows Updates and more.
8] Disable Win Tracking offers some basic tweaks to disable tracking in Windows 11/10. It is available for download at GitHub.
9]  Phrozensoft Windows Privacy Tweaker lets you easily change all your Privacy settings in Windows 10 to its maximum safety levels. It lets you disable some Registry settings, Scheduled tasks, Windows Services, etc. Use it and you have no more issues about your privacy or online safety.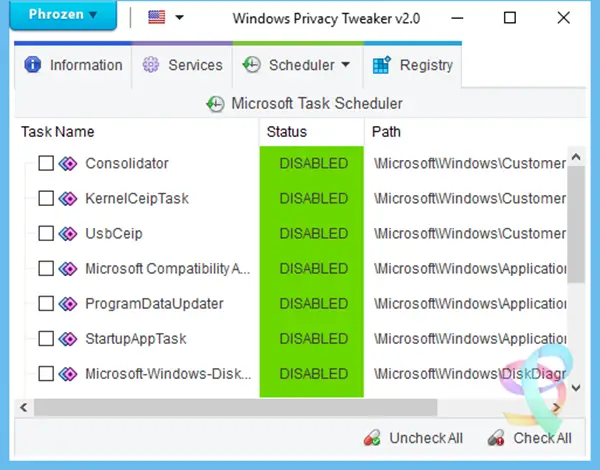 10] W10Privacy is a simple tool that lets you disable some Services, prevent app access and tighten your privacy settings.
11] BlackBird Privacy Tweaker is a command-line Windows 11/10 privacy and security tool that is specifically designed to disable telemetry and improve privacy.
12] Win.Privacy helps you address privacy concerns and disable Windows 11/10 Telemetry services of your computer.
13] Private Win10 or Private WinTen is an Advanced Privacy Tool for Windows 11/10.
14] Debotnet is a free portable tool that can help end-users keep personal data private, and also offers tweaks to keep Windows 11/10 cleaner.
15] Spydish will help you check and change Windows 11/10 Privacy Settings.
Remember – before installing any freeware always be careful of any third-party offers and create a system restore point before making any changes to your Windows.
Take your pick and let us know which one you favor.