Windows 11/10 collects Telemetry that it sends back to its servers. Microsoft says that it does this to improve the user experience. Some of you may be fine with this – but some may consider this an infringement on their privacy. If you are among the latter group, there here is another tool that can help you harden Windows 11/10 privacy settings. We have already taken a look at several Windows Privacy Fixer Tools. Today let us take a look at Blackbird.
Via its Settings app, you can configure Windows Privacy Settings as well as manage Windows Telemetry and Data Collection. But Blackbird lets you do all this and more with a click.
Blackbird Windows 11/10 Privacy Tool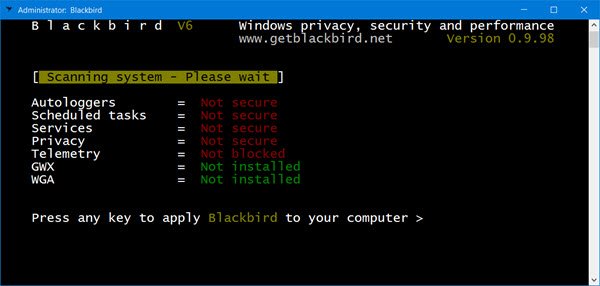 Blackbird is a Windows security tool which improves your privacy on your Windows PC. It is a simple and quick tool which helps you tweaking the security settings without having any specific tech knowledge or without spending hours of your valuable time. Unlike other security tools, Blackbird is simple, powerful and comes with a basic layout.
Blackbird is not a real-time security software but it is a program which creates a privacy wall for Windows which stops the automatic data collection and gives you the total control on your privacy. The program comes in a zipped file and requires no installation.
Download the tool, read the ReadMe file, create a system restore point and then run the executable. The tool will list the settings it considers are nor secure. Clicking on any key will apply all the settings to your PC. Make sure that your PC has an active internet connection so as to resolve the hostnames to IP addresses.
What Blackbird does
Blocks Telemetry- Blackbird blocks Windows reporting both on Network as well as application level. Without making any changes to the firewall settings, it removes the entire list of Windows telemetry updates, etc.
Improves Privacy- Disables the data collection and improves privacy and speed of your PC. The program also removes the ad-ID tracking token, password sharing, location sharing and P2P update sharing and also prevents diagnostic data, etc.
Removes Upgrade Pop-Ups- It removes all the downloaded pre-install files and upgrade files and folders from your PC and gives you a nag-free computer system. Furthermore, it disables the Windows Error Reporting and prevents your PC from all auto-installation and auto-loggers, etc.
Disables OneDrive, Xbox Live Services, Cortana, WiFi Sense, Bing integration, Start menu ads, and prevents cross-device synchronization.
Using some known and some less known techniques, Blackbird disarms Windows completely thereby giving you total control over your personal and private data. The program does not run in the background and makes no changes to your Windows Firewall settings.
Things to note:
To see all that it does, you will have to read the documentation on its website.
The tool does not offer a UI but operates with a command-line interface.
This portable CLI offers you less control, in the sense that you cannot select which settings to apply. The tool applies them all!
Is BlackBird a malware?
No, BlackBird is not a malware or virus. Instead, it helps you manage the security settings on your computer. If you use Windows 11 or Windows 10, you can make use of this app to change the security and privacy settings on your computer. The best thing is that it fetches almost all the options available on your computer.
Can I change Windows 11/10 Privacy settings?
Yes, you can change Windows 11 and Windows 10 Privacy settings with and without third-party programs. On Windows 11, you need to open Windows Settings and go to Privacy & security section. From here, you can choose what you want to change and change the setting as per the requirements.
Download Blackbird from its home page if you like what you see. It will surely help you reclaim your Windows and make it more private and secure.