Some users are not particularly happy with Windows 11/10 due to privacy concerns, and this probably won't change anytime soon. Not everyone knows how to keep Windows privacy issues under control, and as such, this is where freeware known as ShutUp10++ comes into play. We have already seen how you can change Windows 11/10 Privacy settings. That should suffice for most, but Microsoft has gone on record and said that Windows 10 data collection could not be stopped.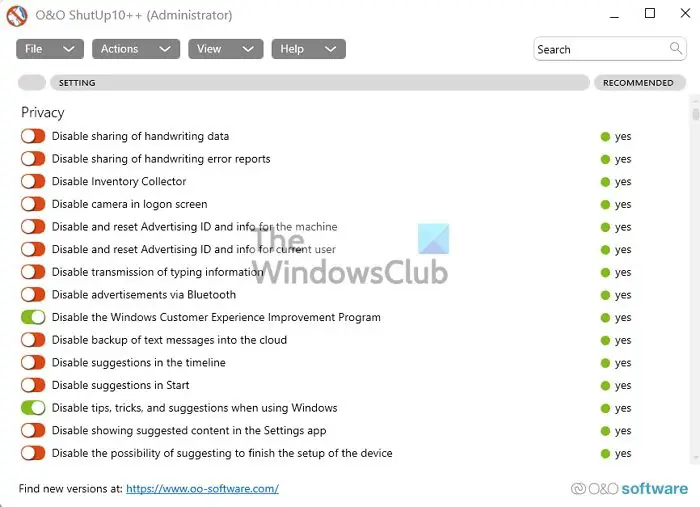 O&O ShutUp10++ review
ShutUp10 is designed to set Windows 11/10 straight and stop collecting specific data. Users can use it to stop Windows 10 from collecting all data or just the ones that make you feel bad. The software simplifies the process, and that's something that most people have always wanted.
How to use ShutUp10++
First off, this free software does not require any installation. Just download the program to your preferred destination and move on from there. Furthermore, this software is only compatible with Windows 11/10 and requires .NET Framework to perform. Also, users must start it with administrator privileges for the software to run correctly.
When ShutUp10 is launched, a simple graphic user interface is brought into play. The program gives the user the option to turn off around 50 items. Each item is grouped into several categories, and these include –
Security
Privacy
Location services
User behavior
Windows Update.
To make sure things never go off the rails, the program includes creating a restore point. Doing this is recommended to ensure that the operating system can be restored to a point before it happens if something goes wrong.
Read: How to configure or disable Windows 10 Telemetry.
Now, we have a major problem with the listed options. None of them provide much information, so users may have no idea what some things do. However, clicking on any option will reveal more details, but not enough from our point of view.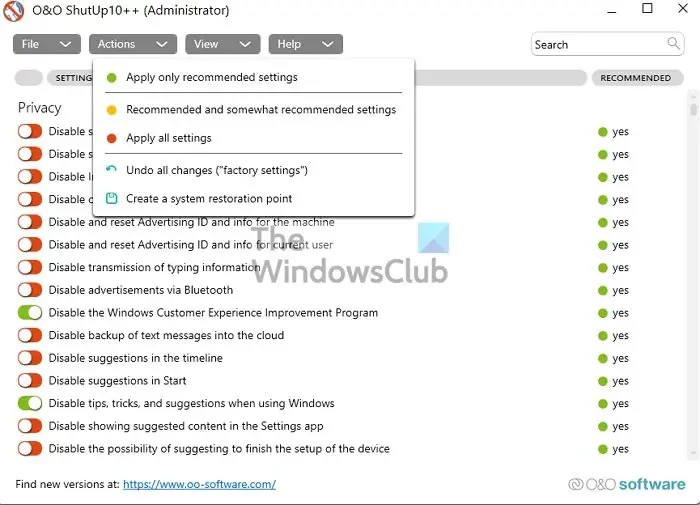 When it comes down to Settings, there's no such option here apart from the import and export settings, none of which are essential, and that's great. Just jump in and disable the options you want to go without the need of tampering about.
Final Verdict:
ShutUp10 deserves props because it makes it possible for people who do not understand how to go about freeing themselves of Microsoft's perceived privacy violations to get Windows 11/10 under control quickly. We can only hope Microsoft, in the future, makes things just as easy because no one likes it when their Privacy is being taken advantage of, and no one likes it when too much work needs to be done to set things straight.
Download ShutUp10 from the official website.
Want to check out the alternatives? Take a look at these free Windows 11/10 Privacy Fixer Tools available.
Is Windows 10 privacy that bad?
It is not about good or bad; it's about making a choice. Microsoft has set up Privacy in a way that seems fit, but it is also easy to change. You can go to Settings > Privacy and security and change. The advantage of using a software is that it makes everything simple. And straight-up, instead of everything buried into the settings.