Configuring the settings and apps on all your devices is really time-taking and tiresome, this is where the Windows 10 Sync feature comes as a savior. You can sync all your settings and apps across all your Windows devices so that if you ever re-install the operating system, you don't have to configure them again. The sync settings feature was launched with Windows 8.1 operating system and has always been appreciated by the users. This post will explain how to sync settings in Windows 10.
When you turn on Sync Settings on your Windows PC, your operating system takes care of all your settings and sets the same for all your Windows 10 devices. You can choose which settings you want to sync across your devices, such as passwords, browser settings, color themes and more.
How to sync your settings in Windows 10
To enable the sync settings you first need to login to your Windows 10 with your same Microsoft Account on all your devices.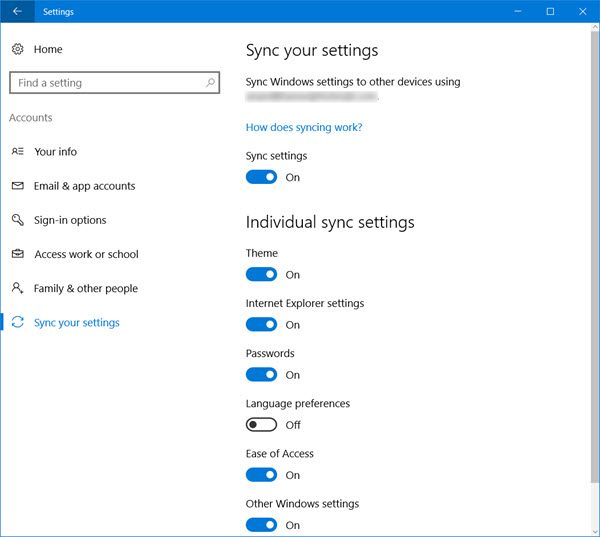 Sync settings are available under the Accounts setting in Windows 10. Open your Settings by pressing Win+I on your Windows 10 PC. Open the Accounts tab and scroll down to select Sync Your Settings. 
You can choose to turn Sync on for all settings and apps, or you can decide on your preferences. You can also turn off the entire Sync settings altogether by turning the Sync button off. Under the Individual Sync Settings tab, you can see different settings options.
Read: How to configure Windows Sync Settings using Registry Editor.
Syncing the Theme setting will synchronize your PC's background color, theme, etc across all your Windows 10 devices and syncing the Internet Explorer settings will synchronize your bookmarks, log in details, browsing history, etc. However, the default web browser now in Windows 10 is Microsoft Edge and these settings will imply the same.
Next, comes the Passwords. To synchronize your passwords across your Windows 10 devices, you first need to verify your identity. You can get the verification code via your registered phone number or your email address.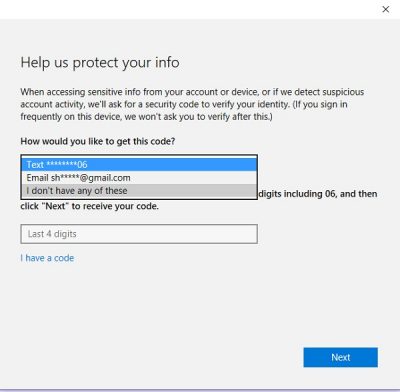 The other sync settings let you synchronize the language preferences, ease of access, and other Windows settings which basically include your desktop settings.
Once turned on, the Sync settings for every app will carry over to all your Windows 10 devices where you are logged in with the same Microsoft account.
Sync settings grayed out or not working
Remember that Sync settings are available only if you are logged in with your Microsoft Account. So make sure that you are signed in to your PC with your Microsoft account. If it is still not working, try using another Microsoft account.
The other things you could try are running System File Checker and DISM.