It is best to use bandwidth and Internet usage monitoring tools when your Internet Service Provider (ISP) offers a limited quota for downloading and uploading. These tools not only monitor bandwidth and Internet usage or check the speed but also detect any suspicious network activity. This article lists some best programs for Windows 11/10/8/7, that are all very popular in the niche.
Free Bandwidth Monitoring Tools for Windows 11/10
Here is a list of some of the Free Bandwidth Monitoring Tools for Windows PC:
ISP Monitor
Cucusoft Net Guard
tbbMeter
FreeMeter.
1] ISP Monitor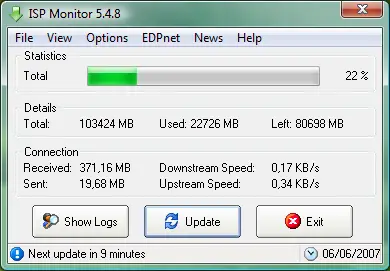 ISP Monitor also allows you to check your Internet speed; after all, you should get the speed you actually pay for. Moreover, it offers real-time traffic monitoring. The built-in Traffic monitor displays current network speed via three different graphic modes. All three modes can be customized to suit your requirements.
In addition to all this, ISP Monitor displays the percentage used from your total quota and allows adjusting it before it reaches the threshold limit. For this, you need to set limits for download and upload by customizing the application's settings. Optionally, you can choose to allow ISP Monitor to disconnect the Internet connection, once it reaches the limit. ISP Monitor is clean and does not contain any spyware or viruses. Download it here.
2] Cucusoft Net Guard
Net Guard is a free software to monitor your broadband usage and kill malware that wastes your bandwidth. It includes a small real-time floating window that indicates real-time Internet Uploading and downloading speed.
The floating window can be hidden, or its opacity can be adjusted to make it transparent if it bothers a user. To hide or make the window transparent,
Right-click on the floating status window, #1.
Click on "Opacity" #2.
Select the opacity value you like. Then the floating status window will become transparent.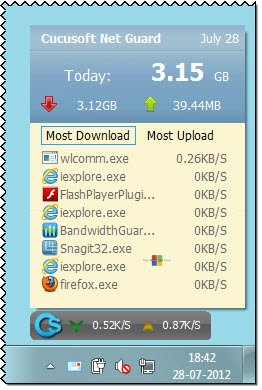 You can even set a traffic limit per month. How? Cucusoft Net Guard includes a 'Forecast' feature that automatically calculates the projected bandwidth usage for a month. Thus, you can easily determine whether your usage will exceed the limit for that month or not.
The program is compatible with all the later Windows versions. Download it here.
3] tbbMeter

tbbMeter is a bandwidth meter to help you monitor your Internet usage. It allows you to see how much your computer is sending to and receiving from the Internet in real-time. It also shows you how your Internet usage varies at different times of the day. This tool will help you to manage your usage to avoid incurring excess bandwidth fees or find your broadband provider slowing you down due to exceeding your monthly usage allowance.
Tip: NetTraffic is a real-time Network traffic monitor.
4] FreeMeter
FreeMeter is another very simple, easy-to-use portable network monitoring and diagnosis tool. Its main window graphically displays the data being transferred, to and fro, on your computer. It also includes many simple tools.
Find out what your Internet speed is, using these Internet Speed Tests.
Some of you might want to take a look at these tools too: