We all know it takes much time to build a good reputation while one wrong act can ruin all of it. Your reputation is your goodwill – an asset that is calculated as well when you are estimating your or your business's worth. A good reputation increases the chances of your business growing by sending more clients and banks your way. For individuals too, a good reputation indicates the possibility of better career growth, etc. Though there are companies offering online reputation management with own tools, we will focus on individuals and small businesses in this post as they don't have big budgets.
What is Online Reputation?
Most Internet users do not think in terms of reputation and hence don't think they have been building an online reputation by posting to different websites – comments or articles, forums, social media and more. Say you don't do anything on the Internet except using Facebook and Twitter, you still have an online reputation and people who wish to know about you will go for what you posted – irrespective of how less it is and will derive their own opinion out of the posted material. That derivative is your online reputation.
In other words, everything you do on the Internet creates a databank that different people use to figure out your interests, thoughts on one or more topics, and your opinions. Not only that, the online information you post is used to understand your mentality, confidence and to read your character. The following Infographic from Microsoft shows how your posts on Internet may affect your life. Click on the image to enlarge it.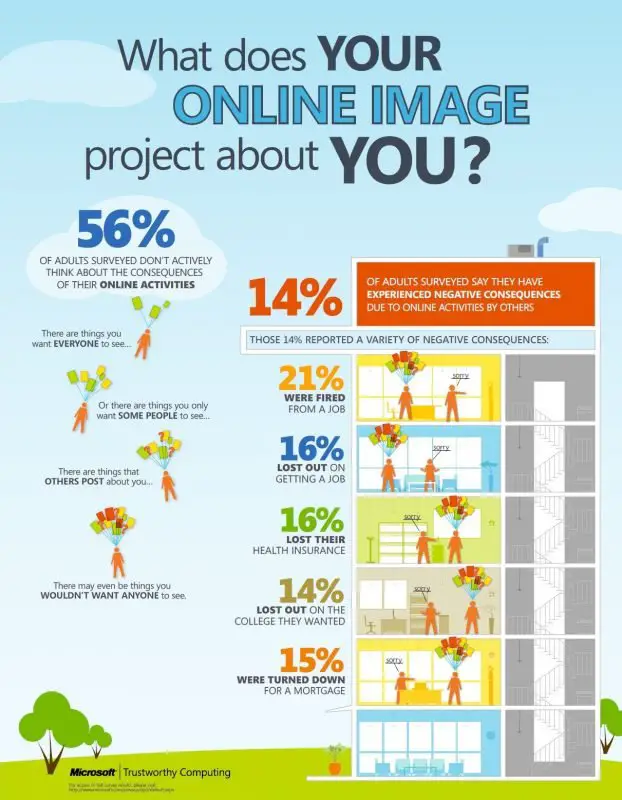 Online Reputation Management
Your online reputation is not dependent simply on what you post but also on what others post about you. If you are a service provider, people who use your service will leave comments about your service somewhere on the internet. Using proper keywords, it is possible to read out and know what others (your friends, clients etc.) think about you.
Thus, the online reputation of an individual or a company is determined by what they post about themselves and their products, how they deal/behave with others on the Internet and by what others think about the individual or the company!
How To Check Your Online Reputation
Now that you know everyone using the Internet has some sort of online reputation, you might want to know where you stand. There are different tools – paid and free – to help you assess your reputation. Basically, all of them will check and pull out almost all the information they can gather about you and present it to you so that you can see if your reputation is good or bad.
How do you know if your online reputation is good or bad? If people are saying good things about you, your online reputation is good and you need to not only maintain but to enhance it for your career growth. And when we say "people", it also includes your own self. What you post about yourself in the "About" and "BIO" sections of different social networks and forums etc. is a reflection of what you think of yourself.
Before talking about how to check own online reputation, here is a good video from Microsoft that explains why you need a good online reputation.
We will talk about how to find out your online reputation in the next section that offers tips to enhance your online reputation management as it forms the most basic step of reputation maintenance.
Tips On Online Reputation Management
Keep a Tab On Information Related To You – Find Out Your Reputation
You may be an individual or a small business. The best way to know what is being said about you and if you posted anything bad or negative about yourself is to create Google Alerts with all possible variations of your name, company, email and other data.
For example, I have Google Alerts set with plenty of keywords: "Arun Kumar", "PowercutIN", "Arun Kumar PowercutIN", "Powercut Media",  "Arun Kumar Powercut Media" and few more related to my different email IDs, address and phone numbers. This way I get to know if anything related to these keywords has been posted on the Internet by others. While the results will also show you things you posted yourself, you know you won't post anything bad about yourself.
Microsoft commissioned research in Canada, Germany, Ireland, Spain, and the United States, and found that while 91 percent of people have done something to manage their online profile at some point, only 44 percent of adults actively think about the long-term consequences of their online activities. You can download the executive summary (PDF).
What Do You Say About Yourself In About Sections
All social networking sites and forums have an "about" section on their sites. Blank or too little information will make people believe you don't have much to say. Too much will lead people to think you are bragging.
At this point, you also have to consider if you are creating an account for yourself, your company and/or for both. Whatever be the case, choose the words carefully and place them in a way that they give more of a positive view of your personality than negative. This doesn't mean essentially that you should hide your negative points but your positives can always overshadow negatives – if you need to mention any!
Removal Of Unwanted Data From The Internet
The first time you implement the tip "A" above, you will have to go through pages of information if you have been on the Internet for long. Mark the pages that are showing you in poor light. It may be others posting bad about you – your personality or your services – or it may be you yourself posting things that show you in poor light.
Likewise, Google Alerts will keep you updated on whatever material about you is being posted on the Internet. Here too, mark the pages that tend to lower your online reputation. If they are ABOUT and BIO written by you, change them right away. If they are material uploaded by others, you can ask them to remove the data. If they fail to do so, you can approach Google and other search engines to have the content removed. All you need to do is to file a complaint with Google and tell them what material at what URL is projecting or giving away your personal details that you don't want to be made public.
For negative reviews of your services and products, however, you cannot ask webmasters and Google, etc. to remove them – unless they are wrong. Under such cases, the best method is to ask the webmaster to add a line or two to the post saying that you are working on the weak points and will soon have them fixed.
Among other tips for reputation management is to stay away from the Internet when you are emotionally unstable. This is because you may post something that people may not like. And before you come back to senses and remove that post, many might have already read and shared it.