NetTraffic is a free real-time network traffic monitor for Windows 10/8/7. It is not just useful, but also very easy to use and offers a variety of customizations. It builds up real-time graphs and shows statistics that are updated every second. With this amazing tool, you can easily monitor your network.
Real-Time Network Traffic Monitor
Once you've downloaded NetTraffic, you can simply run it without any installations. It will start from the system tray, and when you hit the NetTraffic icon from the system tray it will show a small window displaying the real-time traffic graphs.
Three graphs are plotted simultaneously – Download Speed, Upload Speed, and Total. This small chart gives you a distinct idea about the network situation of your computer. If you don't see this window as an obstruction on your computer's screen, then you can pin it on the screen like a widget that is displayed all of the time. But if you want you can hide this window whenever you want.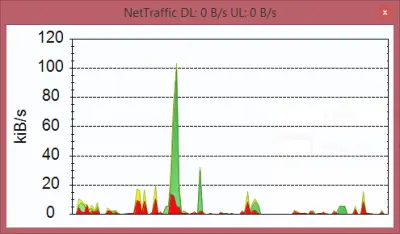 Another amazing feature of this software is real-time numeric Statistics. You can open the statistics from the context menu. Statistics display various useful details and keeps on updating them in real-time. There are four counters out of which one resets every hour, the second one resets every day, the third one resets every month and lastly, the fourth one resets every year.
Other than statistics, NetTraffic can also build up Charts and Tables displaying the bandwidth data. The charts are graphically well built and completely distinguishable.
With NetTraffic you can even export or import the data generated by the program and for a fresh start, you can even reset all the counters. The software is customizable to a very good extent.
By default it starts with Windows, but if you want you can change this setting. The update interval is 1000ms by default, but it too can be changed to a custom value. From the settings, you can choose the network interfaces that should be monitored, else you can click on 'Use all interfaces' checkbox to monitor all the network interfaces available.
If we talk about the appearance of the chart, you can choose the transparency of the chart and moreover you can even change the color of different components of the chart. You can change the background colors and even the units for measuring the speeds. There are two chart types available that are Line and Bar graph, you can choose either of them from the settings.
NetTraffic is a good network monitoring utility with useful features and a decent interface. Some features are unique and very uncommon – and overall the free software is a must-have.
NetTraffic free download
Go here to download NetTraffic.
Go here to have a look at some free Bandwidth Monitoring Tools.